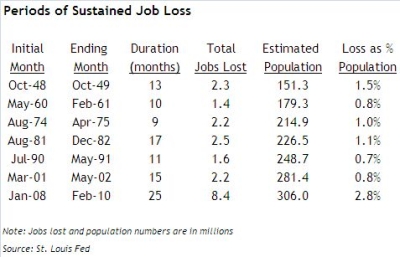 While an earlier article marveled at the market's ability to rally on poor news, this week continues testing this pattern. On a week scattered with earnings announcements, the economy retains center stage. The talking heads can spend countless hours discussing durable goods and leading indicators, but those items speak more to statistical recovery than to sustainable growth. Cutting through the noise, the economy will finally grow robustly when jobs are created. When this occurs, loan defaults will subside, sales will increase, and asset prices will be driven higher by fundamental improvements as opposed to monetary stimulus. The upcoming week will offer some insight into this issue as the ADP employment change, initial claims, and change in nonfarm payrolls are reported on successive days.
Wednesday starts the employment focus with the ADP (NASDAQ:ADP) employment change report with the consensus calling for a loss of 10,000 jobs. Although the correlation between this report and the government's statistics vary, investors will look for deviations from the consensus when handicapping the rest of the week. Thursday brings the weekly employment report. The past two weeks have shown a surprising jump in initial claims. The consensus expects that increase to reverse, but as these numbers have been volatile the likelihood of a surprise is high. Friday carries the greatest weight as we see the change in nonfarm payrolls and the unemployment rate.
The consensus calls for an additional 20,000 jobs to have been lost in February and for the unemployment rate to increase to 9.8%. Perhaps frightened from January's call of employment gains, economists continue to tinker with immaterial numbers. After all, in an economy that has seen the duration of job losses stretch to 25 months with 8.4 million positions having been shed, a swing of 20,000 in either direction is insignificant.
I have produced these studies in EPIC Insights month after month to indicate how severe a toll this recession has taken. As month-by-month employers continue to pare payrolls, what was once a statistical anomaly has grown into a significant phenomenon. When one considers that more jobs have been lost in this recession than in the previous four combined, forecasting when payrolls will begin growing as the job market improves feels like a pointless exercise. Eventually this trend will reverse, but I continue believing that moment is well into the future.