History doesn't repeat itself but sometimes it does rhyme. I think AMD may be setting itself up for a short squeeze, which was something I noted in my last article on AMD. However, in this article I want to note the similarities with another stock which underwent a massive short squeeze this year; though in AMD's case it would only be a mini version, even if it comes off at all. My main thesis is that Tesla Motors (NASDAQ:TSLA) last year bears some resemblance to AMD now.
I should say at this point that this is just a short term trading idea and that longer term I'm still bearish on AMD
AMD stock has been in the doldrums for quite some time even as a number of potentially positive catalysts for the stock have been announced and as short interest in AMD has continued to build.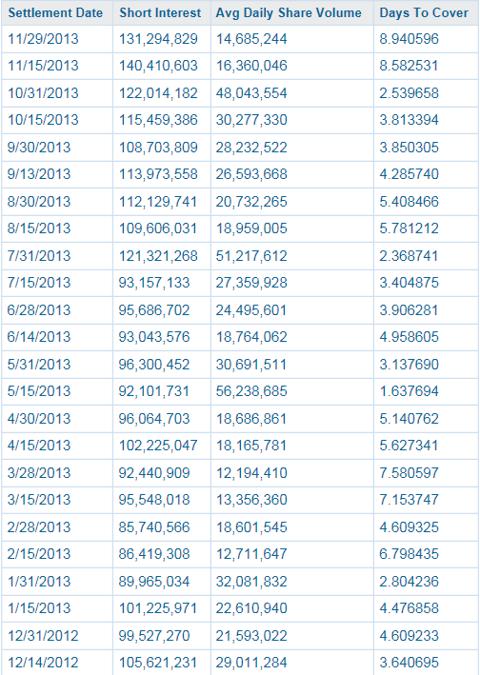 Source: NASDAQ
AMD's short interest has come off the peak level of 140 million shares it reported on 15th November, 2013, but is still high at 130 million shares or about 15% of AMD's float.
Another measure of how much a stock is shorted is the days to cover short interest ratio, which has stayed high at nearly 9 days.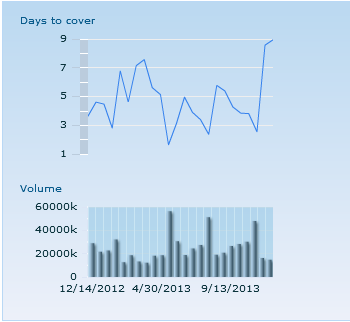 After receiving a shot in the arm earlier this year after news of AMD winning contracts for Microsoft (NASDAQ:MSFT) and Sony's (NYSE:SNE) next generation video consoles, the stock has stayed range bound around the $3.5 level over the last few months.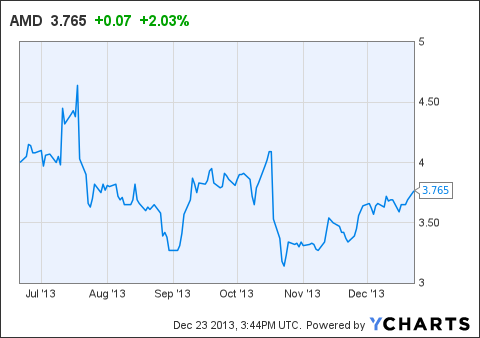 Since then AMD managed to record its first profitable quarter in quite some time and has also allayed concerns about production difficulties for the chips going into those new consoles.
What does this have to do with Tesla?
Before Tesla's stock made its huge run earlier this year the market knew in advance that the company would see huge revenue growth from the Model S and expected a non-GAAP quarterly profit sometime during 2013 (Tesla did surprise the market when it reported that it was Q1 2013 that had been profitable). Yet when these events transpired the market reacted as if they hadn't been discounted at all.
One of the big concerns for Tesla was how quickly it could ramp up production of the Model S that had been launched in June of 2012. Tesla had aimed to produce 5000 vehicles by the end of 2012 and achieve 400 vehicles per week run rate.
One further similarity: Tesla needed to repay a DOE loan, which had become a political football at that point and was also preventing it from borrowing new money. This has echoes of AMD being on the hook to Global foundries for unused capacity. These concerns have recently been ameliorated.
Here is a chart of Tesla's revenue and price.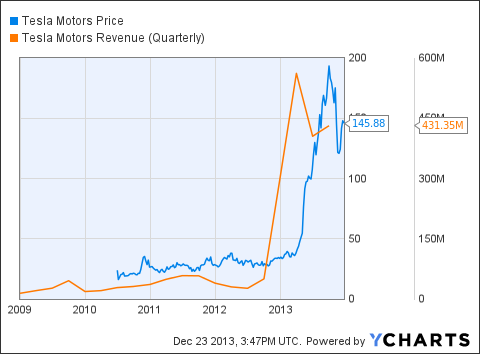 Notice how revenue started shooting upwards a few months before the stock price did.
Tesla was also heavily shorted, though much more so than AMD.
Here is a chart of Tesla short interest and price.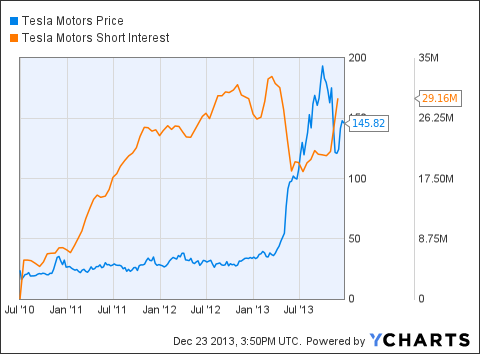 Notice the steep climb after Tesla's first profitable quarter earlier this year.
There are differences between Tesla and AMD.
AMD already recorded its first profit without much of an increase in the stock price. AMD won't see anywhere near as large an increase in revenue growth from the new consoles as Tesla did from sales of its Model S. AMD is projected to see an additional 15% increase in revenue, while Tesla revenues increased by a factor of five.
AMD's short interest as a percentage of float and days to cover isn't as high as Tesla was earlier this year either.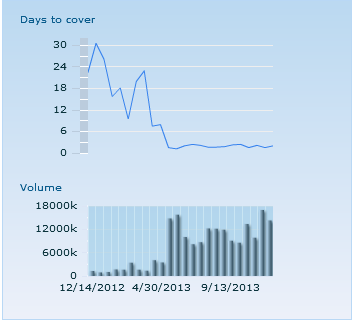 Tesla's days to cover: from NASDAQ
As I said before I only consider the AMD short squeeze "story" to be a mini version of Tesla's one.
Timing?
When might this short squeeze occur? I suspect when the expected revenue from consoles comes in force over the next quarter or two the market could suddenly discover that AMD is growing again and rerate the shares upwards.
How high could AMD's stock rise? I think there's a good chance that AMD could take out the $5.50 high it achieved in the summer of 2012. This is a 50% upside from the current price level.
Conclusion
A highly speculative short term trading opportunity has presented itself. This opportunity shares some similarities with one of the biggest short squeeze stories of 2013. The basis of the idea is that occasionally the market doesn't fully discount events until they actually happen. It seems possible that is the case with AMD now.
Disclosure: I have no positions in any stocks mentioned, but may initiate a long position in AMD over the next 72 hours. I wrote this article myself, and it expresses my own opinions. I am not receiving compensation for it (other than from Seeking Alpha). I have no business relationship with any company whose stock is mentioned in this article.