I am a conservative investor who seeks out the highest return with the least amount of risk. I tend to favor large established companies with proven track records. I find that companies with an established track record are more predictable. By being consistent, it allows an investor to more accurately model future gains. I also find that companies that have consistently raised their dividends and are buying back a large amount of their shares tend to outperform over the long run. I recently wrote about my portfolio which can be seen here. The article below will detail the transactions undertaken in the fourth quarter.
The portfolio has undergone a strategic shift beginning in the third quarter away from US equities. I have not been pleased with the multiples that are being offered on most US equities. The margin of safety in my opinion is not to my liking. I have found far greater value in European equities and have been happy to invest in the old continent. The second major trend is the acquisition of companies with very high dividends. The extensive gains achieved by US equities in 2013 has shrunk dividend rates to the point where the 10 year US treasury provides a greater yield. While not problematic quite yet, the trend is not our friend, as I expect US 10 year bond rates to accelerate to 4% in 2014. I anticipate in the coming year, I will be lowering my equity exposure from 100% while raising cash for the next great buying opportunity that will arise.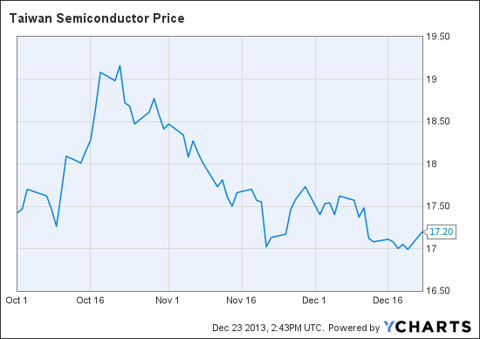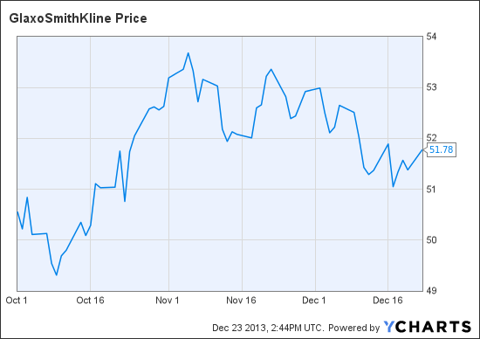 The portfolio undertook three major transactions in the fourth quarter which will be detailed below. The first transaction was the addition of GlaxoSmithKline (NYSE:GSK) and its generous 5% yield. The addition of GSK necessitated the disposal of Taiwan Semiconductor (NYSE:TSM). The rationale for the trade is as follows. GSK has quite a few new drugs that are coming onto the market over the next 18 months, which will undoubtedly drive sales. I view pharmaceuticals as recession-proof, which should gain traction as time goes on. For further details concerning my outlook for GSK click here. TSM is an excellent well-run business, however, it is not as predictable as the GSK model. TSM's dividend has been stagnant over the last couple of years, which seems to be the trend in the industry. TSM was a trade to take advantage of the market's negative sentiment towards semiconductors during the summer months. The trade went off well, netting an 11% gain.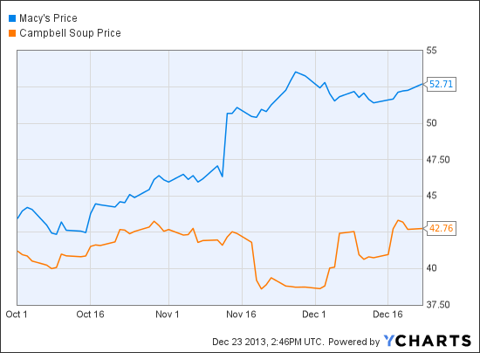 The second transaction was the disposal of Macy's (NYSE:M) and the addition of Campbell's Soup (NYSE:CPB). M was a nice bargain that was added to the portfolio in the third quarter. I will periodically sell covered calls against my holdings to generate some income, or as I like to term it, generate an additional dividend payment. Such was the case with M, except with one major caveat. I forgot to check when earnings would be released which invariably affect the shares. I thought earnings would be announced after the contract expired. To my great dismay, that wasn't the case, and the shares were sold at $47 for an 8% gain. I consider this an unforced error on my part, which cost me an additional 10% profit. The cash held was used to initiate a position in CPB.
CPB sold off more than 12% after its earnings announcement, which I viewed as excessive. The shares were trading for less than 15 times next year's earnings with a yield over 3%. I viewed most of the risk as taken out of the shares at that point for two reasons. The primary reason being the new brands acquired by the company should accelerate revenue growth and hence profits. If the above scenario doesn't pan out, then I can see CPB acquired by another player in the industry.
The second scenario seems to be the case, as CPB has been deemed "in play". If a buyout does materialize, I can see a price tag of at least $50 a share, which equates to 20 times earnings, which is the same multiple that Heinz was acquired for. As of December 21st close, the shares in CPB are up over 10%, which is an outstanding gain. The takeaway here is it is critical to wait for the right buying opportunity to present itself. Once it does, having the capital on hand to take advantage of the opportunities presented is imperative.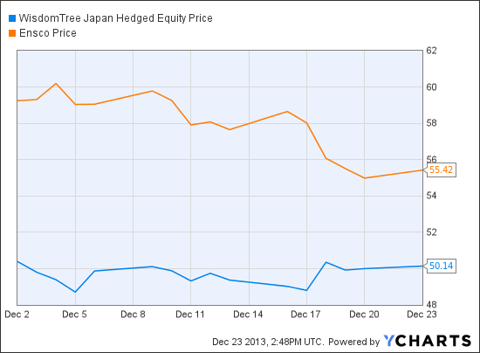 The final move made was the disposal of my profitable trade on Japan. I sold the Wisdom Tree Hedged Japan ETF (NYSEARCA:DXJ) for a roughly 30% gain and used the proceeds to initiate a new position in offshore driller Ensco (NYSE:ESV). ESV is a London-based offshore driller that has doubled its dividend this year to roughly 5%. I realize that offshore drilling is dependent on the price of oil, however, in my view, the price of oil will accelerate higher, especially with increased worldwide economic growth which is expected next year. I wrote about ESV extensively which can be seen here.
I am well aware that offshore drilling is a cyclical industry, however, I am quite comfortable collecting and reinvesting the dividend. ESV management is considered top notch and has alluded to a share buyback program in the coming year. At its current single digit P/E, if management were to initiate an aggressive buyback utilizing its free cash flow, the shares would be marketable higher. The energy industry is well represented in the portfolio, with positions held in Exxon Mobil (NYSE:XOM), BP Plc (NYSE:BP), Schlumberger (NYSE:SLB) and Ensco (ESV).
In conclusion, 2013 has been a great year for the overall portfolio with a gain of roughly 30%. I have managed to beat the S&P 500, however this is not my goal. The goal is to provide steady gains with the least amount of risk involved, which I believe has been accomplished. I would like to thank all the readers who have made writing for Seeking Alpha so enjoyable. I especially look forward to the comments my articles generate as they provide fertile ground for new ideas.
Disclosure: I am long GSK, BP, ESV, CPB, SLB, XOM, CPB. I wrote this article myself, and it expresses my own opinions. I am not receiving compensation for it (other than from Seeking Alpha). I have no business relationship with any company whose stock is mentioned in this article.
Disclaimer: Thank you for reading the article. Investors are always reminded that before making any investment, you should do your own proper due diligence on any name directly or indirectly mentioned in this article. Investors should also consider seeking advice from a broker or financial adviser before making any investment decisions. Any material in this article should be considered general information, and not relied on as a formal investment recommendation.