Gambling is legal in the United Kingdom, and at least one or two bookmaking shops are to be found in every village. Most of them are satellites of huge, multi-billion-dollar publicly traded companies.
When I was in university in London, every time there was a big football--what the Yanks call "soccer"--match on television, they'd show it in the university's pub and it would always draw a huge crowd. I understood little of the mechanics of the game but picked up a bit from talking to various acquaintances; not having fixed loyalty to any team, I'd always bet a quid or two on every major match just to stimulate my interest level.
In the end, all I really cared about was the final score--and the fact that the pub was offering half-priced pints and prawn-flavored crisps--or "potato chips"--during the match.
But it always amazed me how much true soccer fans gleaned from each match; they seemed to understand or intuit the main reasons for a particular team's or a particular player's success or failure.
It seems to me that most pundits regard economic data just as I did football matches back then. The only thing that really gets reported is the headline number and, perhaps, some commentary from a handful of talking heads. At best, you might glean a few sound bites about why a particular data point came out better or worse than expected. There just isn't any depth. Most have some proverbial skin in the game but don't bother to look beyond a few headline numbers.
Those who do actually read the releases and look inside the numbers will find that there's a wealth of information and subtext that the crowd doesn't really pay attention to.
Here's a case that illustrates my point. The US Bureau of Economic Analysis (BEA) revised its second look at fourth-quarter gross domestic product (GDP) on February 26. The headline figure was revised upward from annualized growth of 5.7% in the quarter to 5.9%. The consensus number was for the estimate to remain unchanged at 5.7% , but the slight upside revision wasn't a huge surprise.
The only other part of the report that got much attention was the contribution of inventories to fourth-quarter growth. A slowdown in the pace of inventory liquidations accounted for 3.88% of the entire 5.9% change; this contribution was almost a 0.5% greater than the BEA noted in its advance release on January 29.
In the fourth quarter, corporate capital spending--"nonresidential fixed investment," in BEA terms--added 0.62% to GDP, a significant upward revision from the 0.29% BEA estimated in their advance release. This is the highest contribution to this measure since the fourth quarter of 2007.
More interesting than the headline figure is a look at the line items underneath nonresidential fixed investment. (Click to enlarge)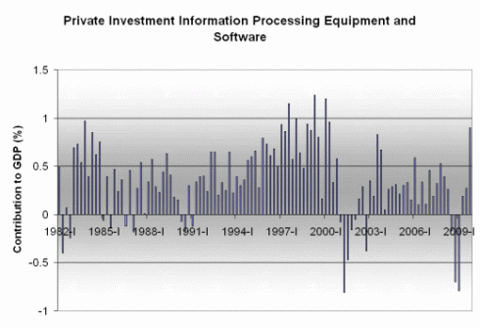 Click to enlarge
Source: Bureau of Economic Analysis
This chart shows one of the major components of nonresidential fixed investment: investment in Information Processing Equipment and Software. I've expressed the data in terms of percent contribution to GDP so that it's comparable to the headline numbers I quoted earlier.
This line item is a measure of corporate spending on information technology. There are two main sub-components of this item, spending on computers and peripheral equipment (hardware) and spending on software. The chart shows data going back to 1982.
You can clearly see the late 1990s tech boom on this chart. Note that spending on IT recovered from the early '90s recession to levels similar to what was experienced back in the '80s. But, starting in 1994, spending really began to boom--in many quarters in the late '90s, corporate tech spending contributed around 1% to GDP, an almost unprecedented level.
You can also see the subsequent tech bust--corporate spending on IT collapsed after 2000. Anyone who owned or traded Nasdaq stocks in the 2000-2003 period knows first-hand what the fall in corporate spending meant to the technology space.
What's even more interesting is that, although tech spending rebounded when the recession of 2001 ended, it remained relatively subdued from 2004 through 2007. This is likely due to a couple of different factors. One is the hangover from massive overspending in the late '90s. Companies that purchased new equipment then may not have needed to upgrade for several years.
Another factor is that Microsoft's (NASDAQ:MSFT) Vista operating system was never particularly popular; many companies simply kept using older versions of Windows rather than making the switch. Changes in operating systems can often act as a catalyst to upgrade PCs and other IT products; not so with Vista, and this certainly didn't help corporate IT investment.
But check out the data for the fourth quarter of 2009. This line item added 0.9% to GDP. This was revised higher from the 0.6% quoted in the advance release. This represents the highest reading for corporate IT spending since the second quarter of 2000, the very top of the tech boom and bubble. That spending appears to be broad based--the PC and peripherals component added 0.36% to GDP, and software added 0.35%. The remainder came from the catch-all "other" category.
This is more strong evidence that a resurgence in corporate IT spending is underway. Companies have massively under-spent on IT upgrades and expansion in recent years; we now face essentially the opposite situation to the year 2000. Companies will have to spend more just to play catch-up on IT. We've been looking for this cycle to kick in for some time, and it's one reason the IT sector is among my favorites.
Disclosure: No positions