When I examined Johnson & Johnson (NYSE:JNJ) in March of this year, I was pretty positive about its future. However, it was a lot cheaper back then. Since my article came out on the 12th of March, the stock has risen by 17.2%. That's a much stronger increase than the two competitors I used to compare JNJ to at the time, Pfizer Inc. (NYSE:PFE), which has gone up by 7.4%, and Merck & Co. (NYSE:MRK), which has seen its share go up by 13.2%.
In this article, I will be trying to find out if Johnson & Johnson's increase in price can be justified by an increase in earnings and sales. The graph below compares revenue, net income, EPS and dividends for the first 9 months of 2012 to the first 9 months of 2013.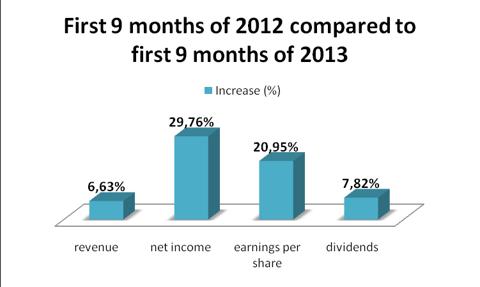 Revenue in the first 3 quarters was 6.63% higher at $52.96 billion, compared to $49.67 billion in the same period last year. For the full year 2013, analysts expect Johnson & Johnson's revenue to come in at $70.90 billion, with a further increase to $73.88 billion expected in 2014.
Earnings per share were $3.58 for the first 9 months of 2013, an increase of 20.95% compared to the same period last year. Dividends increased by 7.82%, which means Johnson & Johnson's payout ratio has dropped from 60.5% to 53.9%. Johnson & Johnson's dividend is protected by the huge amount of cash the company keeps. At the end of fiscal year 2012, Johnson & Johnson had $19.77 billion in cash and marketable securities. Since then, this has increased to $25.23 billion. That means Johnson & Johnson has $8.95 per share in cash. At the current dividend of $0.66, that's over 3 year in dividend payments.
Now, let's look at JNJ's valuation. We will start by looking at the price to sales ratio. Between 2007 and 2012, the average p/s ratio was at 2.88. With the current market cap standing at $259.77, and estimated revenues of $70.90 billion for this year and $73.88 billion for next year, Johnson and Johnson is pretty expensive on a p/s ratio basis. The graph below should clarify.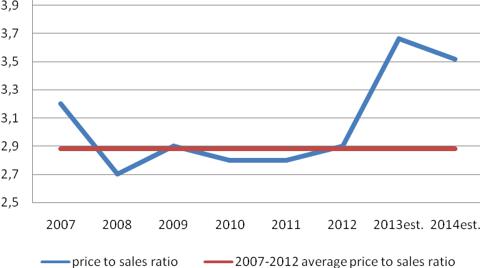 Now, we'd expect to see a similar pattern when looking at the price to earnings ratio. However, as the profit margin has gone up to 19.5% in the first 3 quarters of 2013, the forward p/e ratio is a lot closer to its historical average of 16.0.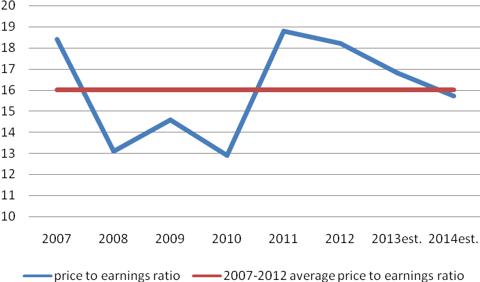 So, to sum it all up, I feel while Johnson & Johnson is a lot more expensive that it was 9 months ago, it's still a good stock. At the current price of $92.02, shares in JNJ will yield 2.87%. Although this is lower than Pfizer's 3.42%, and Merck's 3.56%, JNJ's strong growth forecasts mean a dividend increase is far from unlikely. Both earnings and revenue are expected to go up, and the large amount of cash Johnson & Johnson keeps makes it dividend very safe, while also allowing for share repurchases.
What's your view on Johnson & Johnson? Feel free to comment below.
Disclosure: I have no positions in any stocks mentioned, but may initiate a long position in JNJ, PFE over the next 72 hours. I wrote this article myself, and it expresses my own opinions. I am not receiving compensation for it (other than from Seeking Alpha). I have no business relationship with any company whose stock is mentioned in this article.