Introduction
National Oilwell Varco Inc. was selected as a company that may experience sharp price movement in the next 12 months. This article presents a company analysis, a technical analysis, and a fundamental analysis for National Oilwell Varco Inc. The article concludes by recommending a price target for the company's stock shares.
Company Analysis
National Oilwell Varco, Inc. (NYSE:NOV) is a leading provider of equipment and components used in oil and gas drilling and production operations, oilfield services, and supply chain integration services to the upstream oil and gas industry. The company generates revenue through three operating segments: Rig Technology, Petroleum Services & Supplies, and Distribution & Transmission. These three segments generated respectively 48.13%, 33.17% and 18.7% of the revenues in 2012.
According to the company's Investor Relations page the demand for Rig Technology products is primarily dependent on capital spending plans by drilling contractors, oilfield service companies, and oil and gas companies; and secondarily on the overall level of oilfield drilling activity, which drives demand for spare parts for the segment's large installed base of equipment.
The demand for Petroleum Services & Supplies is determined principally by the level of oilfield drilling and work over activity by drilling contractors, oilfield service companies, major and independent oil and gas companies, and national oil companies.
The demand for Distribution & Transmission services is determined primarily by the level of drilling, servicing, and oil and gas production activities. It is also influenced by the domestic economy in general, housing starts and government policies.
The company mainly provides goods and services to floating production, storage and offloading vessels ("FPSOs"). We have seen the FPSO orders on the rise in 2013 reaching 1bn USD. With the economy improving we forecast that many companies will expand their capital expenditures resulting in more orders for National. The high order levels in 2013 show that there is an existing material demand that will fuel further growth. In their last quarterly report the company reported rig-technology business is up 9% from the prior year. The new orders in the largest segment were 3.31b USD.
However there are some headwinds that remain. We will be looking for improvement in the following areas in before adjusting the target price:
The strong demand forced the company to add capacity at a high cost. This outsourcing impacted the operating margins. However, there is an indication that production efficiency may improve, which will help margin levels.
National Oilwell Varco announced a spin-off its oilfield production equipment distribution business. While this is generally perceived by a good move we will wait and see what the final effect on the operating margins will be.
Over the last few months some analysts reduced their earnings estimate on worries of future sales growth. Eventually we believe this will only help the company to deliver a positive surprise during the next earnings call.
Technical Analysis
Out of the many available technical indicators, National Oilwell Varco Inc.'s share price responded well to the Williams %R (14) indicator. The back testing results shows that, if one has bought the stock every time the WR crosses -80 from below and covered or shorted it when the WR crosses -20 from above, the overall result would have been realizing a profit. The current Williams %R (14) value is -70.74 and with an RSI of around 37 the company is oversold. In addition the stock price touched the lower Bollinger Band (2, 20) few days ago leading to the conclusion there is a good buying opportunity.
We see a support range between 76.20-76.50 and resistance levels around 82.10-82.50. The whole energy sector has been oversold lately and we expect it to come back in 2014.
Based on this technical analysis, we issue a buy recommendation and expect the price to increase to 84-84.50 USD within the next three months. If we see a breakout from this levels the next target would be 87 USD which is 11% gain from current price levels.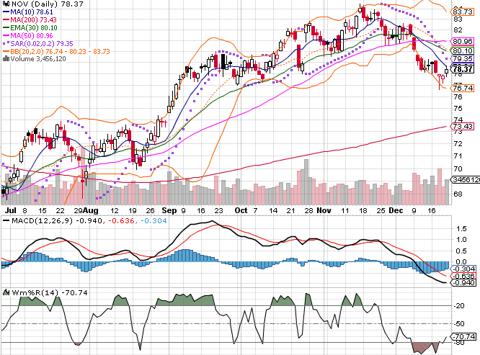 Click to enlarge
Fundamental Analysis
Financial Ratios
We give National Oilwell Varco Inc. a score of seven out of nine following our in-house developed model. Our benchmark criteria model is a set of ratios that must be met in order to conclude that the company has excellent financial health and growth prospects.
Profitability
National Oilwell Varco Inc. has above industry gross margin level of 24.06% that is driven by strong revenue growth. The company is managed well in terms of controlling the costs resulting in 29.8% 5-year average gross margin. We are slightly disappointed in the reported net profit margin, which we believe should be at around 12% (compared to the current 10.44%). We hope that the spin-off of the oilfield production equipment distribution business will help the margin levels. Because the distribution business is a low-margin segment its separation should help the overall operating and the net margins of the company.
Growth
In terms of growth National Oilwell Varco Inc. shows decent numbers. The company has consistent 5 year annual average revenue growth of 15.41%. This growth indicator was one of the main reasons why we decided to look into the company. We expect the trend to continue and growth numbers to be above industry average. We believe that revenue based growth will be one of the most important indicators investor will look for in 2014. With the economy improving, companies need to report higher sales in order to justify high share price. There are three ways to improve the earnings: revenue growth, boosting the operating margins and share buybacks. With the operating margins at all-time high companies have less possibilities to increase their earnings. Some make the argument that share buybacks will have big impact on the earnings per share in 2014. We believe that this statement is a bit exaggerated. In order for the buyback to have a positive impact on the earnings levels the company must be a net buyer. A single share repurchase will not help the profit level if the company had issued more shares few months before. This is why we will be looking to buy companies with strong sales growth. Of course the past performance is not an indicator of future result but we expect the energy sector to grow faster in 2014.
Financial Strength
In terms of investment returns the company does not impress. One of National Oilwell's major competitors Schlumberger Ltd (NYSE:SLB) has better Return on Assets, Return on Equity and Return on Investment Capital. The reason is the relatively lower net margins reported by National Oilwell. However, we believe that Schlumberger is currently slightly overvalued.
Company's current and quick ratios are at very healthy levels being 2.57 and 1.45 respectively. Also National Oilwell's debt to equity ratio is at only 0.17 which is one of the industry's lowest levels. Overall we conclude that the financial condition of the company is very healthy and there are not any major red flags.
DCF Model
We employ a multistage DCF model, which aims to deliver an approximation of the fair value of the share price.
All of the above analyses gave us confidence to use a short-term growth of 7% (decreasing to a long-term growth of 2% within the next 10 years) in our Discount Cash Flow valuation model. Based on the DCF model, the fair market price of National Oilwell Varco Inc. stock is 99.94 USD. The company is currently trading at 78.37 USD. For this stock, we use a safety margin of a 20% discount, meaning that we will be looking to buy the stock at levels below 79.95 USD. Based on the above analysis, the signal generated by the DCF model is a buy.
Relative Analysis
In determining the National Oilwell's fair share price using relative analysis, we took the price ratios of three of the closest company's competitors: Schlumberger Ltd. , Halliburton Co (NYSE:HAL), and Cameron International Corp (NASDAQ:CA). National Oilwell Varco Inc. looks undervalued by all four metrics. The fair price when a averaging the different estimates is 110.49 USD. Based on the relative analysis we issue a buy recommendation.
PRICE RATIOS

NOV

SLB

HAL

CAM

Average

RV Price

Current P/E Ratio

14.37

17.4

24.2

20.83

20.82

$ 112.69

Price/Sales Ratio

1.5

2.53

1.6

1.56

1.90

$ 98.35

Price/Book Value

1.55

3.03

3.35

2.14

2.84

$ 142.51

Price/Cash Flow Ratio

12.53

12.5

10.9

19.34

14.24

$ 88.39

 
 
 
 

Average Price:

$ 110.49
Conclusion
Based on the analysis above we believe that National Oilwell's share price is currently undervalued and represents an attractive buying opportunity. We estimate a short-term share price target of 84.50 USD and a 12 month target of around 100 USD.
Disclosure: I have no positions in any stocks mentioned, but may initiate a long position in NOV over the next 72 hours. I wrote this article myself, and it expresses my own opinions. I am not receiving compensation for it (other than from Seeking Alpha). I have no business relationship with any company whose stock is mentioned in this article.