Boeing (NYSE:BA) is focused upon building a strong order book by introducing new low cost, fuel efficient aircraft. It is also increasing its production rate, which will help it generate increased revenue in the future.
With its long-haul aircraft 777X, Boeing dominated the Dubai Air Show and built its order book stronger. Its 777X is 12% more fuel-efficient and 10% more cost-effective than its major competitor, European Aeronautic Defense and Space Company (OTCPK:EADSY), developer of Airbus aircraft-A350. With its superior fuel-efficiency and cost benefits, the 777X model generated orders worth $101.5 billion at the Air Show compared to Airbus orders of $44 billion. The three Middle-Eastern airlines-- Emirates, Qatar, and Etihad -- ordered 225 aircraft, worth $95 billion. Emirates placed more than 50% of the total orders for the 777X, or $55.6 billion, helping the company to strengthen its order book.
Boeing is now shortlisting the location of its factory that will produce the 777X. It has received proposals for 54 sites from 22 states. Analysts expects Washington will be the best location as Boeing has already manufactured the 777 aircraft series there. This location will offer the lowest risk and cost, allowing the company easy access to a trained work force and state incentives, which includes low-cost land and faster regulatory permission with tax incentives of $8.7 billion. However, deliveries of 777X aircrafts are not expected until 2020, so Boeing is speeding up the manufacturing of its 787 Dreamliner to maintain its cash-flow position.
To speed-up its 787 manufacturing activities, Boeing decided to expand its South Carolina facility. Construction will begin in the second half of 2014 and will be completed by mid-2016. This facility will paint fully assembled 787s and help Boeing avoid unnecessary delays in delivering these aircrafts to the customers. The 787 is currently assembled at this facility and then flown to Fort Worth, Texas, for painting before being flown back to South Carolina for delivery. Use of this facility will avoid the extra flights of around 2,000 nautical miles, resulting in cost saving, faster deliveries and faster cash flows.
The company's operating cash flow has doubled to $6.8 billion in the first nine months of 2013 compared to same period last year. Increasing the production rate of 787s and delivering the aircraft on time to customers will help Boeing achieve strong top-line growth with the expected operating cash flow of $7 billion this year.
Orders and deliveries of 787 aircraft up to November 30, 2013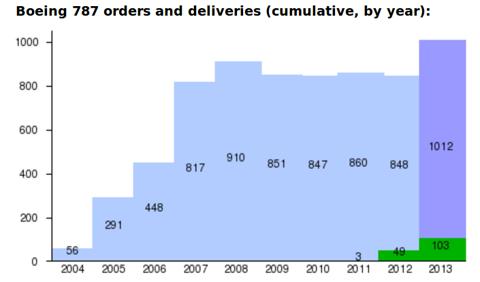 Source: Wikipedia
Boeing's backlog for the 787 Dreamliner is more than 900 aircraft. To date, it has delivered only 103 787s, and for 2013 it delivered 54 aircraft with year-over-year growth of 10.2%. This new facility is expected to support the company's plan for improving its productivity in building new 787 Dreamliners by around 40% by 2020. The company has planned to enhance its 787 production rate, from the current seven units per month to 14 units per month by 2020. Boeing's backlog for each aircraft is as follows: 393 aircrafts for 787-8; 396 aircrafts of 787-9; and 120 aircrafts for 787-10.
Expected combined contribution by 787 Dreamliner family
| | | | |
| --- | --- | --- | --- |
| 787 production schedule | Expected yearly production | Average Per unit Price of 787 (in million $) | Revenue from 787 sales (in Billion $) |
| 2014: 10/month | 120 | 250 | 30 |
| 2016: 12/month | 144 | 250 | 36 |
| 2020: 14/month | 168 | 250 | 42 |
By increasing production of the 787 Dreamliner, Boeing is expected to generate higher revenue in 2014, with significant revenue contribution from the 787.
Boeing estimates it will deliver more than 60 787 aircraft in 2013. With the current production rate it will comfortably achieve its target and will deliver another seven to eight of these aircrafts by the end of the year, generating revenue of around $2 billion for December and more than $5.5 billion in the fourth quarter. The calculations are based on an average price of $250 million per 787 aircraft with deliveries of 22 aircrafts in the fourth quarter (based on 62 aircrafts, subtracting first-nine-month deliveries of 40 aircrafts).
Another competitor standing strong
Embraer (NYSE:ERJ) is the third largest aircraft manufacturer after Boeing and Airbus. Currently, 61 of its aircraft are operated by eight Middle Eastern operators and around 18% of the overall flights in this region have been flown by the company's Ejets. It is expected that airline operators cannot use Airbus A380, A320, or Boeing 737 aircrafts for all the routes in Middle East, generating a strong opportunity for its 100-seater capacity aircraft. Embraer will deliver around 305 Ejets aircraft in the next two decades, which will represent nearly 10% of the total demand for all jet aircraft in Middle East. Out of these, 130 aircraft will be delivered by 2021, giving competition to Boeing and Airbus aircrafts.
US Airways (AAMRQ) will be purchasing 90 new jet aircraft, which includes 60 E-175 jets of Embraer and 30 CRJ900 jets of Bombardier (OTC:BOMBF) to replace its old, less fuel-efficient aircrafts. The order for Embraer will be around $2.5 billion. US Airways also has an option to buy another 130 jets -- 90 from Embraer and 40 from Bombardier. The continuous flow of orders from the airlines will help Embraer increase market share. Further, the timely deliveries of the jet aircrafts will strengthen its top line, which has shown a quarter-over-quarter revenue decline of around 8.4% to $4.06 billion.
Conclusion
The large orders for the 777X at the Dubai Air Show that increased its order book and commencement of production has provided Boeing a solid base for growth. Moreover, it's enhancing the production rate of the 787 Dreamliner will enable the company to convert its 787 order backlog to revenue at a higher rate. This is expected to help Boeing achieve its revenue guidance of around $86 billion.
Additionally, Boeing has raised its quarterly dividend by around 50% to $0.73, or $2.92, on annualized basis, and it will be payable on March 7, 2014, to shareholders with a record date of February 14, 2014. The company's board also approved a share repurchase authorization of $10 billion, and it will likely use this authorization in the next two to three years. Boeing's plans and its strong fundamentals will keep investors interested in the stock.
Disclosure: I have no positions in any stocks mentioned, and no plans to initiate any positions within the next 72 hours. I wrote this article myself, and it expresses my own opinions. I am not receiving compensation for it (other than from Seeking Alpha). I have no business relationship with any company whose stock is mentioned in this article.