Major department stores across the USA and the UK embark upon marathon shopping sessions to entice customers to make holiday purchases.
Holiday shopping for 2013 got off to a fairly slow, but steady start according to reports. In an effort to drive revenues in the 11th hour, major retailers across the USA embarked upon 100 hour marathon shopping sessions to lure customers into their stores. Big retailers in the USA are looking to boost their sales figures with around-the-clock service and open doors right through until Christmas Eve. Whether this last-minute drive to attract customers will work is anybody's guess, however forecasts generally project the 2013 Christmas shopping figures to be lukewarm. Several big-name retailers in Kmart (NASDAQ:SHLD), Macy's (NYSE:M) and Kohl's (NYSE:KSS) decided upon the 100 hour 5 days straight approach to reel in customers who have so far been reluctant to brave the cold weather, and spend their hard-earned cash. An analysis of Kmart stock reveals a slight uptick in the past 5 days with Christmas sales driving stock prices from 44 to 46. Trading volumes have increased dramatically in the run-up to Christmas with figures of 5.65 million on 20 December 2013. Kmart has increased .45 up to $45.94, an increase of .99%.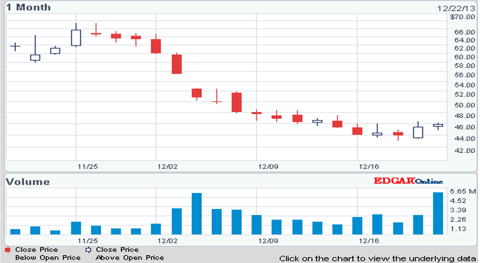 A similar pattern can be seen by another US giant retailer in Macy's Incorporated stock chart. The volume of trade increased to 5.74 million on 20 December 2013 when the stock opened at 52.39 and reached a high of 52.72. This is the highest volume in trading since 2 December 2013 when 6.34 million shares were traded.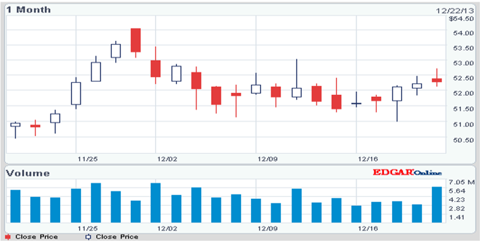 In the run-up to Christmas 2013, most of the US has been hit by bitterly cold weather, with temperatures across the North East, the Midwest and the heartland of the country dropping in a wide range between -9° and 50°. Much of the problem that continues to plague the US economy is attributed to the lag effect. While the economy may be recovering, Main Street is not feeling that recovery as stagnant wages and uncertainty continue to plague the average American. The recent Affordable Care Act debacle adds to the uncertainty, and causes many people to hold onto their disposable incomes, not knowing what will become of their family's medical coverage in 2014. Nonetheless, Christmas shopping appears to trump other concerns at this time of the year and a flurry of last-minute economic activity is expected to drive retail sales figures over the goal lines. Analysis reveals that almost $177 billion was generated between 1 November and 15 December 2013. This figure is up 2% over the prior period. The resultant pressures that retailers are facing means that they are going to be slashing prices ahead of Christmas and the New Year to get rid of old inventory and merchandise on their floors. While not all stores will open for 100 hour marathon shopping sessions, most of them will be open for 48 hour trading sessions in the run-up to Christmas 2013.
UK Retailers See a Boost in Christmas Sales 2013
One of the UK's most popular retailers - John Lewis - has enjoyed a dramatic upswing in sales in the weeks leading up to Christmas. In tandem with the trends that are being seen in the USA, a late surge in shopping seems to be the norm in the UK too. According to John Lewis, their company has been selling 6 iPads every minute and this has helped it to rack up an impressive £164 million in revenues for the week ending Saturday, 21 December 2013. This amounts to a sizable increase in sales over the same period from 2012 of 4.2%. More importantly this marks a dramatic turnaround (32%) in the company's fortunes from 2011. It is important to bear in mind that the trends that are being seen reflect all sorts of fluctuating revenues over different time periods. John Lewis - at its other department stores in the UK - recorded sharp losses in revenue in the week before this period in question. Below is the graph for John Lewis (JLH) as listed on the LSE (London Stock Exchange). The company's stock peaked at 1.67 for the 13 December through 17 December. By 20 December the share price had dropped to 1.575. The stock recorded a sharp increase in its share price from 21 October 2013 when it was trading at 1.12, but effectively leveled out in the run-up to the Christmas shopping season.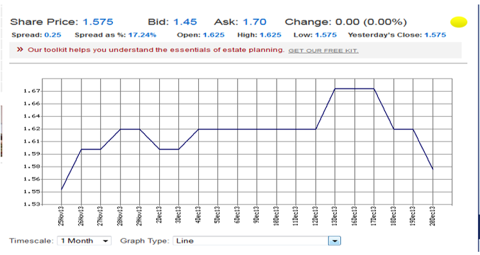 Another household favourite in the UK - Marks & Spencer (OTCQX:MAKSY) - is preparing to slash prices in an effort to bring the Christmas shoppers to its stores. Marks & Spencer has announced discounts as deep as 30%. Other retail chains include the likes of Debenhams (OTCPK:DBHSY), House of Fraser (HOF:LN), The Gap (NYSE:GPS) and Argos (ARG:LN). The big trading days are the final two days before Christmas - the 23rd and the 24th. Economic analysts in the UK agree that there have been marked improvements in the United Kingdom; however rising petrol prices are putting a damper on the recovery and people's disposable incomes. And much like the general sentiment in the US, the performance of UK retailers during the holiday season has been solid but lackluster. The clincher as far as retailers are concerned is how deep their discounts have to be to attract customers, and how many promotional enticements they are prepared to offer the public.
Deep Discounts are Key to Boosting Revenues
In the weeks leading up to the holiday shopping season, many retailers were anxious about the disappointing revenues that were being generated. International auditing firm Price Waterhouse Coopers ((NYSEARCA:PWC)) reported that almost 75% of retailers were looking towards discounting their merchandise to bring in more customers. Scores of sales and promotional offers are being held and discounts as deep as 75% are being offered. According to the CBI in Britain, 48% of the firms that were surveyed reported higher sales volumes than 2012. Of those same firms that were surveyed, 14% reported negative growth. The general consensus however is that British retail sales figures for the holiday season have outperformed expectations. Barclays Bank believes that online sales will grow by 2.8% over 2012. This is going to be a year where online shopping continues to dominate, at the expense of high street. So far, 20% of British holiday season sales are being made online. One of the biggest payments processors - PayPal - expects an overwhelming majority of UK shoppers to use PayPal to make Christmas purchases. The top users of this popular payment solution during the Christmas season are expected to be Germany, the USA and UK. Many respondents in these countries prefer the online shopping approach to traditional bricks and mortar shopping. Shopping on Sunday, 22 December 2013 in the UK was expected to yield revenues of over £1.2 billion.
The Final Word
Given the flurry of last-minute retail sales in the USA, UK and continental Europe, it appears certain that stock prices will see large volumes of trading in the available trading days between the 24th December and the 31 December 2013. Low overall price movement may be the order of the day with the trading week cut short by Christmas, Boxing Day (NASDAQ:UK) and New Year's Eve celebrations. Retail investors may be best served by waiting for the hype to die down when the January sales kick in. As some semblance of normalcy returns to the retail sector, prices may indeed retreat and make these retail stock options the ideal post-Christmas shopping treats.
Disclosure: I have no positions in any stocks mentioned, and no plans to initiate any positions within the next 72 hours. I wrote this article myself, and it expresses my own opinions. I am not receiving compensation for it. I have no business relationship with any company whose stock is mentioned in this article.