On the morning of Dec. 23, 2013, DRAM Exchange said that the first half of December NAND Flash contract prices have dropped by 1%-3% compared to the second half of November. This news undoubtedly contributed to lower pre-open trading prices, initially around $21.50 and quickly moving to the $21.22-$21.38 range in the opening hour.
The key messages from DRAM Exchange were that:
November NAND prices slid 10%-11% from October
NAND demand is worsening
NAND inventories are running high
Q1 2014 shipments of products utilizing NAND as a component will be down 10%-15% compared to Q4 2013.
And as per Trendforce (see above link): "The general attitude displayed toward the first quarter, all in all, will be mostly conservative. As such, the contract price downtrend is unlikely to show any signs of stopping in the short term."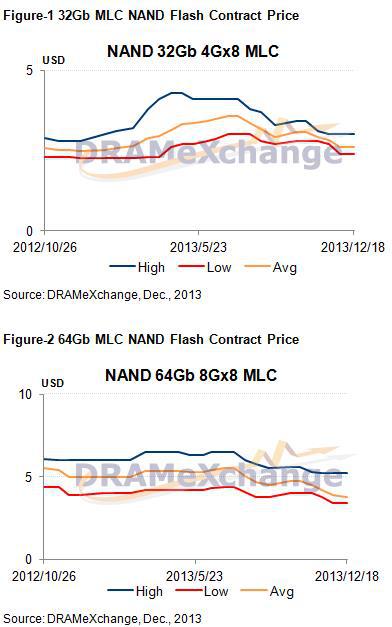 While production is not going to increase much (6.2%), the combined weight of increasing inventories and worsening demand signify a worsening price dynamic. This affects SanDisk's (SNDK) and Micron's (NASDAQ:MU) projected and incoming revenues and product performance.
Also noteworthy is that Bank of America Merrill Lynch lowered Micron's rating to underperform, with Bank of America Merrill Lynch analyst Simon Dong-je Woo reporting that he expects the stock performance of Micron as well as DRAM pricing to weaken. He also noted that the company is now one of the "least preferred" memory stocks. Note that previously this team was very supportive of Micron valuation all the way into the $20s.
If we talk about Micron specifically, NAND is somewhere between 25% and 27% of its projected incoming quarter revenue. The immediate implication is that the recent NAND changing pricing dynamic does not knock Micron's incoming revenue estimates down that much (1%-2%), but SanDisk is more susceptible to that change. The trend does signify overall market conditions, which propagate to other revenue-generating areas. For example, DRAM contract pricing trends, still significantly benefiting from the reduced output of Hynix, have slowed down to only a 3% increase in the first half of December, as last reported on Dec. 19 by DRAM Exchange. The substantial drops on any news that SK Hynix maybe back online or indicating that flash markets are topping off lead to drops in the stock price of about $1-$2 each.
One last point to ponder: About a week ago I published an article that, among many other things, had a bearish call for the prior week and this week. Interestingly enough, amid conflicting news about Hynix factories coming online (dropping Micron's stock price) and DRAM pricing being good (and bringing Micron stock price back up), then NAND pricing worsening and Micron getting downgraded (driving stock price down again), the predicted trend has been materializing so far. The view is cluttered by multiple spikes up and down, so the question is how much of the overall change is just fluctuations.
To answer this you may want to run statistical analysis on the price/volume distribution, while removing outliers in spikes and splashes (both positive and negative) and plugging in some trend analysis (with simplest being multivariate non-linear regression). Even if you just go with technical analyses you will notice that not only the pricing and volume trends are in a downward trend overall, but the velocity of that trend is increasing. This is significant because it reflects both a level of trading interest and excitement about the stock as well as the materializing of selling dynamic.
Conclusion
There is a rapidly increasing body of signals that cumulatively point to shifting dynamics in the DRAM and NAND marketplace. This creates objective downward pressure on pricing in those markets and stock prices for companies whose main business is selling those products. In my opinion, this further shifts the pricing trajectory from possibly rising in spring until early summer to being depressed. What is most important is that analyses of changes in trends in the predictive factors tell a cautionary tale. If you have any doubt, remember that bearish markets and trends always start when the irrational exuberance on the bullish side is at its highest.
Disclosure: I am long MU. Closed an options position at 9:39 a.m. ET on Dec. 24, 2013. I hold dominantly a short view until this year-end. I wrote this article myself, and it expresses my own opinions. I am not receiving compensation for it (other than from Seeking Alpha). I have no business relationship with any company whose stock is mentioned in this article.