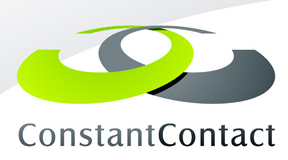 Equity markets continue to rally as economic news appears sanguine and professional managers add risk. For most professional money managers, there's nothing worse than under performing their benchmarks, so as the market climbs higher it is becoming more difficult for these institutional investors to resist buying attractive growth stocks. While I still expect the market to turn lower due to economic weakness, Constant Contact Inc. (CTCT) could at least temporarily benefit from the willingness of institutions to increase their risk exposure.
Constant Contact is primarily an email marketing firm which allows small businesses to build a contact list of prospective clients, and send regular emails to this list in order to generate sales. The platform is attractive not only to small businesses (who may not have the technical resources to design their own email marketing programs) but is also helpful for non-profit organizations soliciting donations or simply distributing information to interested parties. With an attractive entry price of just $15 per month, the service is accessible to almost any venture and could easily pay for itself with a minimal level of converted sales.
Investors appear confident in the long-term growth of this company, as the stock is currently trading at more than 50 times expected earnings for 2010. While this is certainly an excessive multiple for most companies, Constant Contact may actually deserve this vote of confidence as the company has recently crossed over the "profitability threshold" and should be ramping earnings substantially. Often, growth companies focus on building revenue for years and are willing to operate at a loss in order to capture market share. When this strategy works, there is a point where revenue growth exceeds expenses and earnings increase at an exponential rate. This exponential growth almost never lasts for more than a couple of years, but the levels of earnings can often justify what originally was seen as an excessive multiple.
Such is the case right now as Constant Contact turned it's first profit of 3 cents in 2008, generated 13 cents in 2009 and is expected to post 36 cents in 2010. With revenue of $129.1 million in 2009 and expected revenue of $169 to $173 million in 2010, much of the additional cash flow should fall directly to the bottom line, increasing earnings per share and generating more confidence in the growing business.
We are pleased that the company's revenue was ahead of our expectations for the quarter, closing out a highly successful year for Constant Contact. While the economic environment for small businesses was very challenging in 2009, Constant Contact was able to grow revenue by 48% and add over 94,000 net new email marketing subscribers, both of which represent significant accomplishments. ~ Gail Goodman, CEO
The currently high unemployment rate has many individuals considering striking out on their own, or launching a part-time business to help make ends meet. Since our economy is making increasing use of internet marketing, Constant Contact is in the position to grow its client base and provide a valuable service to these new ventures. Significant marketing expenses ensure that CTCT is staying in front of its target customer base which is very important as the company continues its exponential revenue growth.
While CTCT is certainly the most well known and aggressively marketed solution for email marketing, it is certainly not the only player in the space. The ZachStocks Newsletter actually uses AWeber Communications, a privately held email marketing firm. Many larger corporations are able to set up their own platforms more efficiently, but for small businesses Constant Contact remains the leader with a very efficient and cost effective platform.
In order to truly get excited about Constant Contact, I would like to first see the stock break above $19.50 on strong volume. That would help to indicate that institutions are buying the growth story and would provide an attractive entry with limited risk. Once a trade was initiated, a stop could be placed under the most recent swing low (or for longer-term traders, below the $17 low from early February). While I am not normally a fan of buying at extreme multiples, the impressive growth rate and inherent leverage in the business makes this an attractive candidate for a rising market.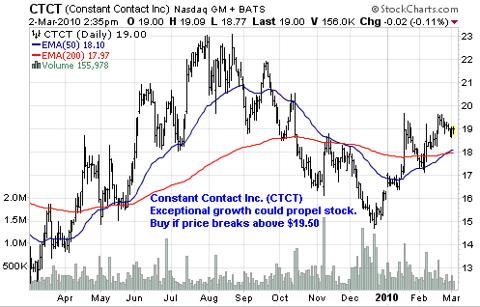 Full Disclosure: Author does not have a position in CTCT