Thanks to a strong consumer, lower gas prices and flat commodity costs, many in the grocery and supermarket space have had a great 2013. Several companies in this space have actually crushed the market from a year-to-date look, and were looking pretty good heading into the final part of the year.
However, it is important to remember that the supermarket space is extremely cutthroat, and with tiny margins, there is little room for error in this space. And we have begun to see a former high-flyer start to slip up in this segment, Safeway (NYSE:SWY), and it could actually be a company to avoid heading into 2014.
Safeway in Focus
Safeway is a major food and drug retailer, arguably most famous for its Safeway brand grocery store. The company operates across the country, but definitely has a focus on the West, South and Mid-Atlantic regions of the United States.
Safeway has surged more than 80% on the year thanks largely to the positive trends impacting grocery stores earlier in the year. However, as of late, the stock has stagnated, adding just 4.6% in the past three months, underperforming the S&P 500 in the time frame.
While part of the reason for this sluggish performance lately is undoubtedly the stock taking a breather after its incredible run, some cracks are starting to appear in SWY's story. This is particularly true when investors look at the firm's recent history at earnings season.
Safeway Earnings
Despite the company's solid share price appreciation as of late, earnings have been horrendous, at least when compared to the broad consensus. SWY has missed for three straight quarters, including misses of at least 37% in both of the past two.
Thanks in part to this, and the intense competitive environment, estimates have started to slide lower for the grocery company, falling for both the current quarter and the current year figures. While the magnitude of the decline hasn't been too big, what is really troubling is what this says about the earnings growth rate for the firm in the near term.
Now, SWY is expected to see an earnings contraction of over 46% for the current quarter, and over 51% earnings contraction (year-over-year) for the current year. Next year numbers are projected to see strong growth, but after such terrible figures leading up to next year, you would hope that this would be the case.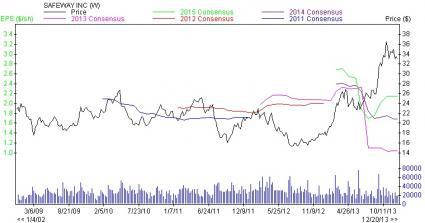 Given these factors, it is easy to see why Safeway has run out of steam in recent trading, and why it could be due for a drop. This is especially true thanks to the earnings picture, and it is why we currently assign SWY a Zacks Rank No. 5 (Strong Sell), meaning we are looking for a drop in this company in the near future.
Other Picks
The industry isn't looking that great either as the space is currently in the bottom 20% from a Zacks Industry Rank. In fact, eight of the 18 companies in the space have a Zacks Rank of 4 (sell) or worse, suggesting some widespread pessimism right now on the sector.
However, there is a ray of hope in this competitive industry, at least if you look to international companies. Sainsbury ADR (OTCQX:JSAIY) has a Zacks Rank #1 (Strong Buy), while Carrefour SA (OTCPK:CRRFY) and U.S.-focused Harris Teeter Supermarkets (NYSE:HTSI) have Zacks Ranks of 2 (Buy).
So while the supermarket space might be one to avoid right now, there are at least a few picks that have seen strong earnings estimate revisions lately, and may be solid picks. Any of the above names - JSAIY, CRRFY or HTSI - at least are looking better than the likely overbought SWY which may be poised for a fall as we head into 2014.

CARREFOUR SA (OTCPK:CRRFY): Get Free Report
HARRIS TEETER (HTSI): Free Stock Analysis Report
SAINSBURY(J)ADR (OTCQX:JSAIY): Get Free Report
SAFEWAY INC (SWY): Free Stock Analysis Report