When rumors first surfaced that Ford (NYSE:F) CEO Alan Mulally was on Microsoft's (NASDAQ:MSFT) short list to replace Steve Ballmer atop the technology giant, something happened to Ford shares. Uncertainty and concern crept into the value equation, and I believe this issue has stolen away and locked up real economic value from shareholders of Ford. Thus, I think the company would do well to secure Mulally if he is truly considering leaving for the big seat at Microsoft. If he is definitely not leaving, Ford and Mulally would also free economic value by indicating so formally.
Alan Mulally is in demand at Microsoft for a reason, and it's the same reason he is important to Ford investors. He led the company safely through the financial crisis and economic recession that followed. Ford needed no assistance from the Federal government, like its reorganized rival General Motors (NYSE:GM) did. The Ford team bore none of the embarrassment GM had to endure, nor the criticism of taxpayers, when the government stepped in and bailed out companies like GM and AIG (NYSE:AIG). Instead, the Mulally led Ford was able to proudly say - no thanks we'll be fine on our own. It was a source of confidence for more than just Ford, though, as it reassured America that poor management was not endemic.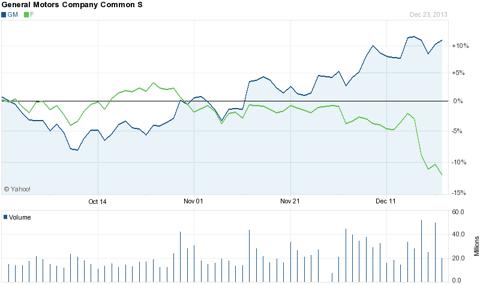 Click to enlarge
You can see the beginning of the latest divergence between GM and Ford shares starting in October. Certainly as rumors heated about Microsoft's interest in Ford's top guy uncertainty and concern entered as factors for F stock. Everyone expects Mulally to retire at the end of 2014 according to plan. But even as his leaving is not too far off, a smooth transition is preferred on a still relatively long timeline versus a surprise departure at this very near-term juncture.
Ford has done little to dispute the claims of some in the analytical community and the media that Mulally is a favorite to replace Steve Ballmer at Microsoft. There have been vague statements of refute, but we see those today in politics all the time, and they often prove meaningless when the news breaks eventually. Investors know that, so only a pure unadulterated direct statement of reassurance will do to help remove the value burden of the overhanging issue.
Not all of the value gap evident in the price chart above will close with the securing of Mulally, but some should. The reason for the late dive seen in the chart during more recent times is due to operation difficulty at Ford and its recent reassessment of its 2014 forecast. Those changes have led to a significant change in analysts' estimates for the company for 2014, with the consensus EPS estimate for 2014 cut to $1.52, from $1.83 just a week ago. That's a 17% downward adjustment that has given investors very tangible cause for concern of late, and it explains this 5-day chart below and the decline that occurred on December 18th.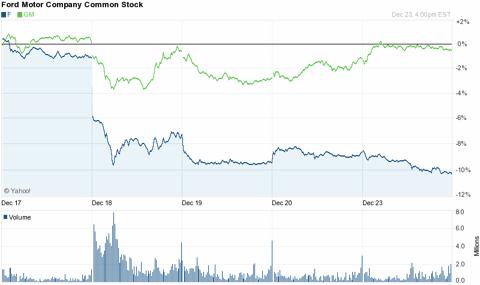 Click to enlarge
Even while the stock is down on its operational issue over the last week, it still has a question to answer regarding its leader, and that question is even more important to shareholders today. A change of leadership at a time of turmoil could exacerbate the situation and cause a real shakeup in the valuation comparison between automakers.
| | | | |
| --- | --- | --- | --- |
| Automaker | P/E ttm | PEG | P/S |
| Ford | 10.7X | 0.82 | 0.42 |
| GM | 17.6X | 0.73 | 0.37 |
| Toyota (NYSE:TM) | 10.5X | 0.32 | 0.62 |
| Honda (NYSE:HMC) | 14.9X | NA | 0.54 |
| INDUSTRY (Yahoo) | 14.8X | 0.82 | 0.61 |
You'll note that Ford does not trade at a discount to these peers on a PEG basis. It's the unfortunate result of a slower analysts' consensus long-term growth projection for the company and perhaps questions about its peers' ability to meet growth expectations. On a P/E basis, Ford trades at a relative discount to industry, and it also appears penalized on a price-to-sales basis. Obviously, there are multiple factors playing important roles in the value of the stock today, but I am confident that some value would be created (or recreated) with a reassuring action and statement indicating that the leader of this company was not going anywhere.
If Ford does not come forward with a securing statement and possibly a proposal for a raise for the key CEO, Microsoft will solve the problem for Ford in early 2014. It said as much in a recent press release. I'll have something to say about Microsoft's best direction as well in a near-term article, so stay tuned.
Disclosure: I have no positions in any stocks mentioned, and no plans to initiate any positions within the next 72 hours. I wrote this article myself, and it expresses my own opinions. I am not receiving compensation for it (other than from Seeking Alpha). I have no business relationship with any company whose stock is mentioned in this article.