Orleans Homebuilders (OHB), which has home and condo building operations in eight states, filed for Chapter 11 on Tuesday after defaulting on a $350 million credit facility in February. At the time of filing, the company had $311 million in cash borrowing outstanding on the credit facility and had failed to get all 17 bank lenders to agree to extend the maturity. As of the end of 2009, the company had $440 million in assets compared to nearly $500 million in liabilities.
Obviously, the company has struggled along with the rest of the industry due to a slumping housing market as revenues have fallen by nearly two-thirds from their peak in 2006. Furthermore, land and other assets bought during the boom days in homebuilding are worth far less now following the bubble's burst. These two events have caused assets to fall at a much faster pace than the company could lower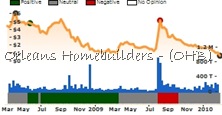 its debt, and the heavily leveraged balance sheet deteriorated rapidly. Orleans is seeking court approval of a $40 million financing package that would enable the company to continue to operate during bankruptcy, as it seeks to find a buyer through negotiated sale, reorganization plan, or court-supervised auction.
The housing market has been brutal and in hindsight it is easy to see that there were too many houses built and too many developers. Unfortunately, Orleans Homebuilders was just one of the companies that became too over-leveraged and could not tread water long enough to stay afloat. It fought diligently to reduce its debt load by nearly 40% since January of 2007, but in the end the company could not get out of its own way. Orleans has had difficulty managing its debt and required extensions from lenders for the better part of a year, so at this point lenders had run out of patience.
At Ockham, we have been bearish toward most homebuilders for quite some time, and our methodology correctly identified OHB's spike last summer as an opportunity to get out. For the time being, the company will continue to operate without interruption, and we are sure at some price Orleans' assets will attract a buyer. However, as is often the case in bankruptcy, common stock shareholders as well as Orleans' suppliers will likely bear the brunt of this bankruptcy. Incidentally, CEO Jeffrey Orleans owns 59% of the company's stock.