Rite Aid Corp. (NYSE:RAD), the third largest drug store chain in the U.S., has been delivering a healthy financial performance in recent quarters. RAD has outperformed the broad market in 2013 year-to-date, as the stock is up 285% in comparison to the S&P 500's return of 28%. I have a bullish stance on the stock, as its valuations remain attractive and its cost control initiative will drive earnings growth. Also, solid operational execution is portending well for the company's financial performance and the stock price.
Financial Performance
RAD has been delivering solid performance in recent quarters, which led to a turnaround for the stock, as the stock price has increased approximately 3x in the ongoing year, 2013. Recently, the company reported a decent financial performance for 3QFY2014, as results were in line with analyst estimates. However, the company's soft guidance led to a slight pullback in the stock price, as the stock is down nearly 10% since the recent earnings release.
The company reported net revenues of $6.35 billion for 3QFY2014, up 1.9% year-on-year, in line with the consensus estimates. Sales for the quarter were positively affected by a 2.3% increase in comparable store sales, partially offset by soft front end sales. Net income for the company in the recent quarter stood at $61.9 million, representing an increase of 15% year-on-year. The increase in net income for the quarter was mainly driven by effective cost management, higher sales and lower interest expense. Despite the increase in net income, EPS for the quarter dropped by $0.03 as compared to the corresponding period last year to $0.04 due to the redemption of Series G and Series H Convertible Preferred stock.
RAD has been facing intense competition within the industry from its rivals CVS Caremark (NYSE:CVS) and Walgreen Co. (WAG). Due to the intense competition, RAD experienced a drop of 0.2% in front end sales in the last quarter. Also, higher input cost inflation took a toll on last quarter's gross margin, as it fell by 0.7% to 28.3%.
Stock Price Drivers
The company has been making efforts to improve productivity and strengthen its bottom line results. Its cost control initiatives remain important to derive earnings growth in the medium term. The company has been able to lower its expenses, which is evident as RAD's selling, general and administrative (SG&A) expenses as a percentage of sales dropped from 26.1% in 3QFY2013 to 25.6% in 3QFY2014.
Also, RAD has been aggressively working on its Wellness remodeling efforts. In the recent earnings call, RAD's management indicated that its Wellness stores had 3.2% better same store sales in comparison to its non-Wellness stores. In the recent quarter, RAD converted 98 stores to Wellness stores; as of 3QFY2014, RAD has converted 25% of its total 4,595 stores into Wellness stores. The company indicated that it will continue working on stores' renovation and expects to convert approximately 500 more non-Wellness stores into Wellness stores by the end of FY2015. As the company continues to remodel its stores, it will lead to higher sales and boost bottom line results. The following chart shows the growing trend of remodeled stores for RAD.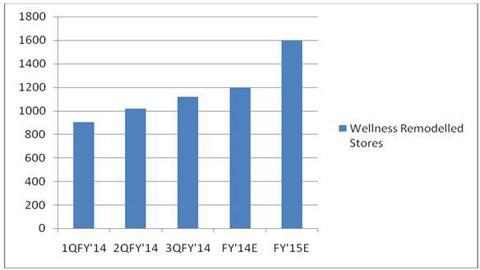 Source: Company Reports
Also, RAD recently announced to extend its partnership with GNC Holdings (NYSE:GNC) through 2019; the partnership was set to expire at the end of 2014. The company disclosed that in the next five years, it plans to add at least 300 more GNC stores; RAD currently has more than 2,200 GNC stores. The company is also working on removing restrictions that stop RAD from selling GNC products online. The partnership extension and possible online sales of GNC products will portend well for the company's financial performance and the stock price.
Guidance
In the near term, the company expects that reimbursement pressures will continue, as well as a soft flu season and higher drug cost increases than had earlier been projected. Also, the company raised and widened its FY2014 revenue guidance from $25.1-$25.3 billion to $24.42-$25.3 billion, whereas it lowered its FY2014 EPS guidance due to lower profitability. RAD now expects FY2014 EPS to be in a range of $0.17-$0.23 down from the prior guidance range of $0.18-$0.27. Moreover, it narrowed the FY2014 adjusted EBITDA guidance range from $1.24-$1.3 billion to $1.25-$1.28 billion.
Conclusion
The company has been delivering a healthy financial performance in the recent quarter, which has had a positive impact on the stock price. I believe the company will continue to deliver satisfactory financial performance in the future, as it has been aggressively working on cost control measures. Also, the remodeling of its existing stores into a Wellness store format will fuel bottom line earnings growth for RAD.
Moreover, the stock is currently trading at attractive valuations in comparison to its peers, as shown in the table below. RAD currently has a lower PEG of 0.4, which reflects that it offers cheaper growth in comparison to its peers. Also, RAD has a lower P/S and EV/Revenue of 0.18x and 0.45x, respectively, in comparison to its peers. Due to the aforementioned factors, I am bullish on the stock.
| | | | |
| --- | --- | --- | --- |
| | RAD | WAG | CVS |
| PEG | 0.4 | 1.3 | 1.2 |
| P/S | 0.18x | 0.8x | 0.7x |
| EV/Revenue | 0.45x | 0.8x | 0.75x |
Source: Yahoofinance.com
Disclosure: I have no positions in any stocks mentioned, and no plans to initiate any positions within the next 72 hours. I wrote this article myself, and it expresses my own opinions. I am not receiving compensation for it (other than from Seeking Alpha). I have no business relationship with any company whose stock is mentioned in this article.