Since the beginning of this year, shares in Walgreen (WAG) have gone up by 55.5%, which is almost double the 28.2% growth the S&P 500 saw in the same timeframe. At these levels, Walgreen yields a dividend of only 2.19%. However, analysts have some really high expectations for this drugstore giant.
Last year's earnings per share were only $2.56, but expected EPS for fiscal year 2015 are at $3.90. For fiscal year 2014, EPS expectations are at $3.47. At the current price per share of $57.54, Walgreen has a 2014 forward price to earnings ratio of 16.53.
Revenue is also expected to grow at a decent rate. Total revenues for fiscal year 2013 were $72.22 billion, a number that is expected to grow to $80.17 billion in 2015. This is over 30% more than in fiscal year 2008.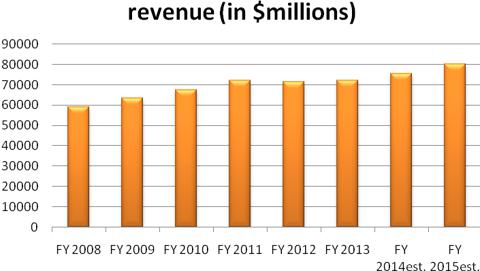 Click to enlarge
In my last article about Walgreen in March of this year, I noted its payout ratio was growing at a high rate. In the most recent fiscal year, Walgreen paid $1.14 in dividends, while earnings per share were at $2.56, giving it a payout ratio of 44.5%. While this is higher than in previous years, I'm not too worried because of the high expected growth in earnings. Furthermore, Walgreen's high free cash flow means the dividend to FCF ratio is at a much more reasonable level. In fiscal year 2013, free cash flow per share was at $3.23. The next graph shows Walgreen's payout ratio and dividend to FCF ratio.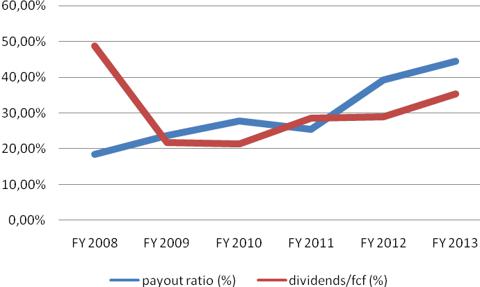 Click to enlarge
Over the past years, Walgreen's dividends have grown by at least 20% per year. If the company keeps increasing the dividend at this rate, I'd expect to see a dividend of at least $1.64 in fiscal year 2015. This would give investors getting in now a yield on cost of 2.85%. If analysts' expectations are correct, this would put Walgreen's payout ratio at 42.1%.
Finally, I'd like to take a look at Walgreen's balance sheet. In its most recent quarterly report, Walgreen had $11.72 billion in current assets, and $8.82 billion in current liabilities, giving the company a current ratio of 1.33. The company has $969 million in cash and cash equivalents, or just over $1 per share, which means even if the company wouldn't earn a penny, it could still pay its dividends for the next 3 quarters.
So, should I buy Walgreen? Despite the 55+% increase in its share price year to date, I still feel there's plenty of room for growth. Walgreen has shown its dedication to increasing its dividend, by giving investors dividend increases of at least 20% per year over the last couple of year, and earnings per share and revenue are expected to increase at an amazing rate.
Disclaimer: I am not a registered investment advisor and do not provide specific investment advice. The information contained herein is for informational purposes only. Nothing in this article should be taken as a solicitation to purchase or sell securities. Before buying or selling any stock you should do your own research and reach your own conclusion. It is up to investors to make the correct decision after necessary research. Investing includes risks, including loss of principal.
Disclosure: I have no positions in any stocks mentioned, and no plans to initiate any positions within the next 72 hours. I wrote this article myself, and it expresses my own opinions. I am not receiving compensation for it (other than from Seeking Alpha). I have no business relationship with any company whose stock is mentioned in this article.