Linc Energy (LNCGY) offers amazing oil exploration possibilities in a first world country with reasonable downside protection if held in a diversified portfolio. In his book The Black Swan, Nassim Nicholas Taleb proposes a barbell portfolio with 85% to 90% in extremely safe instruments (like U.S. Treasuries) and 10% to 15% in low probability, high impact Positive Black Swan Stocks. Linc Energy belongs in Taleb's barbell portfolio.
Linc Energy currently has an Enterprise Value (market cap + debt - cash) of nearly USD$1 billion with the following assets:
Gulf Coast
On October 13, 2011 Linc announced the closing of the acquisition of the Gulf Coast assets consisting of 13 producing oil fields located in Texas and Louisiana. All of the fields are associated with salt domes or are salt-related structures. The geology is characterized by multi-stacked pay zones with significant reserve potential up-hole and in deeper, unexplored areas. With a proven PV10 value of $601 million and lots of upside via an aggressive drilling program utilizing directional drilling combined with 3-D seismic not exploited by previous operators, the Gulf Coast assets go a long ways toward providing downside protection for the stock.
Umiat
The Umiat field in Alaska has a 2P PV10 value of $2.4 billion, but page 12 of the 2013 annual report states that "Wood Mackenzie has estimated the sale value of Umiat as between $100 and $200 million in its current undeveloped state."
Wyoming
Linc's oil assets in Wyoming have a 3P PV10 value of $1.1 billion. Virtually all of the reserves are in the possible category. Oil volumes have been classified as "possible" under SPE-PRMS guidelines because of several factors including the fact that there is no current production in the Linc fields under the planned CO2 recovery and no pilots have been implemented to prove the process. However, the historical waterflood performance is a predictor of sweep efficiency, and I believe that the CO2 floods will be successful.
Anyone wishing to dive deeper into the oil & gas properties in the Gulf Coast, Umiat, or Wyoming an excellent read is located here.
UCG
Underground Coal Gasification (UCG) is the process of gasifying coal in-situ to produce syngas, which includes hydrogen, carbon monoxide, methane and other gases. This process enables Linc Energy to access "stranded" coal and eliminates the need for conventional mining and processing through a surface gasification plant.
I am not going to hazard a guess as to what UCG is worth other than to say that I believe that the value is much greater than zero. UCG is a major focus of the company, and Linc Energy has invested approximately $200 million into UCG over the last nine years.
New Emerald Coal
Linc Energy assembled a collection of coal assets for the purposes of UCG. Certain coal assets that were decided to be better developed utilizing conventional mining were moved into NEC to be divested/de-merged. The two main properties have the following Mineral Asset Valuation:
| | | | |
| --- | --- | --- | --- |
| PROJECT | Low (AUD$ Million) | High (AUD$ Million) | Preferred (AUD$ Million) |
| Blair Athol | 121.0 | 238.0 | 181.0 |
| Teresa | 59.0 | 479.0 | 259.0 |
| TOTALS | 180.0 | 717.0 | 440.0 |
Anyone wishing to dive deeper into New Emerald Coal, an excellent read is located here.
Arckaringa Basin
The resource potential of the Arckaringa Basin is summarized in this press release. Page 4 of the press release compares the Arckaringa Basin Shale to the Bakken and the Eagle Ford. Note that the Arckaringa Basin Shale is much thicker. Linc Energy does not have the resources to chase the Arckaringa Basin Shale on its own and will eventually bring in a joint venture partner, pending results from next year's drilling program. In this video, CEO Peter Bond makes the following statement about the Arckaringa Basin:
"We have had a lot of early discussions with some large partners. We will be doing...there's no doubt that we will be doing some deals going forward, but essentially its all about getting the best deal for your shareholders, and if we can take this resource to the next level, we can get a number of relatively cost effective holes in there, so another six or so wells, probably do some degree of fraccing, get the resource moved up to a 3P recognized resource and really take the whole asset to another level. Then obviously sitting down with whatever partner you work with going forward is much easier and puts you in a stronger position."
I believe that the best the best way to think of the prospective unconventional reservoirs of the Arckaringa Basin is as a call option on a piece of the next Eagle Ford or the next Bakken and to not get overly excited about the 233 billion barrels of oil equivalent of unrisked mean prospective resources. It might not work. The nut has not yet been cracked in the Monterey shale in California or the Alberta Bakken in Montana. The Niobrara shale has not lived up to expectations either. Even if the Arckaringa Basin Shale does work it is unlikely to be a fast road to riches in my opinion.
What really intrigues me is the unrisked prospective resources in conventional traps in the Arckaringa Basin.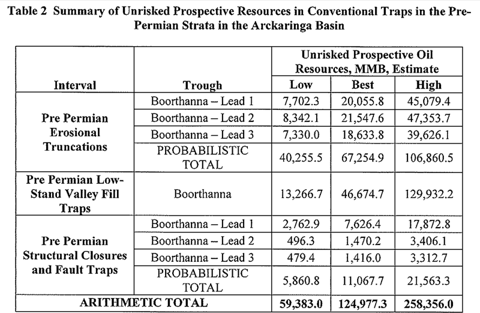 Click to enlarge
Linc has three conventional leads with best estimate prospective resources of 18 to 22 billion barrels each! How much could 20 billion barrels be worth? At $5 per barrel of oil in the ground (this is probably conservative, but these locations are very remote) then each prospect, if successful, would be worth $100 billion or 100x the current enterprise value of the company! Sounds impossible? Consider that Exxon Mobil has 'only' 25.2 billion barrels of oil equivalent of proven reserves.
If that isn't enough, there are three Pre-Permain Structural Leads which have best estimates of 'only' 1.4 to 7.6 billion barrels as well as many leads for low-stand valley fill traps.
Now that I have you all worked up about the possibilities I want to remind you that these are leads. By definition, leads do not have enough information to make a decision on whether or not to drill. Furthermore, leads can not be assigned a chance of success greater than 5%.
Catalysts
From the SGX prospectus dated 11 December 2013:
"With regard to our Australian shale oil and gas position in the Arckaringa Basin, we intend to enter into joint venture with a strategic partner at the appropriate time when we believe we can receive the full value of our Australian shale oil and gas position. We intend to further appraise the unconventional oil resources as well as conduct further exploration of the deeper conventional oil potential."
"We have been working on detailed plans for the next phase of field work, which will focus on identifying the most favorable parts of the Arckaringa Basin for commercial development of unconventional oil. Drilling, core sampling, and seismic work are planned for FY2014 field season. Production testing will also be carried out on all zones where moveable hydrocarbons are encountered."
I can't wait for the results of the 2014 drilling campaign!
Conclusion
Linc Energy is not a stock for everyone. I have even advised my own father not to buy this stock. However, for those of you willing to accept moderate risk in a diversified portfolio, Linc Energy offers an asymmetric opportunity with enormous potential.
Disclosure: I am long LNCGY. I wrote this article myself, and it expresses my own opinions. I am not receiving compensation for it (other than from Seeking Alpha). I have no business relationship with any company whose stock is mentioned in this article.
Additional disclosure: Disclaimer: Opinions expressed in this article by the author are not an investment recommendation and are not meant to be relied upon for investment decisions. The author is not acting in an advisor capacity, nor is he qualified to do so. The information upon which this material is based is believed to be reliable, but has not been independently verified. Therefore, the author cannot guarantee its accuracy. The author recommends that potential and existing investors conduct thorough investment research of their own, including detailed review of company regulatory filings, and consult a qualified investment advisor.