Enerplus Corporation (NYSE:ERF) is a North American oil- and gas player with significant operation theaters in the US and Canada. 52% of total 2013 production is estimated to originate from natural gas, 45% from crude oil and 3% from liquids. Around 55% of Enerplus' production comes from Canada and 45% from the United States.
Share performance
Shares of Enerplus Corporation gained 45% over the last 52-weeks steadily edging higher and marking a series of new 12-month Highs at the end of November and the beginning of December.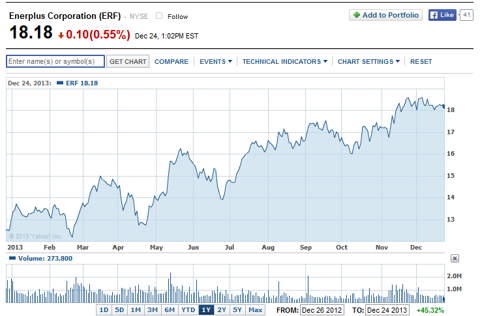 Despite strong 52-week performance, Enerplus is a mediocre performer when compared to other oil- and gas drilling and exploration companies. Over the last two years, Enerplus has lost 28% while Kodiak Oil & Gas (NYSE:KOG) gained 14%. Pengrowth Energy (NYSE:PGH) lost 42% of shareholder value and Penn West Petroleum (NYSE:PWE) 57%.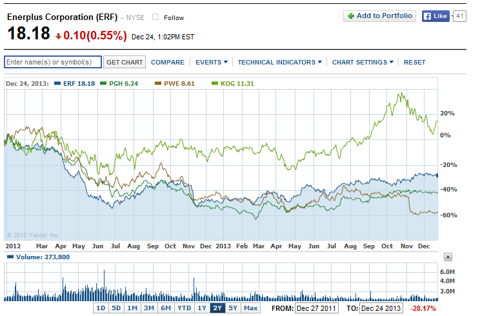 Strong reserve growth underpinning future distributions
Enerplus has demonstrated that it can achieve strong organic growth. Total production growth (across oil- and natural gas liquids as well as natural gas) yielded 9% from 2011 to 2012 and is now estimated to increase 7% from 2012 to the end of 2013. In addition, crude oil reserves increased consistently from 2010-2012 and accounted for 55% of total reserves at the end of 2012. In fact, crude oil reserves increased from 150 MMbbls in 2010 to 192 MMbbls in 2012. Strong reserve growth points towards longer production spans and, ultimately, continued cash flow and distribution growth for Enerplus' investors.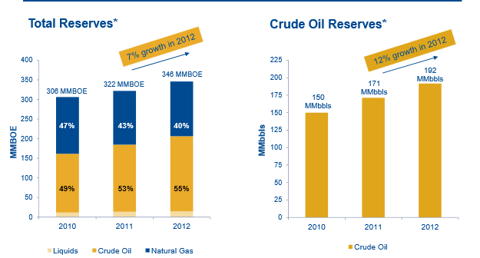 Peer group comparison
Enerplus fetches a high forward earnings multiple of 22.47. Even though the peer group average stands at 25.44, this clearly is not a bargain for investors. Pengrowth Energy trades at a massive earnings multiple of 42 which incorporates a significant growth premium despite its high dividend yield of over 7%. Many US-listed master limited partnerships offer equally high dividend yields at lower valuations.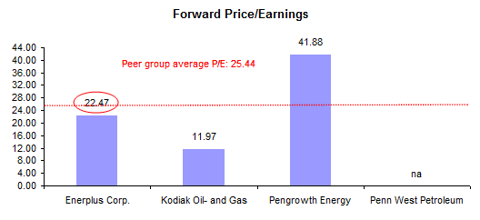 Dividend investors, however, may find Enerplus Corp. an interesting investment. The company pays about 5.75% in dividends which is a fairly high dividend yield even though Enerplus is outperformed by Pengrowth Energy and Penn West which have yields of 7.21% and 6.31% respectively. Enerplus investors get a monthly dividend of CDN $0.09 which translates into about US $0.087. Correspondingly, investors purchasing Enerplus for its dividend stream are exposed to exchange rate risk.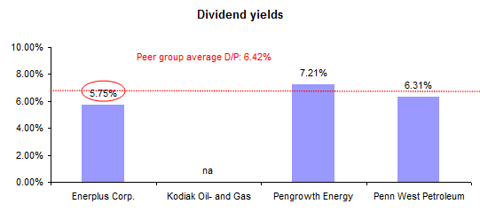 A summary table displaying discounts to the peer group average ratios is produced below.

Conclusion
Investors who are looking for a diversified energy player with a near 6% yield might want to look at Enerplus Corporation. The company achieves about half of its production in the US and the other half in Canada. It further has an attractive asset footprint in highly promising resource plays such as Bakken, Marcellus, Deep Basin and Waterfloods. Enerplus' geographic diversification and diversified product mix give the company a low risk-profile. Investors who don't mind paying a premium price in order to access Enerplus' dividend stream and who want to gain exposure to a diversified North American energy play, should consider adding Enerplus to their long-term income portfolios. Long-term Buy.
Disclosure: I have no positions in any stocks mentioned, and no plans to initiate any positions within the next 72 hours. I wrote this article myself, and it expresses my own opinions. I am not receiving compensation for it (other than from Seeking Alpha). I have no business relationship with any company whose stock is mentioned in this article.