Editors' Note: This article covers a stock trading at less than $1 per share and/or with less than a $100 million market cap. Please be aware of the risks associated with these stocks.
The term "Personalized Medicine" is often described as providing "the right patient, with the right drug, at the right dose, at the right time." With an overall market of $232 billion in 2013, the core diagnostic and therapeutic segments of the market is estimated at $24 billion and is expected to grow by 10 percent annually, reaching $42 billion by 2015. The opportunity within the industry has opened the flood gates to a flurry of acquisitions of companies who are either established players in the market or those who possess the IP and assets that threaten larger player's market share. Taking a closer look at the diagnostic innovator Trovagene (NASDAQ:TROV), we will analyze why recent acquisitions may warrant the company as the next buyout target, and justify the current depreciation in share price as an overreaction to a court ruling regarding their competitor, Sequenom (NASDAQ:SQNM).
Thermo Fisher to buy Life Technologies for $13.6 Billion
In April of this year, Thermo Fisher Scientific (NYSE:TMO) announced they would acquire Life Technologies (NASDAQ:LIFE) at $76/share, a 12% premium to the market, making it one of the largest declared takeovers of 2013. The proposed acquisition puts Thermo Fisher, the world's largest maker of scientific and laboratory equipment, at the forefront of personal medicine where research is uncovering hereditary underpinnings of diseases to better tailor treatments to patients. The approach to personal medicine is two-fold; new age diagnostics stand to identify cancers and hereditary diseases through sequencing of DNA while novel treatments, like immunotherapy, are selectively contoured to the needs of those findings on a personalized level.
Life Technologies Corporation is a global biotechnology and research company, whose diagnostic segment ranks No. 2 behind Illumina Inc. (NASDAQ:ILMN) in the race to produce faster and more efficient gene sequencing technology. Their Ion Torrent Sequencing product is believed to be one of the best-in-class sequencing technologies, one Thermo Fisher believes will position them as a direct competitor to Illumina following the transaction. Thermo Fisher is not the only company who has attempted to broaden their exposure in the field of sequencing and diagnostics. Last year, Illumina rejected a revamped offer from Swiss drug maker Roche Holding AG (ROG.VX) where the acquisition price of $5.7 billion was increased 14% to $6.5 billion. In response to the offer, Illumina CEO said that Roche's price "dramatically undervalues Illumina and does not adequately reflect Illumina's singular position in an industry poised for extraordinary growth." Grifols (NASDAQ:GRFS) announced in November that it would acquire the diagnostic business segment from Novartis (NYSE:NVS) in yet another billion dollar transaction for a net amount of $1.6 billion.
Acquisitions Underscore Disruptive Potential in Industry Innovators
With the recent influx of acquisitions and bidding wars in 2013, the market for diagnostics and personal medicine is undoubtedly seeing traction in growth and investment at a rate greater than ever before. This has significantly increased visibility of companies that harness disruptive technology, and put leading innovators on the radar of some of the largest acquirers in healthcare. Trovagene Inc. is a late development-stage molecular diagnostic company that focuses on the development and marketing of urine-based nucleic acid tests for patient/disease screening and monitoring. The Company's novel tests predominantly use transrenal DNA (Tr-DNA) and transrenal RNA (Tr-RNA) in urine, traditionally detected in plasma and serum. Trovagene is the sole proprietary owner of the intellectual rights that protects them from any other competitor detecting Tr-DNA and Tr-RNA in a urine sample. The implicated benefits of non-invasive urine sampling over blood are so vast, that the company exclusively holds an asset with the potential to revolutionize an entire industry. Urine is naturally produced by the body and is voided-generally several times a day and represents the most non-invasive, cost effective analyte that can possibly be used as the basis for molecular diagnostic data collection. Of particular importance, Trovagene's novel clinical utility has been proven to detect not only cell-fragments of infectious diseases, but near real-time detection of oncogene mutations for any tumor type. Through clinical studies in their CLIA approved laboratory, BRAF mutations were detected in a range of tumor types including melanoma, colorectal, appendiceal, lung, glioblastoma, papillary thyroid and ovarian indicating that mutational detection in urine is not limited by tumor type.
Retraction in Share Price Creates Unprecedented Buying Opportunity
Coming off its all time historical high of $10.21, Trovagene has experienced a catalyst-packed 2013 where clinical collaborations and partnerships have affirmed the company's novel technology platform bolstering investor's confidence and PPS. Back on April 25, Trovagene struck a collaboration with PerkinElmer (NYSE:PKI) that called for an "exclusive royalty bearing" licensing agreement upon the end of proof of principal work on HCC assay that would be able to diagnose liver cancer from a urine sample. In addition, PerkinElmer has been granted an exclusive option to obtain a royalty-bearing license to utilize Trovagene's technology in other fields of oncology and nucleic acid detection. If that wasn't exciting enough, Trovagene disclosed in a regulatory filing that it has entered into a deal with Illumina to evaluate the possible integration of Trovagene's transrenal technology with Illumina's sequencing technology. Specifically, the two firms are assessing Trovagene's technology for the isolation, extraction, and genetic analysis of nucleic acids from urine. The implications of integrating Trovagene's technology into Illumina's sequencing technology presents vast opportunity as Illumina is the dominant player in genetic sequencing, sporting a valuation of over $13 billion.
In conjunction with the partnerships announced this year, Trovagene commercialized an assay test for both HPV and BRAF V600E, a mutation from cell-free DNA that is prevalent in an array of cancers. These combined events sent the stock from the mid $5's to the low $10's, almost doubling the company's valuation. However, a recent federal court ruling with Sequenom may have returned the share price to the low $5's, and unjustly so. On October 31, 2013, a court granted Ariosa's judgment and invalidated patent No. 6,258,540 saying the patent covers a phenomenon of nature, which is not patentable. Sequenom holds an exclusive license to the '540 patent, which underlies its MaterniT21 Plus prenatal diagnostic test, from Isis Innovations. The court found that the '540 patent does not cover any novel methods or inventions, and instead covers a natural phenomenon, inherited cell-free fetal DNA, or cffDNA detected in blood samples. It rejected Sequenom's argument that certain parts of the patent's claims are patentable "because they are novel uses of a natural phenomenon, rather than a patent on the natural phenomenon itself."
The announcement sent shares of Sequenom plummeting over 30% subsequently dragging down the share price of Trovagene as concerns were raised whether or not their patents would be subject to a similar outcome. However, Trovagene holds the patents to a proprietary form of detecting free-cell DNA and RNA in urine; not plasma and serum where the court stated that the amplification and detection of DNA sequences in plasma and serum was "well known by 1997." In addition to that fact, Trovagene is the only company developing free-cell DNA and RNA detection in urine, which completely removes any litigation risk Sequenom was even subject to in the first place.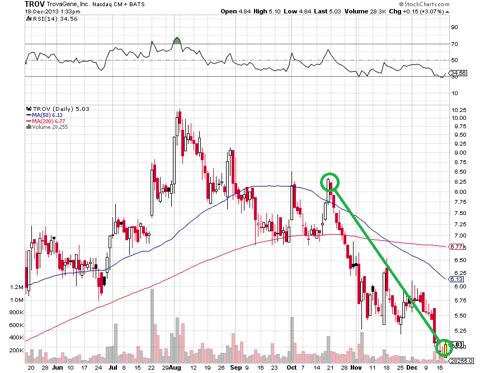 Click to enlarge
From the time of the Sequenom court ruling, shares have receded from $8.30 to $5.03, representing a 40% decrease in the stock's price. Taking the litigation risk and provisions set forth in the Sequenom ruling off table, in accordance with the overreacted sell-off of the news by investors (supported by an oversold RSI of 34), I see an immense buying opportunity where price levels should return to a level of $8-$10/share that reflect the implications of the collaborations and partnerships realized earlier in the year. With the recent acquiring frenzy ongoing and uptrend in the market for personal medicine, Trovagene's proprietary technology protected by diverse patent portfolio stands as an imminent threat to diagnostic companies around the globe. As the ongoing studies with Illumina enter maturity, set to conclude before June 25, 2014 (unless extended by both parties on the year anniversary of the agreement), Trovagene's urine-based assay IP could be validated by the biggest name in genetic sequencing; which fluently warrants it as the next acquisition target in my opinion, if they're willing to sell.
Disclosure: I am long TROV. I wrote this article myself, and it expresses my own opinions. I am not receiving compensation for it (other than from Seeking Alpha). I have no business relationship with any company whose stock is mentioned in this article.