Advance Auto Parts, Inc. (NYSE:AAP) is an auto parts and accessories retailer. I like the company tremendously, and wrote about it on October 11th 2013 and May 3, 2013. In my October 11th article I wrote:
The firm is hoarding cash at the moment. From a perspective of how much you are actually getting for the price of a share that's a good thing. Recently the firm acquired BWP at $180 million. And from comments of the CFO at the latest earnings call it's possible further acquisitions are about to be announced.
Just five days later Reuters announced Advance Auto Parts would buy General Parts International Inc. for over $2 billion, creating the largest North American retailer of auto parts. Advance Auto Parts shares rose 20%.
Credit Suisse analyst Simeon Gutman analysed the move as follows:
We view Advance Auto's decision as a smart strategic acquisition that vaults the company into a much stronger position in the faster growing and more attractive do-it-for-me segment and gives them a crown jewel in Worldpac.
The combination of Advance Auto Parts and General Parts creates a company with $9.2 billion in annual sales, just above those of the current biggest player, AutoZone, Inc. (NYSE:AZO). AutoZone reported adjusted sales of about $9 billion for the year ended August 31.
Advance Auto's management has stated it expects to save about $160 million annually within three years of the deal closing.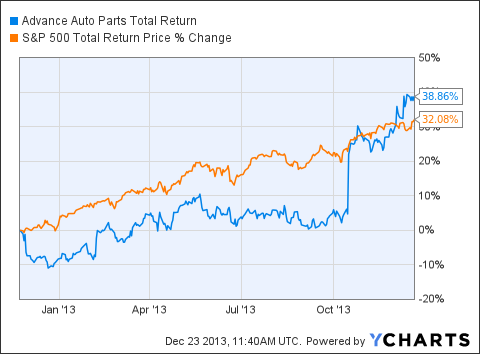 AAP Total Return Price data by YCharts
Competition
In a highly fragmented parts market, AutoZone, Inc. and O'Reilly (NASDAQ:ORLY) are the two most important competitors. Both used to be larger than Advanced Auto Parts. Where AutoZone and O'Reilly have chosen to apply themselves to DIY or DIFM, Auto Part approaches the market both ways. After the merger, things will be different and it will be Advance Auto Parts who is in the driver's seat, having the best platform to drive its economies of scale advantage.
Competitive Advantage
One of the crucial selling point of auto-parts retailers and service providers is availability of parts. This type of retailer has terrible inventory turnover because there are just so many different types of car models and respective parts.
Consumers like to get their car taken care of right away. They don't want to wait for the retailer to order parts. Large operators can drive enough traffic by marketing efficiently. They are able to attain higher turnover rates and attain a slight advantage. Because of this demand/inventory dynamic, the firm has a sustainable competitive advantage. Perhaps not over the large rivals AutoZone and O'Reilly, but certainly over independent retailers.
Valuation
Since my articles earlier this year, I've started to value companies more consistently using the same discounted cash flow model. After reviewing the company's current cash flow, and modeling its cash flow as far as seven years into the future, my conclusion is net present value is between $100 and $125 per share.
The exact number depends on whether you chose a cash flow growth rate based on historic earnings development, or dial its growth rate down below its historic average. It appears the market has correctly adjusted for the added value of the merger, by pricing the company around $109 a share right now.
Conclusion
Advance Auto Parts will soon be in a very interesting competitive position with the largest annual revenue number in the industry. The company has a history of strong growth and a real competitive advantage.
Advance Auto Parts will do well over the long term. Unfortunately the market agrees, after being reminded of Advance Auto's value by the merger announcement.
Buying Advance Auto right now exposes you to the risk of integrating the two companies while the excess returns that can be expected over the general market are limited. To me this is a good time to trim a position, while keeping Advance Auto on the "wanted at a better price" list. If uncertainties around the merger are resolved favorably and the price doesn't move up, that could also be a great entry point.
Disclosure: I have no positions in any stocks mentioned, and no plans to initiate any positions within the next 72 hours. I wrote this article myself, and it expresses my own opinions. I am not receiving compensation for it (other than from Seeking Alpha). I have no business relationship with any company whose stock is mentioned in this article.