Last Friday, BlackBerry (NASDAQ:BBRY) released bad numbers, with declining revenues ($1.2 billion) and worse than expected EPS of $ -0.67. Despite these terrific numbers, investors were focused on John Chen's speech in the earning call. We can say the CEO was successful in its view of BlackBerry's future because he moved the stock price higher by 20% in two days. Now, the question is: what could move BlackBerry shares higher still the next earning release?
Short interest, Insider transactions and Institutional ownership
In two days, 197.81 million shares changed hands, which is about 37% of BlackBerry's total shares. There are two potential explanations to explain these numbers.
First, shorts are covering at an impressive rate because they think BlackBerry's turnaround strategy became a reality with John Chen's commitment to develop the service/software business. They could also be impressed by the fact that the company secured its hardware division with the Foxconn deal. It would be interesting to look at short interest at the end of the month. As a reminder, there was short interest of 150 million shares before the earning release, which represented 29% of total shares.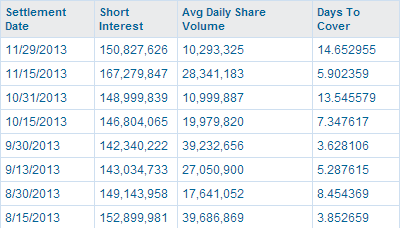 Second, some insiders are buying shares, I'm thinking of Canadian pension funds mainly, but also of Prem Watsa and funds already involved in the $1 billion convertible notes. In fact, Alberta Investment Management Corp said that they were interested some months ago, but without any concrete business plan, they didn't want to put money on it. Now there is a very clear strategy for BlackBerry's turnaround, they could reconsider their initial position. Prem Watsa could also add shares at these levels to show its confidence in John Chen's plan but it is less likely, because he already owns 10% of total shares.
Partnerships
BlackBerry reached an agreement with Foxconn (OTC:FXCOF) to manufacture its next smartphone. This ensures no more trouble in hardware for the company because Foxconn will manage the inventory and capitalize on its supply chain to meet consumer demand in emerging markets. This deal is a good one for the company because it shows manufacturing companies such as Foxconn, are still convinced that BlackBerry can make smartphones for consumers, even if they will share margins. And, it will decrease fixed costs. But more importantly, the smartphone will be very competitive in terms of features and price.
John Chen can convince other companies to partner with BlackBerry to create initiatives in the software business. I'm thinking of BBM because the company is hardly pushing the messaging app and it can continue to add more and more functionalities. In fact, the company is currently working on BBM Money with Monitise. BBM could become a trusted means of payment in one or two years, if the experience with BBM Money in Indonesia is successful enough to be launched worldwide. The CEO has also mentioned that he would love to find a way to make the BlackBerry experience on Google (NASDAQ:GOOG) Android and Apple (NASDAQ:AAPL) iOS in the future. It would be interesting to know what it exactly means.
Regarding the QNX division, the CEO stated:
"I want to take [QNX] to new verticals and ultimately make it a machine-to-machine play. The QNX micro kernel is going to be strong. We have all the ingredients to become the leader in that embedded machine-to-machine space. I figure with our focus and [by thinking] long term, [by doing] the right thing today, a step at a time, I think we're going to build tremendous value for shareholders".
New verticals mean new markets. Therefore, BlackBerry will certainly develop new partnerships to extend QNX's business. Moreover, the company will also show a new concept car running QNX at CES 2014.
Conclusion
In conclusion, John Chen's ability to win the confidence of the market about BlackBerry's turnaround is great news. An insider transaction will be an added bull signal, as well as new partnerships. BlackBerry has valuable assets and it will only take time to materialize in revenues and earnings.
Disclosure: I am long BBRY. I wrote this article myself, and it expresses my own opinions. I am not receiving compensation for it (other than from Seeking Alpha). I have no business relationship with any company whose stock is mentioned in this article.