Wallis Simpson is often credited with the popular saying, "No woman can be too rich or too thin." I think it would be fair to say that a woman (or a man) can be too skinny for health reasons, but the too rich issue is always up for debate.
The one thing we have tried to do with all of our articles on our Team Alpha Portfolios, as well as the Young and Restless Portfolio, is to define what our goals for investing are. I believe the major consensus is that an investor has the desire, and the need, to secure a more secure financial future and retirement. Is there a point when investors actually have enough?
I believe the answer to that can be found from every individual's goals.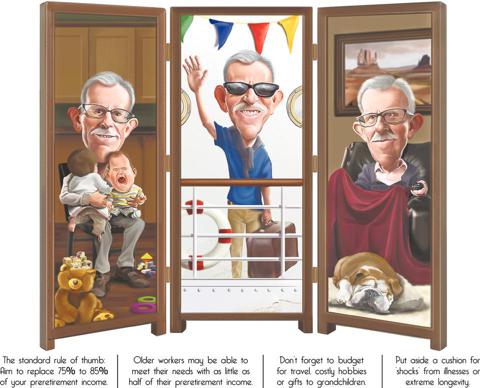 What Are Your Goals?
As the year comes to an end, it is a great time to once again define what your goals are for your investments. Here is a brief list of ideas for you to consider:
Do you want to have enough income to pay your expenses for a lifetime?
Do you desire to leave a large estate for your heirs?
Do you want to travel the world whenever you feel like it?
Do you want to live in a mansion or is a comfortable condo sufficient?
What are your current expenses?
Are you willing to downsize to a less expensive area and smaller home or apartment?
Are you healthy and fit for the most part?
Do you inherit longevity from your family history or have your family members passed away at younger ages?
Do you really want to stop working?
Do you have hobbies and a social network to spend more time with?
Of course, there are thousands of questions that should be explored and everyone is unique. I believe that the overwhelming majority of investors hope to be able to pay all expenses for a lifetime without too much hardship.
I firmly believe a dividend growth investor will be able to meet that goal when appropriate portfolio management skills, determination, and discipline are employed.
Where Do YOU Spend Your Money?
I found the following chart to be of special interest for those folks looking at their expenses prior to, and during retirement: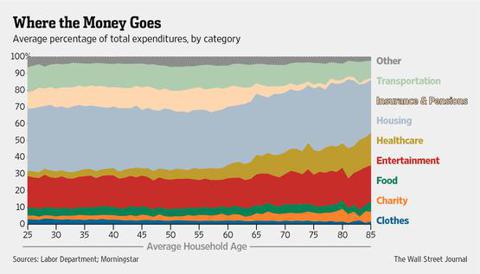 Obviously, as we age, healthcare expenses will go up, even if we are healthy. Housing costs increase but not as a greater percentage of overall expenses. I found that the entertainment expenses seemed to remain a rather stable amount contrary to what most folks would have thought. Also, insurance costs drop significantly, due to Medicare and lower cost supplemental insurance, as well as Medicare Advantage plans.
I have stated over and over that the one secret to just about all of this is spending less than you have coming in for a lifetime. If that ONE discipline can be met, everything else-- and I do mean everything-- will fall into place easier than you could ever imagine.
So Why Invest?
Obviously some lucky folks already have so much money that the only investment that fits their needs is preservation of capital. We all would hope to preserve our capital, but the super wealthy have already "made it" and they might have enough liquid assets to pay for everything and anything for several lifetimes, let alone one.
The rest of us are doing the best we can to become comfortable and to fill our goals, desires, wants and needs. That is where our portfolios come into play.
The Team Alpha Retirement Portfolio is specifically geared towards growing our income to outpace inflation and to pay all of our necessary expenses for our lifetime and our spouses, if we have one.
The Team Alpha Retirement Portfolio currently consists of Apple (NASDAQ:AAPL), AT&T (NYSE:T), Cisco (NASDAQ:CSCO), CSX Corp. (NYSE:CSX), Chevron (NYSE:CVX), Exxon Mobil (NYSE:XOM), Ford (NYSE:F), General Electric (NYSE:GE), Johnson & Johnson (NYSE:JNJ), Coca-Cola (NYSE:KO), McDonald's (NYSE:MCD), Procter & Gamble (NYSE:PG), Realty Income (NYSE:O), Wells Fargo (NYSE:WFC), Franklin Street Properties (NYSEMKT:FSP), Omega Healthcare Investments, Inc. (NYSE:OHI) and Microsoft (NASDAQ:MSFT).
With a current yield on cost of roughly 5.04%, this portfolio has had solid returns both in capital appreciation and of course increased income. I will go into the end of year update after the holiday, but it is important to note that this portfolio, only after a bit over 2 years, produces over $7k per year as of right now and 2014 should be even better.
For folks who desire their main focus to be income, this portfolio might be worth your time to explore my previous articles.
The Team Alpha Growth And Income Portfolio is also geared towards a higher rate of dividend income but also places a key amount of dollars on growth stocks.
The Team Alpha Growth And Income Portfolio consists of Apple, Ambarella (AMBA), Cisco, CSX Corp., Chevron, Ford, Facebook (FB), Galena (GALE), General Electric (GE), Altria (MO), Johnson & Johnson, Coca-Cola, McDonald's, Realty Income, Procter & Gamble, AT&T, Wells Fargo, Exxon Mobil, Yahoo (YHOO), Mid-America Apartments (MAA) Franklin Street Properties, Omega Healthcare Investments, Inc. and Microsoft
This new portfolio-- only a few months in action, combines some of my key growth stocks along with many wonderful dividend income winners. While this portfolio carries a slightly greater risk factor, I do believe that even retired folks need a decent percentage of allocation in growth stocks, which can later be used to re-deploy into those dividend champion stocks.
Currently the yield is roughly 3.9% and as of the last update the portfolio value increased by 12%. This portfolio is off to a good start and will also be updated after the holiday.
Finally, The Young And Restless Retirement Portfolio was designed for rapid growth to create wealth quickly, especially for those with a longer time horizon. At some point, the wealth created can be used to fund the very same dividend winning stocks later on in life to turn that wealth into a strong income stream.
The "Young and Restless" portfolio now consists of Galena Biopharma (NASDAQ:GALE), Amazon (NASDAQ:AMZN), Facebook (NASDAQ:FB), Yahoo (NASDAQ:YHOO), Zynga (ZNGA), Ambarella (NASDAQ:AMBA) and Groupon (NASDAQ:GRPN).
The results have been nothing short of spectacular as of the last update, and I am looking forward to the end of year update which will show even more dramatic growth. Remember, the focus for this portfolio is to create wealth quickly, for those with capital to place at risk, and to then deploy the gains into dividend producing, winning stocks, for the longer haul.
You Will Find The Answers Inside Of Yourself
I found this wonderful Wall Street Journal article to be very insightful.
To encapsulate what the article pinpoints is as follows:
The only hard-and-fast rule for how much retirement income you will need is that there is no hard-and-fast rule.

The financial industry's typical rule of thumb-which states that retirees need to save enough to be able to replace 75% to 85% of their preretirement income every year after they stop working-isn't really useful for many people.

New research shows that many retirees can live well on less than that but others rack up higher expenses through travel, expensive hobbies or medical costs that can't be avoided.
Truer words have yet to be spoken, and I completely subscribe to what this article has to say. I urge you to take a few moments and read the article to which I have linked above.
You just might find yourself in this one page.

Disclosure: I am long AAPL, AMBA, CSCO, CSX, CVX, F, FB, GALE, GE, JNJ, KO, MCD, MAA, MO, O, OHI, FSP, T, WFC, XOM, YHOO, ZNGA. I wrote this article myself, and it expresses my own opinions. I am not receiving compensation for it (other than from Seeking Alpha). I have no business relationship with any company whose stock is mentioned in this article.