Editors' Note: This article covers a stock trading at less than $1 per share and/or with less than a $100 million market cap. Please be aware of the risks associated with these stocks.
Crystal Rock Holdings, Inc. (NYSEMKT:CRVP) engages in producing, marketing, and distributing bottled water; and distributing coffee, ancillary and office products, and other refreshment products in New England, New York, and New Jersey. The company also markets and distributes its water products to homes and offices under the Crystal Rock Waters and Vermont Pure Natural Spring Water brands in three and five gallon bottles, as well as in various small pack cases; office products under the Crystal Rock Office brand; and coffee under the Cool Beans, Baronet, and Green Mountain Coffee Roasters brands, as well as re-sells other coffee and tea selections.
Family Lineage
The Crystal Rock Water Company started back in 1914 with a man named Henry Baker, who sold glass water bottles by traveling via horse and carriage. His son, also named Henry, later "picked up the reins" and was appointed President/Chairman of the company in 1965. Less than a decade later, both of his sons, Jack and Peter, joined the company's team continuing the family business. In 2005, Peter Baker was announced CEO, "We will continue to move this company forward with the principles on which it was built." He was essentially referring to the company's long lasting idea of supporting neighboring communities and sustaining the company's entrepreneurial mindset. During this time, Peter Baker received community awards for his efforts and commitment. You can view the list of organizations that Crystal Rock supports here.
Financial Position
Unfortunately there are no conference calls available from Crystal Rock management so all of their ongoing operations are only provided through press releases and annual meetings. Nonetheless, financial statements can tell a majority of how the company is proceeding.
First off, I'm actually surprised at how well this company has managed to maintain its revenues when considering people's massive alternatives for consumer staples and overall market saturation. Since 2010 sales revenue growth QoQ has been negligible; issuing no substantial surprises to either the up or downside. For example, in the last three 3Q results, sales revenue have gone from 18.3 to 18.5 to 18.4 - about a .5% increase over three years. While in 2Q results, revenues have consistently dropped from 17.7 to 17.6 to 17.3 million, down about 225 basis points. Competition from food wholesale and beverage companies has slowly compressed gross margins in the last 10 years by about 10%, while operating margins have fluctuated between +20 and -20% for the company. This is a clear sign of feeble growth and stagnation.
While it is a positive factor to have free cash flow slightly outperforming net income, it is still disappointing given their current conditions. CRVP's profit margins have heavily dropped into negative territory multiple times and significantly impacted earnings, which depict an unstable income environment. The chart displayed below shows the corporations NI in blue and free cash flow in green:
Crystal Rock, given their high liquidity, has been burning through cash to incrementally pay off debt by an averaged $5 million annually (dropping long term debt by about 62.5% over the last 10 years). For example, back in 2003 long-term debt was at $48 million, in 2008 about $28 million, and in 2013 about $19 million. In this regard, management is clearly taking the appropriate measures given that interest expenses were eating a majority of profits (i.e. 78% of net income went to interest payments in 2004). Between 2003 to 2013, cash & equivalents roughly doubled in the latter 5 years based on the average trend, in which interest expenses were covered, however last year's free cash flow depleted to < 1 million. Although, based on the first three quarters of 2013, free cash flow should be above $2 million.
At the same time, notice that CRVP has a much larger debt multiple comparable to itself with the rest of the industry. More profitable companies, such as United Natural Foods Incorporated (NASDAQ:UNFI) and Sysco Corporation (NYSE:SYY) have generated sizable returns for shareholders without being financially levered. United Natural Foods is simply a classic growth story for Wall Street. The company has consistently generated superior returns on assets and equity, along with an astonishing revenue growth <15% YoY. According to analystratings.net, UNFI has not surprisingly only been issued one sell rating in the last two years. The case is pretty strong with SYY well, however some analysts are concerned over their slowing earnings' and dividend growth. Another SA author provides a great explanation for exiting his position with Sysco here. After all you can see in the chart below that United Natural Food's fundamental growth is nicely reflected in their stock performance:

In any event, even though debt is being managed by the company, equity has fallen at a much faster rate, and has therefore resulted in a much weaker ratio:
| | | | |
| --- | --- | --- | --- |
| | CRVP | UNFI | SYY |
| Debt/Eq | 4.9 | .23 | .60 |
| LT Debt/Eq | 4.5 | .23 | .55 |
Ultimately financial obligations should not be an immediate threat for Crystal Rock, however their solvency and financial health are clearly at risk. In the chart below you will notice that both assets and liabilities are very close to an "early warning" one to one ratio: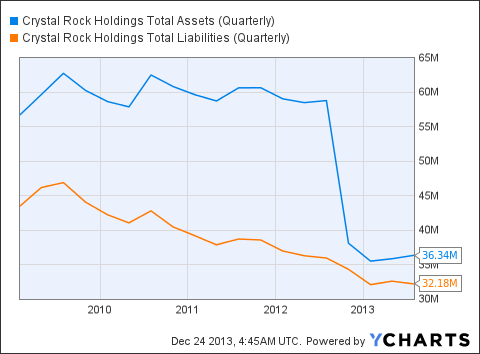 CRVP Total Assets (Quarterly) data by YCharts
Growth Opportunities
In one of their latest press releases, the company announced that they recently acquired Frontenac Crystal Springs and Girard Water Company, two very small companies. Frontenac is similar to Poland Springs Home Delivery, where they offer varying sizes, but this is considered a small growth situation. Crystal Rock also declared buying assets of universal equipment corporation, "New sales resources -- including more than 90 years of combined experience from the Universal Business Equipment Corp. management team -- will integrate with existing sales operations and be a catalyst for driving revenue growth."
Between these two acquisitions, there wasn't much excitement from investors. The majority assumed that implied sales growth would be limited, and investors are probably correct to due high market saturation. Moreover, any potential growth opportunities have yet to be seen quantitatively on the books; to which I would recommend against investing in.
Valuation
One key metric that many people find useful for valuing a company is enterprise value to free cash flow. The lower the ratio, the more capable the company is of paying back the cost of acquisitions or generating money to invest back into the business. It's essentially what drives expansion in a company, however Crystal Rock's ev/fcf ttm is close to 29 (not a great number).
Overall it's difficult to value this company since their EPS fluctuates significantly and is occasionally negative. Instead I decided to give the financial model a historic average of only their positive EPS figures to reflect their strongest quarters; illustrating generous assumptions. This came to be a $0.04 EPS average input with about 8.25% growth corresponding to the food wholesale industry for five years, and a realistic 5% growth thereafter. The model gave a stock value of $0.80 per share, about ~11% under the current market price of 90 cents).
Another method is using liquidation value (assets - intangibles - goodwill - liabilities), essentially taking the tangible assets against the company's obligations. This number would come out to about -10 but this is obviously not proportionate to share price value since they are not currently endangered of going bankrupt.
Sidenote: Analysts have not given this stock any coverage over its lifetime, however Gurufocus issues a 1 out of 5 star rating given its financial weakness, negative current asset value and poor tangible BV.
Technicals
Normally technical analysis does not hold much weight for penny stocks since they tend to have highly unpredictable movements. Although in certain cases it does prove useful so I will provide a chart analysis for those interested.
Bears: On the monthly chart, the stock price recently broke through the ascending support line before reaching the apex, which is considered bearish. The MACD & exponential moving average are also rapidly dropping toward the zero point line, which may also indicate a signal to sell.
Bulls: Over the last six months, a support line has formed in the .83 to .85 range near the 52-week low. Moreover the stochastics RSI 14 is oversold and has observably bottomed out.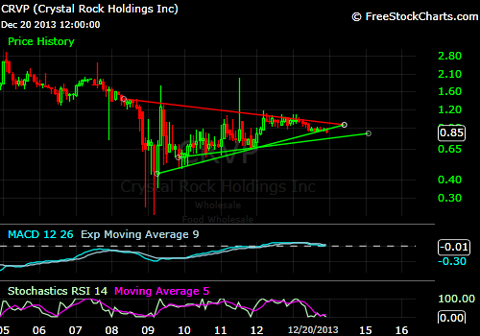 Insider Buying
Without any significant information being publicly disclosed between October 2012 and July 2013, a 10% owner known as AB Value Management LLC purchased roughly $178k worth of stock. Despite this is a trivial insider transaction, it is worth noting for bullish investors. You can view the company's purchases here.
Other compelling factors:
Very low institutional ownership >3%
High insider ownership <60%
Virtually no short float >1%
Bottom Line
Crystal Rock has been around for almost 100 years and has still maintained its positive principals, especially when it comes to helping the community. But seeing that the company has poor growth and weak margins, there is little reason to invest. Projected discount cash flow (based on aggressive growth assumptions) does suggest considerable upside, but most investors remain skeptical of this micro-cap especially with its serious lack of coverage.
Disclosure: I have no positions in any stocks mentioned, and no plans to initiate any positions within the next 72 hours. I wrote this article myself, and it expresses my own opinions. I am not receiving compensation for it (other than from Seeking Alpha). I have no business relationship with any company whose stock is mentioned in this article.