As most REIT investors already know, the threat of rising interest rates appears to be the biggest concern going into 2014. Conclusively, REIT investors today fear that higher rates will continue to pressure REIT valuations as the sector has already been beaten down considerably from both the perception and overhang of higher rates.
Today, as a result of lower REIT valuations, many stocks are now trading at clear discounts and it appears that these low prices have created attractive entry points where valuations underscore earnings growth in the various property sectors. For most REIT investors today, there is less downside risk since the economy is clearly getting stronger and the earnings growth potential for most REITs appear robust and healthy.
Other relevant economic indicators to consider for 2014 include employment growth, consumer spending, and new construction. All of these metrics are correlated with rising interest rates and they appear to be trending toward more favorable and improving economic conditions. Employment growth has been relatively consistent over the past two years with roughly 2 million jobs created in 2012 and the first 11 months of 2013.
Overall REIT balance sheets appear to be in good shape as many companies have seen credit upgrades during the year. For example, last week, Healthcare Trust of America, Inc. (NYSE:HTA) announced that Moody's Investors Services upgraded the company's investment grade credit rating to Baa2, with a stable outlook. Moody's specifically cited HTA's high quality, on-campus medical office building portfolio, low leverage profile, and successful execution of its recent growth strategy as rationale for the upgrade.
Another health care REIT, Ventas, Inc. (NYSE:VTR) announced that S&P has raised its rating on the company's senior unsecured debt to BBB+ from BBB, with a stable outlook. In its ratings upgrade, S&P noted the Ventas' current and projected strong coverage measures that are supported by stable cash flow.
Also back in June, Realty Income Corporation (NYSE:O), The Monthly Dividend Company®, announced that S&P upgraded the company's senior unsecured debt ratings to BBB+ from BBB and its preferred stock ratings to BBB- from BB+, with a stable outlook. The upgrade acknowledges Realty Income's diversified portfolio of triple-net-leased retail and commercial properties and its prudent underwriting to date, which collectively have supported historically stable cash flow and sound debt service coverage measures.
One other Triple Net REIT that recently received a credit upgrade is Chambers Street Group (NYSE:CSG). Just a few weeks ago, Chambers Street said that the company has been assigned a Baa3 issuer rating from Moody's Investors Service (Moody's). The Baa3 issuer rating from Moody's reflects Chambers Street moderate leverage, high fixed charge coverage ratio, manageable near-term debt maturities and sound liquidity. In addition, Moody's cited Chambers Streets high-quality and well-diversified property portfolio.
Predicting Picks by Sector
In an article (My Intelligent REIT Picks For 2014) a few weeks ago, I predicted a few of my top picks for 2014 and in an article last week I predicted my top "dark horse" for 2014. As most of you know, I favor Triple Net REITs and one of the great things about investing in REITs is that one can participate in various property types - each having their own advantages, risks, and cycles that set them apart from the others.
Self-Storage
Lack of new supply should drive above average SS NOI and earnings in 2014. NOI growth should average 5-6% and my top pick for 2014 is Extra Space (NYSE:EXR). The Salt Lake City REIT is trading at $42.18 with a dividend yield of 3.79%. With 754 locations (as of Q3-13) EXR has plenty of room for growth in earnings and dividends. I wish I would have bought shares in 2009 and I will continue to monitor the shares for a better entry point (than $42.18).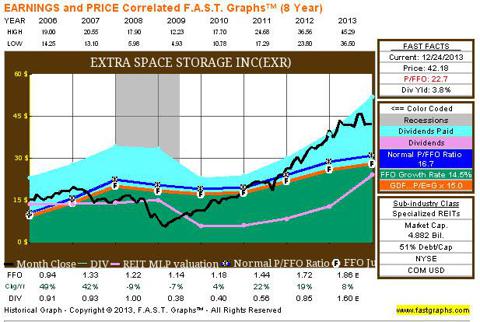 Industrial
Supply remains limited and demand appears to be outpacing new supply. NOI growth should average 3-4% in 2014 and my top pick is Chambers Street Group. As noted above, Chambers scored Baa3 by Moody's and the company has been on the fourth quarter acquisition spree.
Last week, the New Jersey-based REIT announced that it had acquired an 80% ownership interest in a newly developed 966,169 square foot (89,760 square meter) warehouse/distribution property located in Lille, France. This is Chambers' first acquisition in France. Also, two weeks ago Chambers announced the acquisition of two warehouse/ distribution properties in Germany totaling approximately 763,000 square feet (70,861 square meters). Chambers Street is trading at a discount of around 20% with a current P/FFO of 12.4x and a dividend yield of 6.41%.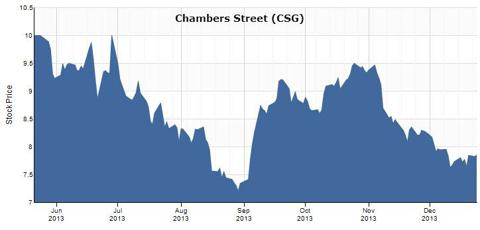 Office
The office sector remains slow in part to space efficiency trends. Supply isn't a real issue in many major markets. I have been following newly listed Empire State Realty Trust (NYSE:ESRT) (see my article HERE) and my favorite 2014 pick in the office category is Highwoods Properties (NYSE:HIW). I wrote an article on Highwoods a few months ago and one of the things I liked most about the Raleigh-based REIT is that they maintained an annual dividend of $1.7000 for the last ten years - a rare trait for any office REIT. Highwoods trades at $36.25 with a dividend yield of 4.69%. Highwoods has a market cap of around $3.259 billion and trades at a (P/FFO) multiple of 13.0x.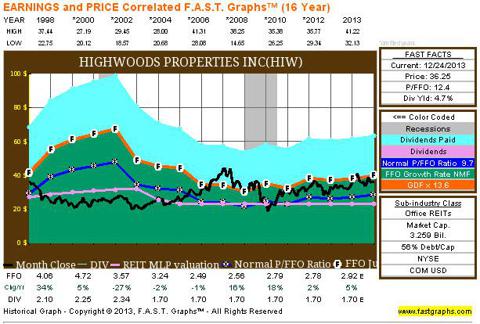 Apartments
Apartment supply remains the key focal point in 2014 as job growth should be enough to absorb around 300,000 new units. NOI growth should slow in 2014 (to around 4%). My top Apartment pick for 2014 is Essex Property Trust (NYSE:ESS). I have always liked the west coast REIT and I'm pumped up that the company is buying BRE Properties in a deal that seems aligned for investors. The combined company will own approximately 56,000 multifamily units in 239 properties in three major regions of Southern California, Northern California and Seattle. Essex has paid and increased annual dividends for over 15 years in a row and the merger seems to be a complementary fit for the Essex. The company is trading at $144.39 and a dividend yield of 3.35%. Essex also has an investment grade debt status (BBB by S&P) and the current P/FFO multiple is 18.7x. (See my latest article on ESS here).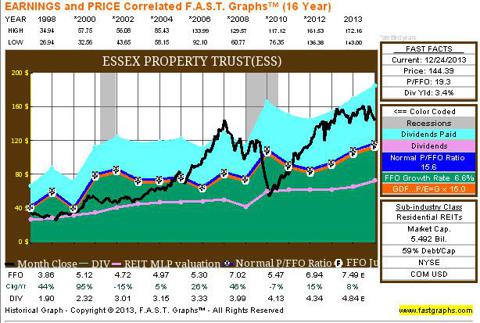 Campus Housing
Campus Housing continues to grow and evolve as an integral REIT sector. With one daughter in college and four kids at home, I can see the demand "first hand." One of my favorite Campus Housing REITs is Campus Crest (NYSE:CCG). Campus Crest has a market cap of $586 million and a P/FFO multiple of 11.3x. The shares are trading at $9.09 with a dividend yield of 7.27%. (See my latest article on CCG here).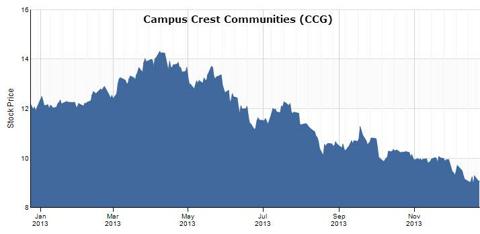 Health Care
Health Care has several macroeconomic tailwinds that should push its expansion over the coming decade. I have written articles this year on many different Health Care REITs and it's hard to pick one that I like the best. Just a few weeks ago, I wrote about Medical Property Trust (NYSE:MPW) and I concluded that the company "is soundly valued and almost cheap." I also wrote an article (and recently invested) on Health Care REIT (NYSE:HCN). Now that the shares of this diversified REIT have fallen into "sound value," I moved into a position. Omega Healthcare Investors (NYSE:OHI) is also a worthy addition; however, I have not been able to hit the BUY button yet (shares are trading at $30.23 and I'm looking for a $29 handle).
I really don't like breaking ties so I decided that I would split the Health Care category into two sub-components: (1) Pure Play and (2) Diversified. So my 2014 Pure Play Pick goes to Healthcare Trust of America. As noted above, HTA recently obtained a credit score of Baa2 with Moody's. HTA has a market cap of around $2.35 billion and the shares are trading an attractive sub $10 price (of $9.93) with a dividend yield of 5.79%.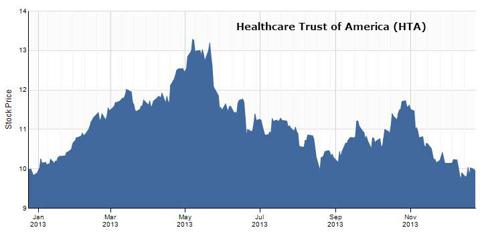 The other Health Care pick - in the Diversified category - goes to Ventas Inc. If you had bet me that Ventas would have a 5%+ dividend yield this year (2013), I would have lost out. Thanks to Mr. Market, I'm an owner and at $57.13 a share Ventas spits out dividends to the tune of 5.08%. Ventas has a very attractive (P/FFO) multiple of 13.8x.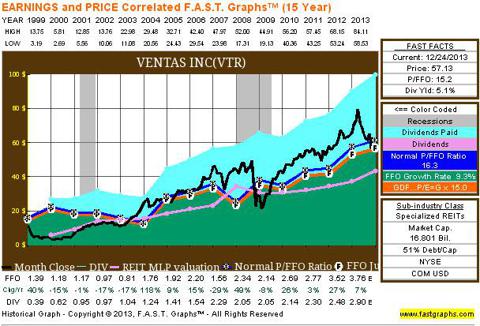 Retail - Shopping Centers
Despite concerns over e-commerce competition, the Retail REITs are continuing to experience accelerating growth in fundamentals. Most high-quality shopping centers have recovered and market occupancy in 2013 has improved. My favorite 2015 pick in the shopping center sector is Excel Trust (NYSE:EXL). I recently wrote about Excel (article here) and I'm getting closer to making a move to own shares in the San Diego-based REIT. Excel is currently trading at $11.55 with a dividend yield of 6.06%. The $556 million REIT (based on market cap) has an attractive valuation (P/FFO) of 12.9x.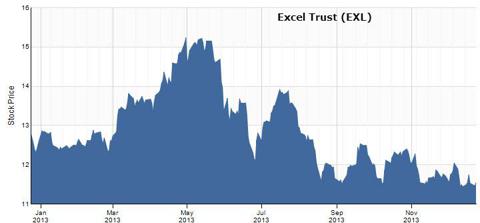 Retail - Regional Malls
As job growth and consumer spending are slowly trending in the right direction, the Mall REITs are performing much better. Disposable income should pick up and I like the Mall REITs that are exploiting the discount consumers by developing outlet centers. Two of my favorite Mall REITs are Simon Property Group (NYSE:SPG), Taubman Centers (NYSE:TCO), and Tanger Factory Outlets (NYSE:SKT). Of the three, my favorite 2014 pick is Tanger Factory Outlets. Like many of the others mentioned, Tanger has an investment grade (BBB+) balance sheet and the "pure play" outlet REIT has paid and increased annual dividends for over 20 years in a row. Tanger shares trade at $32.12 with a dividend yield of 2.80%. The valuation (P/FFO is 16.7x) has moved down to a more reasonable range and I'm hoping that I will be able to put some "skin in the game" in 2014.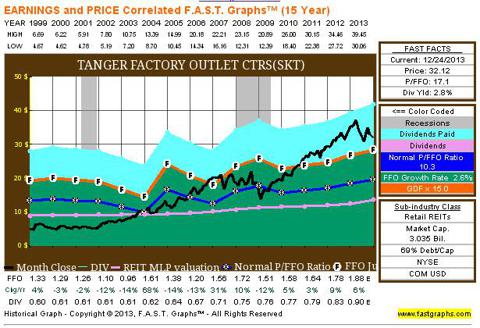 Triple Net
Recently I started a series of articles on Triple Net REITs (here and here). Due to the explosive demand (both M&A and acquisitions), I wanted to provide more content (especially since the Institutional market has all but ignored the sector, until recently). It should be no surprise that my Top Triple Net Pick in 2014 is Realty Income. After a 10 year sabbatical, I decided to become a "Monthly Dividend Company" shareholder in 2013 and so I have been adding on selective price points, most under $40. Realty Income is currently trading at $38.13 with a dividend yield of 5.73%. I consider the shares "soundly" valued at 15.9 P/FFO.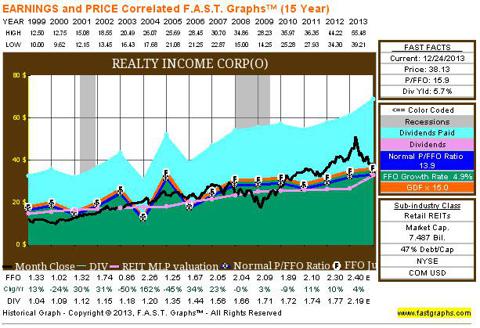 Other
There are a variety of other REITs that are interesting and one of the most debatable REITs this year has been Digital Realty Trust (NYSE:DLR). I wrote eight articles on Digital Realty in 2013 and the last article I wrote generated 327 comments and over 15,000 page views. I plan to write another article on Digital this weekend and I'm glad to see the shares finally move back to my original purchase price. I have argued on multiple occasions that I consider Digital to be a "blue chip" (rated BBB by S&P) with highly attractive operating fundamentals. Like any value investor, I'm always looking for cheap stocks and hopefully there will be less noise swirling around Digital Realty in 2014. Digital is trading at $49.10 with a current dividend yield of 6.35%. The valuation remains attractive at 10.6x P/FFO.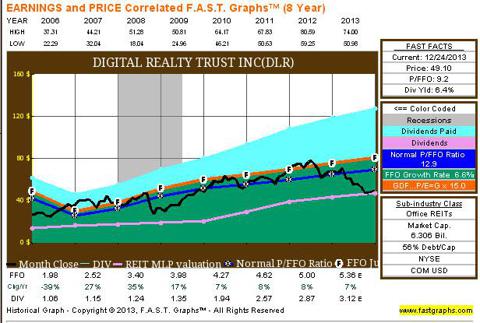 Recently the Federal Reserve announced that it was beginning to taper its quantitative easing (or QE) bond buying program in its last FOMC meeting. On a monthly basis, the Fed will now buy $75 billion in monthly assets, down from the current rate of $85 billion a month. A strengthened economy and lower levels of unemployment were cited as the chief reasons by the Fed to start tapering.
However, the best part of the taper news is that the Fed would continue to keep interest rates low throughout 2014 in order to boost economic growth. In other words, the Fed made it very clear that 'Taper' and 'Rising Rates' are not synonymous. The Fed will be following an accommodative monetary policy stance until the unemployment rate drops below 6.5%.
The latest news by the Fed should smooth concerns, especially long-term investors who shouldn't be bothered too much about rising rates, and instead use REITs to diversify their portfolio and as a hedge against inflation, especially if rates slowly rise over the coming months and years. In other words, it's not the time to "head for the hills" and wait on another rally by Mr. Market - that's called "market timing." As we approach 2014 - another year of real estate recovery - I suggest REIT investors "stay in the market" and "be prepared." In the Little Book of Value Investing, Christopher H. Browne, said it best:
"Most investors head for the hills during periods of market declines, thinking the decline will go on indefinitely. Once the market has rebounded, they return, having missed the best part of the rebound."
Finally, remember to ALWAYS diversify. In any given year, every portfolio will have winners and losers, and it's impossible to sidestep every loser. By diversifying, you provide yourself with insurance that if one of your stock picks gets hammered, it will not impact your nest egg. As most of you know, I'm riding out Digital Realty; however, by dollar cost averaging, I'm able to mitigate the losses and move my worst selection (of 2013) back into the black. Of course, we all know that the best way to prevent losses is to buy stocks when they're on sale. Happy New Year!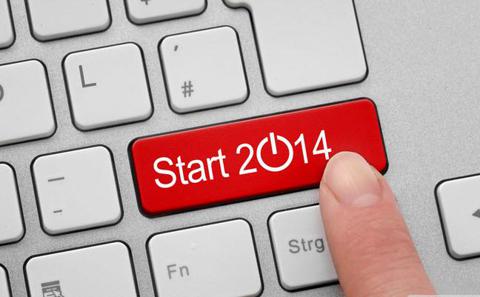 Check out my monthly newsletter (The Intelligent REIT Investor).
Source: SNL Financial and FAST Graphs.
Disclaimer: This article is intended to provide information to interested parties. As I have no knowledge of individual investor circumstances, goals, and/or portfolio concentration or diversification, readers are expected to complete their own due diligence before purchasing any stocks mentioned or recommended.
Disclosure: I am long O, ARCP, VTR, HTA, HCN, STAG, ROIC, UMH, DLR, CBL, CSG. I wrote this article myself, and it expresses my own opinions. I am not receiving compensation for it (other than from Seeking Alpha). I have no business relationship with any company whose stock is mentioned in this article.