Petroleo Brasileiro SA or Petrobras (NYSE:PBR) is one of my favorite contrarian oil- and gas plays at the moment that I believe is materially undervalued. Part of my thesis is a generally optimistic outlook for the world economy that should make big steps in returning to normalized growth in the next 3-5 years. I also believe we are going to see surprises coming out of Southern Europe and the United States with respect to forward-looking economic data which could help sustain momentum on the stock exchanges.
It also seems that Petroleo Brasileiro is sort of an overlooked oil- and gas company even though its market capitalization of around $89 billion is comparable to the equity valuations of ConocoPhillips (NYSE:COP) and CNOOC (NYSE:CEO). The company is investing heavily in new projects and a surge in debt issuance has led to a plunge in investor confidence.
Petrobras has lost a massive 30% last year as uncertainty about the viability of its five-year investment program hit the shares. The company eventually sold $11 billion in bonds in May 2013 in order to finance its offshore development projects. The bond sale was a record emerging-market debt transaction and stirred the dust up quite a bit due to its large size. Consequently, shares were fairly volatile over the last year and are now trading at $13.66 which is not too far from its 52-week Low of $12.03.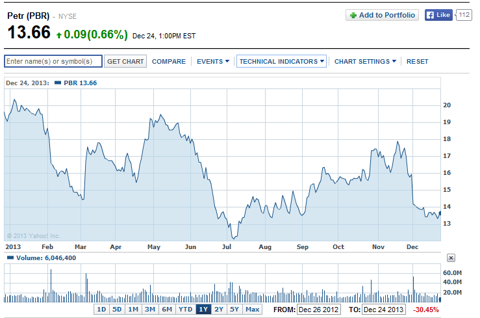 The following graph shows how severe Petrobras' underperformance is compared to other major oil- and gas players in the field. Petrobras lost 46% over the last two years while it is the only large-cap exploration company in the peer group with a negative two-year return. CNOOC gained 5%, BP (NYSE:BP) 10%, Chevron (NYSE:CVX) 14%, Exxon Mobil (NYSE:XOM) 16%, Total (NYSE:TOT) 19% and ConocoPhillips 26%.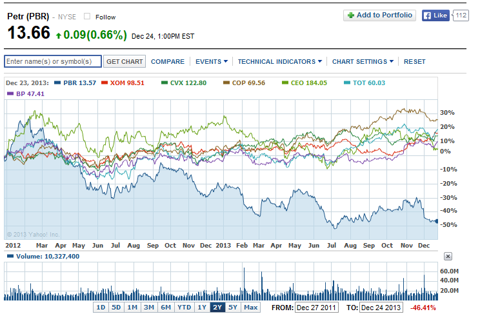 Background
The following graph from Petroleo Brasileiro's September 2013 investor presentation breaks down the $237 billion investment plan the company is putting into place. The total program comprises of 947 projects of which 770 projects are already under implementation. With no intention to issue new equity a vast proportion of the investment program will be financed via debt. However, Petrobras has one of the most attractive large-scale asset development programs in the marketplace and the company should be one of the prime beneficiaries of increased energy consumption in Latin America.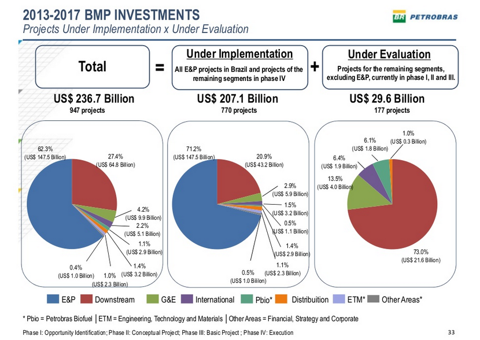 Market valuation
Market worries about Petrobras' debt issuance have driven the valuation of the company to unreasonable levels. Petrobras currently trades at only 7.24 times forward earnings which translates into an outstanding earnings yield of almost 14%. The company is the cheapest in the peer group which consists only of large-cap oil- and gas companies with significant on- and offshore exploration operations. Most notably, Petrobras is even cheaper than BP which is still my favorite contrarian oil- and gas investment and I still believe BP offers investors one of the best risk-reward ratios in the sector.

Given the volatility in the stock over the last year and its relative undervaluation to peers I bought a stake in the company and expect that the majority of total return will come in form of capital gains. The table below compares major peers of Petroleo Brasileiro.

Conclusion
I think the current valuation of Petrobras underestimates the earnings power of the company which will be materially driven by its offshore development initiatives down the road. Its investment plan incorporates substantial amounts of new projects that will increase output and production growth in the next five years. Petrobras is a leader in deep water and ultra-deep water oil- and gas exploration with more than 15.7 billion boe of proven reserves in Brazil at the end of 2012. The company presently trades at just 7.24 times forward earnings which makes an investment extraordinarily cheap. Investors who seek exposure to a leader in offshore drilling and exploration may want to consider Petrobras for their portfolio. Long-term BUY.
Disclosure: I am long BP, PBR. I wrote this article myself, and it expresses my own opinions. I am not receiving compensation for it (other than from Seeking Alpha). I have no business relationship with any company whose stock is mentioned in this article.