BlackBerry's (NASDAQ:BBRY) Q3 report made the August disaster look good. Sales of devices to end users of 4.3 million did not all make it into revenue despite the August change in accounting policy to recognize sales only when the devices were sold to end users. The August report was misleading.
In its September 27, 2013 release of the August 31, 2013 quarterly results, the company reported that:
"During the second quarter the company recognized hardware revenue on approximately 3.7 million BlackBerry smartphones. Most of the units recognized are BlackBerry 7 devices, in part because certain BlackBerry 10 devices that were shipped in the second quarter of fiscal 2014 will not be recognized until those devices are sold through to end customers. During the quarter, approximately 5.9 million BlackBerry smartphones were sold through to end customers, which included shipments made prior to the second quarter and which reduced the Company's inventory in the channel."
In the accompanying financial statements, BlackBerry reported: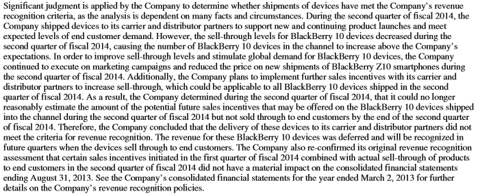 A reader could reasonably conclude that sales of BlackBerry 10 devices would only be recognized when those devices were sold through to end users.
Fast forward to the December 20, 2013 report for the quarter ended November 30, 2013.

So, BlackBerry sold 4.3 million devices to end users in the November quarter and recognized only 1.9 million of them as revenues. What happened to the other 2.4 million devices?
Apparently, they were recognized in revenues before the end of the August 31, 2013 quarter. When? Why?
It cannot be a policy to recognize revenues when the BB10 devices are sold through to end users and then go ahead and recognize revenues from 2.4 million such devices that have not been sold through to end users.
There may be some technical explanation as to why this is the case. But investors are entitled to better than an after-the-fact technical explanation (which they have yet to receive) on key items like revenues from more devices sold and not recognized than were sold and were recognized.
I wonder how the arm's length buyers of the $1 billion debentures will react to this disclosure. If I were one, I would be turning it over to litigation counsel.
I wonder how the board of directors and audit committee are dealing with this from a governance perspective. Are they satisfied the company is providing full, plain and true disclosure to shareholders?
John Chen seems to be captain of a sinking ship. Prem Watsa seems to have thrown good money after bad. The class action bar will have a field day.
BB10 was going to save the company. Oddly, the system it replaced is still the only one consumers want. I still use my BB7 Bold because I have yet to find another phone that meets my needs any better than it does.
Chen seems calm and rational and if anyone can turn this company around, it is likely him. That will be a challenging endeavor. Outsourcing design and manufacture of devices to Foxconn with some sharing of inventory risk makes sense, and developing those devices targeted at the right price points in fast growing Asian markets could build a following for BlackBerry that in the long haul might attract more developer support and enhance its services offering.
The initial enthusiasm for BBM messaging service and its innovative Channels capability has the right elements for success as well.
Notwithstanding, the damage done to the brand is substantial and the turnaround task is formidable. I expect rough waters ahead.
My father died last month at 98, and at his service I recalled one of his pieces of advice for me when things looked black. He would say: "Cheer up, it will get worse".
It might be too early to say BlackBerry R.I.P. and relegate it to the graveyard populated by Palm, WebOS and Nortel in the annals of great successes destroyed by bad management. The shorts may have had this one right from the outset.
I have a residual long position in BlackBerry, a legacy from my wishful bet that Thorsten Heins might have been the right man to rebuild the company. As it turns out, I could not have been more wrong.
Disclosure: I am long BBRY. I wrote this article myself, and it expresses my own opinions. I am not receiving compensation for it (other than from Seeking Alpha). I have no business relationship with any company whose stock is mentioned in this article.
Additional disclosure: I hold calls on BlackBerry that will expire worthless, the remnants of a bad bet. This stock is best avoided or for the aggressive sold short.