The most undervalued sector in the market right now continues to be small commercial banks. It's understandable why this has happened; every week, the FDIC shuts down a few more banks. More banks continue to be added to the list of problem banks every week, as well. Don't expect the pattern of bank closings to let up any time in early 2010, either. The US banking system still has a long ways to go before its back in good health.
Due to these dynamics, investor fear is still at high levels when it comes to small commercial banks. While this environment terrifies many investors, perhaps they should be seeing this as a golden opportunity instead. Sure, there are many banks out there that will be "losers", but there are even more banks out there that will survive this crisis, and some will even get stronger as a result.
Right now, I'm investing in banks with all sorts of risk profiles. I've invested in some banks with higher risk profiles that could reap big rewards if they survive. I've invested in some safer banks that are somewhat undervalued and might even double in due time. However, there is absolutely nothing I like to see more than an extremely well-run bank that is selling at a huge discount and Savannah Bancorp (NASDAQ:SAVB) is the type of bank that might just fit the bill.
Criteria
Before getting started, here are the attributes I've been searching for in commercial banks:
Strong capital ratios when compared to other banks

Less exposure to the huge bubble markets

Deposit growth

Market share is increasing; potential for acquisitions

Interest margins are strong/increasing

Inside ownership

Insiders have made significant buys

Strong earnings potential, and most importantly,

Stock price offers very highly favorable risk-reward balance
Realistically speaking, I don't expect many banks to meet all my attributes. I simply want them to meet as many as possible. Savannah Bancorp might come about as close as one can find to a bank that meets all the criteria above.
Overview
Savannah Bancorp is the holding company of The Savannah Bank and Bryan Bank & Trust. Since 2007, the company has also owned an investment advisory firm, Minis & Co. Between the two banks, Savannah Bancorp has ten retail branches in the Savannah metro region, including two offices in the Hilton Head Island area. By total deposits, it is the 3rd largest bank in the Savannah MSA, only trailing Wells Fargo (NYSE:WFC) and SunTrust (NYSE:STI). It recently passed Bank of America (NYSE:BAC) to become #3 in the area and it's not that far behind the other two major banks on its home turf, either.
Savannah Bancorp's small market cap (approx. $50 MM) and its status as a community bank might be one of the main reasons investors have shied away from it. With such a tiny market cap, the high rollers might not be very interested and it probably isn't even coming across their radar screens. This type of bank is more dependent upon smaller funds and your everyday, average retail investors. Only problem is that, right now, your average retail investor is scared to touch the banks. The end result is that the overall market is ignoring this bank, which creates significant value for investors willing to buy-and-hold for the long-run.
Investors shouldn't sleep on this bank. Savannah Bancorp has strong inside ownership at 22% and a few directors have bought in fairly aggressively since May of last year. The story goes much deeper than that, however. SAVB was one of the few banks that was strong enough to decline TARP funds in '08 and it is also one of the few community banks that managed to turn a profit in 2009.
With that, let's analyze SAVB in further detail.
Attributes and Balance Sheet
The first thing I do with most banks is take a look at their capital ratios and a few key metrics. My table of these measures is below:
The capital ratios are satisfactory as SAVB has 8.23% Tier 1 Leverage and 10.23% Tier 1 Capital. Tangible common equity is strong at 7.30%. Net interest margins have been good around 3.5%. Non-performing assets are higher than I'd like to see at 4.04%, but this is not that bad compared to a peer median of 9.72% and a peer average of 10.47%.
Which leads me to a peer comparison of community banks operating in the same areas as SAVB:

Savannah stacks up fairly well to its peers on these metrics. Note that as I was doing this analysis, I realized that First National Corporation recently failed and its banks were seized by the FDIC. Community & Southern Bank took over its assets. I also highlighted another bank that could potentially be seized by the FDIC, Darby Bank; owned by DBT Holding Company. From a quick glance, Citizens Effingham also might potentially gain the attention of the FDIC. Overall, SAVB stacks up very well to its peers and might be able to gain more market share in this type of environment.
Now that we looked at that, let's take a look at SAVB's deposit growth: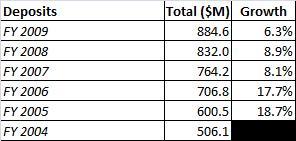 Growth has been rather impressive over the past five years. If SAVB can continue to grow in the region relative to its peers, it's not out of the question for it to potentially overtake SunTrust and Wells Fargo as the largest bank (by deposits) in the Savannah MSA.
With that, let's take a glance at the kind of loans the bank has been making: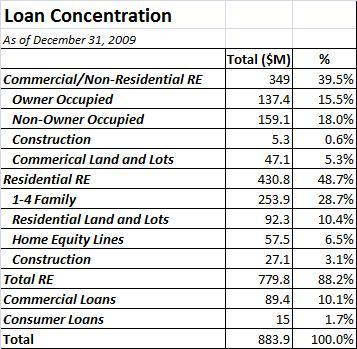 About 49% of SAVB's loans are in residential real estate, which is good, because much we might have worked our way through most of the major problems in residential. It seems as if commercial is more frightening for the time being. About 40% of SAVB's loans are in "non-residential real estate", which I am assuming is mostly commercial RE. The remaining loans are mostly commercial (10.1%), with some consumer loans (1.7%).
One additonal consideration on loan quality is that the Savannah MSA was not a huge "bubble market", so property values have not fallen as much in the area as they have in places like Atlanta or Florida. If you take a look at Calculated Risk's "Unofficial Problem Bank List" again, sort the results by state, and scroll down to GA, you will find that very few of the banks on the list are in the Savannah area. The two noted above and Citizens Effingham Bank are the only ones that I found that might fit the bill. Overall, however, this region has less risk of falling real estate prices than many others.
From everything we've pieced together thus far, one's initial impression should be that this is a growing community/regional bank with a healthy amount of capital operating outside of the more volatile metro areas.
Balance Sheet
My condensed version of SAVB's balance sheet is below: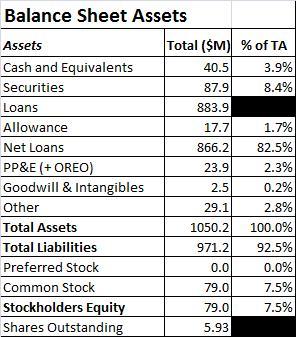 SAVB's equity account is equal to 7.5% of its total assets. Note that SAVB has issued no preferred shares, which is a huge plus in my book. I am not a huge fan of companies with overly complex capital structures. As mentioned earlier, SAVB did not participate in TARP. They initially submitted an application, but decided to withdrawal it. That's a sign of strength to me.
One thing that does give me minor pause is that SAVB's allowance is only 2.0% of its total loan portfolio, but non-performing assets are around 4%. However, given the fact that property values in the Savannah area have not fallen as far as an area like the Atlanta metro, this might make a good deal of sense. After all, they do have real property underlying most of their loans.
If we want to be on the safe side, however, here's a chart that shows how Tangible Common Equity will be altered based on a variety of different allowances:

It's worth noting that even if the allowance were adjusted all the way upwards to 5.25% of total loans (from the current 2.0%), SAVB would still be selling right near its tangible common equity value.
Earnings Potential
The next thing I like about SAVB is its earning potential. Here are past earnings figures for the past four fiscal years: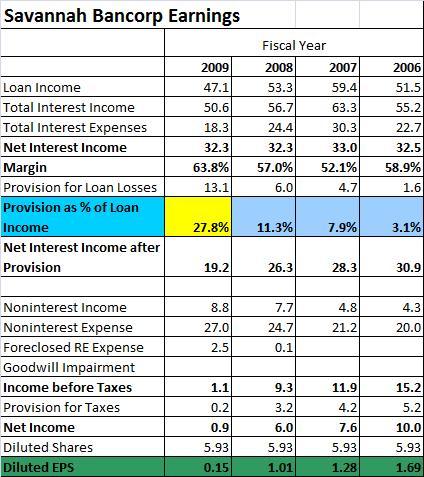 Their track record is fairly impressive and they managed to eek out a profitable 2009 when few others small banks could. Of course, if you're buying into the banks right now, it's not for the paltry earnings today … it's for the potential earnings down the road. Here is my chart showing a more normalized earnings picture for SAVB: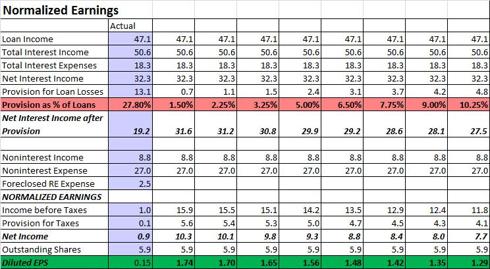 If we assume that SAVB can continue to grow in the future, this might even be a bit conservative. Given SAVB's track record for growth, I would not be surprised to see continued deposit growth and greater top-line revenues once we began to escape this rotten economic environment. Normalized earnings potential could be anywhere from $1.25 - $2.00 per share, with the $2.00 figure representing an optimistic growth-oriented scenario.
Risk Factors
As with any stock, there are some risks here. One risk is that the current economic slump continues for a very lengthy period of time, which could drag down bank earnings for years.
Another major risk (with all the banks) is the potential for dilutive offerings. While it would seem unlikely that SAVB would need to engineer a dilutive offering after rejecting TARP assistance, their tangible common equity ratio and Tier 1 capital ratio are not completely untouchable at current levels.
One more risk that might be worth mentioning; SAVB is entirely situated in the Savannah MSA. This creates localized economic risks that could drag down the bank. With offices situated near the Georgian and South Carolina coasts, SAVB is also at risk for hurricanes, which could not only cause damage to the local economy, but could also put some of the properties underlying their loans at risk. Hilton Head Island is also a major tourist destination, which creates special risks of its own.
Valuation
Based on SAVB's balance sheet, earnings potential, growth history, and current risk factors I would assign it a most probable valuation of about $26 per share, with a probable range of about $20 - $30. All the same, this might be on the conservative end of things. At $26, the stock would see a 225% gain from its current level at $8 per share.
The upside potential here is good, as well. If the company could slowly grow their deposit base, market share, and revenues, $35 is not completely out of the question. My belief is that SAVB's strong management team makes this outcome more feasible than it might appear simply by glancing at a stock chart.
Downside risk is difficult to ascertain because it's mostly based on market sentiment; I would simply suggest that the market could irrationally punish the bank in the future. Downside valuation risk might be more noteworthy to examine. If the bank needed to conduct a dilutive offering at current share prices, I believe it would still be worth at least $15 per share. Barring a timebomb hidden in SAVB's portfolio, however, $8 would seem to be an extraordinarily conservative valuation for the bank and I see it as highly likely that it is worth more than that.
Conclusion
This is one of the best banks I have come across since I started investing in small commercial banks late last year. Management has an excellent track record and this company has a great record of growth. SAVB's balance sheet is in good shape and the company even declined participation in TARP. This might be the type of company that one could buy-and-hold for the next 5-10 years.
Due to my favorable view, this has now become my largest bank holding. While there will undoubtedly be some bigger gainers among the higher-risk banks, I have not yet found a bank that offers quite as favorable of a risk-reward trade-off as SAVB.
Disclosure: Author is long SAVB.