Zachary D Scheidt, CFA, is the owner and Chief Investment Strategist at Sound Counsel Investment Advisers. The firm provides investment advice to individuals and institutional investors and focuses on risk management and capital preservation. Prior to Sound Counsel, Mr. Scheidt served as Portfolio Manager for an Atlanta-based Investment Advisory where he managed assets for three hedge funds as well as individual portfolios.
We recently had the opportunity to ask Zach about his single highest conviction holding at present.
What is your highest conviction stock position in your fund - long or short?
Currently I'm most excited about The Blackstone Group, LP (NYSE:BX), as I think investors have an excellent opportunity for capital appreciation along with a very healthy dividend yield.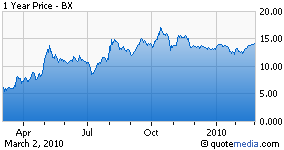 Blackstone is a private equity investment company, which simply means that the company manages a number of investment funds which are usually only available to accredited and institutional investors. These funds are diversified into a number of different investment approaches (Real Estate, Hedge Funds, Commodity Funds, International, Industry or Country specific investment vehicles etc). Blackstone takes capital from its clients and invests the money in its different programs. Often, Blackstone also puts some of its own proprietary capital into the investment program as well – helping clients to see that the company has a vested interest in their success.
There is an important (and exciting) difference between the way Blackstone manages investments and the way a more traditional asset manager such as Legg Mason (NYSE:LM) or Franklin Resources (NYSE:BEN) conducts business. The majority of Blackstone's funds are set up in a way that the firm is able to charge an incentive fee for positive investment performance. This incentive allocation can be incredibly lucrative and lead to sharp profits for owners of BX.
Typical fund structures work like this: Blackstone accepts capital from investors and charges a management fee of 1% to 2%. This management fee helps to offset costs such as research, salaries for analysts and administrative personnel and other overhead. There may be some profits associated with the management fee, but the real value comes when the fund realizes a profit for investors
Assuming Blackstone is managing a $2 billion fund, and the fund realizes a 15% return for the calendar year, Blackstone will likely be eligible to collect 20% of profits as an incentive allocation for managing the fund. In this example, the fund would realize a $300 million profit, and Blackstone would collect $60 million as its incentive allocation.
Now, not every fund will be positive in any given year, but with Blackstone's assets diversified into a wide number of different strategies, the chance for significant incentive allocations from one or more of these investment funds is very good. At the same time, Blackstone doesn't have to pay 20% of losses to investors, so the playing field is biased towards success for BX and by extension, owners of BX shares.
Access to PE funds is relatively new for individual, non-accredited investors. To what extent is this an asset class pick on PE, as opposed to the particular opportunity at Blackstone?
The Private Equity industry is actually very dynamic, with low barriers to entry. Anyone with decent contacts and a few thousand dollars for legal and regulatory fees can set up his own hedge fund or private equity fund and begin trading. But the key to success lies in posting strong investment returns and attracting large amounts of capital from investors. It's often difficult for new or small funds to be successful in both producing strong investment returns and attracting institutional capital to reach critical mass.
Despite the low barriers to entry, it's often difficult for new participants to stay alive. The private equity or alternative investment business is very competitive and investors demand strong returns that are not correlated to traditional equity markets. Over the past 18 months, many investment programs which were designed to produce gains regardless of market direction turned out to have much more correlation to traditional markets than expected. The result has been a "weeding out" of many less talented managers and has allowed the truly "alternative" investment programs to stand out.
How do you see Blackstone's competitive advantages in its field?
Blackstone has several competitive advantages which allow the company to stand out compared to its competitors. First of all, Blackstone is well diversified with funds positioned to capture gains from many different investment disciplines. Since some funds are focused on real estate, some on timber, some on natural resources, and many other different strategies, it stands to reason that the company will at least have some of its funds produce large returns in any given year. This allows Blackstone as an entity to capture more assets than a single strategy manager or an investment company with expertise in just one or two disciplines.
Secondly, the company has developed a strong pedigree or reputation with institutional investors. This reputation is crucial for attracting new assets – and incredibly large amounts of new assets at that. Before Blackstone became a publicly traded firm in 2007, a Chinese Sovereign Wealth Fund made a key investment, acquiring a substantial portion of the company. In addition, China's SWFs have made large investments in several of the funds that Blackstone manages – a strong vote of confidence and a great promotional data point that Blackstone can use when courting other large investors.
Finally, with the consolidation seen on Wall Street and the number of failed financial institutions, there are a number of very talented investment professionals who are looking for work. Blackstone is considered to be one of the best investment firms to work for and now the company essentially has its pick of talented individuals to hire. The strong talent pool should allow Blackstone to be even more successful in seeking out investment opportunities for its funds and should result in positive returns which only bolsters the company's competitive edge.
How do you assess Blackstone's valuation?
Valuation is a tricky subject because of the complexity of the company's books. Blackstone's earnings fluctuate wildly depending on its success managing the funds under its control. You can have a particular fund realize a $2 billion profit in a quarter, which results in a windfall earnings gain for shareholders. Then you could just as easily plod along for a few quarters with only mediocre investment gains and incentive allocations.
So, since it is very difficult to project the quarter-to-quarter earnings for the company, I tend to look at two themes for investors.
The first is the environment for investment gains. This is very favorable for Blackstone right now. Many of its funds which lost money during the credit crisis are now at a point where they are back to their high water marks (the funds must make up losses before they can earn incentive allocations), and are thus primed to generate huge profits for the company. There is rising demand for IPOs, which will help many of the private equity funds exit positions and realize profits, and the company is attracting billions of new assets from institutional investors which gives them more opportunities to generate profits.
The second and more measurable theme is the dividend yield. Blackstone currently pays $0.30 per quarter for a dividend yield of about 8.5%. That's a very healthy return for investors who are getting paid to wait for the company to realize its strong investment gains. Part of the reason the stock is so low is that investors worry that the company may not be able to continue to pay the dividend. But I think there's more to the story, and am very confident that the dividend is safe.
As I mentioned, in the weeks preceding the company's IPO, the Chinese government made a significant investment in Blackstone – buying a large minority ownership stake. During the credit crisis Blackstone actually suspended its dividend for one quarter. But the next quarter, even though the environment had yet to substantially turn for Blackstone, the dividend was reinstated. One obviously asks: "Why did Blackstone begin paying the dividend again even though the environment was still very uncertain?" I believe the answer is that the Chinese government put intense pressure on management to begin paying the dividend again.
Since China is a strong investor in the stock (and also has billions invested in the company's funds), you can see that the country has plenty of leverage to apply to Blackstone management. And since China likely wants the cash flow in order to collect dollars and have the flexibility to invest them in other ventures, I strongly believe that the dividend will remain stable. This should support the stock price, and as investors chase attractive dividend yields in 2010, the stock should appreciate quickly.
I believe that with capital appreciation due to strong investment gains, along with the stable dividend payments, investors who buy at current levels could realize a total return of over 30% this year, with an outside chance of even much stronger appreciation.
How would you describe the current sentiment on Blackstone's common stock? How does your view differ from the consensus?
Presently the investment community appears to be pessimistic for Blackstone and the private equity industry. There are some regulatory issues which could come into play such as restrictions on leverage and disclosure issues. Private equity companies typically like to keep their position book in a cloak of secrecy. This helps if a fund is building a position in an illiquid security and doesn't want to tip the market off and have to compete with additional buyers – and the same is true for liquidating positions. So increased disclosure could cut into a few of the competitive advantages these firms enjoy.
Possibly the most profound fear for private equity firms is that a market decline will cause the managed funds to lose money. That is definitely a legitimate fear, but one that I think is less of a problem for Blackstone. Sure, the company could easily lose money in some of its funds, but its programs are very diversified with exposure to commodities, real estate, international markets, and even multiple strategies such as event driven funds or long-short approaches which historically have low correlations to economic trends or equity markets.
So the poor sentiment for Blackstone appears to have set up an opportunity to buy stock at an attractive level. Blackstone continues to attract billions in new fee paying assets and should be in a place to realize large profits over the course of the next several quarters.
Does Blackstone's management play a role in your position? Is the firm too dependent on Steve Schwarzman?

I have tremendous respect for Steve Schwarzman and the way he has developed such a strong dynamic company. Steve has received more than his share of negative press – largely because he banked such a large payout when the company went public, but it's hard to discount his ability to see opportunities and capitalize on them to generate profit for himself and for his partners.
At this point, Steve is less involved with the day-to-day operations of the firm and more of a key figurehead. So in that regard, I wouldn't want to sell the stock if something happened to Schwarzman, because he has put such a strong team together which is capable of operating regardless of whether Schwarzman is there to provide input or not. I believe management is important in any company, but the program that Blackstone follows allows the company to continue to operate effectively with any capable management team at the helm.
What catalysts do you see that could move Blackstone stock?
There are three potential catalysts which could cause investors to pay more attention and bid the stock higher:
First, a thawing of the IPO market could spur significant profits for the firm. If investors are willing to buy new companies in IPO transactions, then many of the private equity funds will be able to sell portions of their holdings in an IPO transaction. These transactions will likely immediately generate gains on investment and also provide a public market for the remaining portion of the company that a Blackstone fund owns. This will allow the company to record incentive allocations, which is what investors want to see in order to improve sentiment for the stock.
Secondly, announcements of new funds managed by Blackstone (with corresponding commitments of capital from investors in those funds) will go a long way towards instilling confidence in the firm. New investment funds will generate management fees which help to pay for overhead and makes the dividend all the more sound. And each new fund increases the odds that Blackstone will be able to generate incentive fees when the fund realizes gains for investors.
Finally, reported earnings as a result of these funds crossing their high-water-marks will help to increase investor confidence. Remember, the funds managed by Blackstone typically have to earn back all losses before they are eligible to receive incentive allocations. Many of the funds that took on losses in the past year are now approaching their high water marks which means that they are much more likely to realize incentive allocations in 2010.
What could go wrong with this stock pick?
When owning a stock, you always have to consider the worst-case scenario. If China were to pull funds out of the firm, sell its BX stock, or make an announcement that it was considering one of the two moves, investors would likely panic and send BX stock lower. But this scenario is not likely, because China continues to commit more capital to the firm. It wouldn't make sense for policy to change so quickly.
Any type of announcement that would reduce investor confidence and cause the market to believe that BX was incapable of generating incentive allocations or paying the dividend could send the stock lower. However as I mentioned, the sentiment is already poor for this company, so it is unlikely an announcement could cause more concern than is already priced in to the stock.
I prefer to own companies that are not yet recognized as leaders in their industry or in the broad economy. Blackstone should eventually reach that status as the company rebuilds its reputation. For now, we are involved with the stock at a very attractive price and I look forward to seeing just how much better the sentiment can be at the end of the year and how much higher the stock can trade throughout the coming year.
Thank you for sharing your thesis, Zach.
Happy to participate.
Disclosure: Sound Counsel Investment Advisers is long BX
Read more High Conviction Picks »
If you are a fund manager and interested in doing an interview with us on your highest conviction stock holding, please email Rebecca Barnett.