Introduction
As the Federal Reserve finally announced the tapering of asset purchases with a more optimistic projection for economic growth, it is time for investors to overweight stocks over dividend payers or bonds. From historical basis, small cap stocks have higher returns than their large peers and bonds over the long run.
Source: etfmarketpro.com
This is especially true during economic expansions. The following chart shows the comparison between Russell 2000 (yellow) and S&P 500 (NASDAQ:BLUE) over past four years.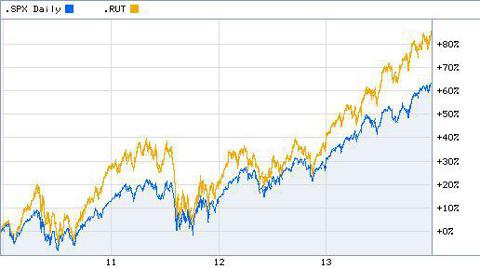 Source: Fidelity.com
Small cap's outperformance is well researched by many prestigious scholars. In Nobel Prize Laureate Eugene Fama's famous paper common risk factors in the returns on stock and bonds, he shows that small cap value stocks have the best return.
Popular way to invest in small cap stocks
Nowadays, the most popular way of investing in small cap stocks is to buy related index funds. In fact, David Booth, the founder of Dimensional Fund Advisors and pioneer of index investing, started out with building small cap index fund. Ever since then, small cap stocks became a "new" asset class to investors. So index funds look like the right way to invest in small cap stocks. The major question is: which one to follow?
In my opinion, before we jump straight into some popular index funds, it is better to choose the right benchmark to follow. Otherwise, investors would likely make suboptimal decisions right in the beginning.
Russell 2000 is popular but how about others?
The most popular small cap stock index is the Russell 2000 and related index ETF is IWM (NYSEARCA:IWM) by Blackrock. However, there are some less known indices available such as the S&P 600, Dow Jones U.S. Small Cap Total Stock Market Index, MSCI 1750 and other proprietary indices. In my opinion, the more selective S&P 600 is the better benchmark to follow.
The most obvious difference between the Russell 2000 and the S&P 600 is of course the number of constituents in each of index. However, the number of constituents is not sufficient to distinguish between the two benchmarks, so I will go ahead to present the sector breakdown for the two indices.
Sector Breakdown
Russell 2000: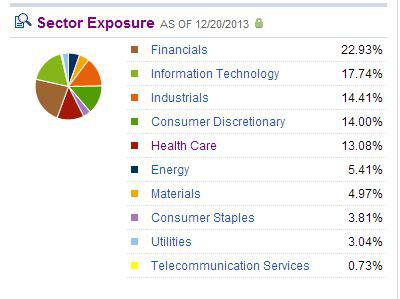 S&P 600: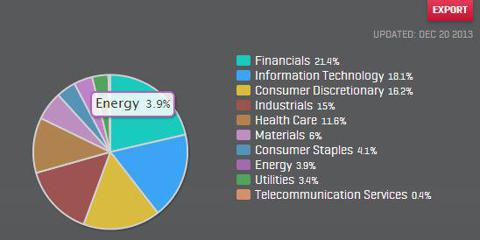 Source: spindices.com
From these two screenshots above, there are not too many differences between sector weights, so I will go ahead to explore some more. As Fama pointed out, the one with more attractive valuation outperforms in the long run, so I believe it is a good idea to go over some important metrics.
Russell 2000 metrics: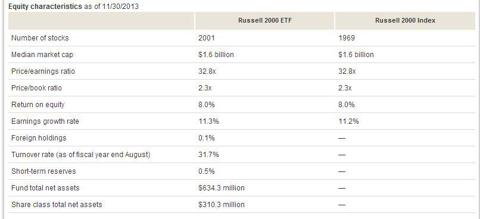 S&P 600 metrics: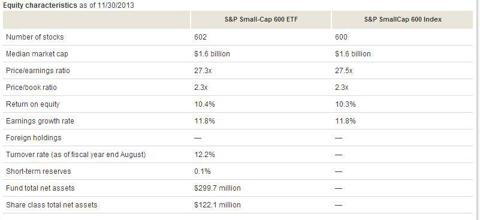 Sources: RussellfromVanguard S&P600fromVanguard
As shown in the screenshots, the S&P 600 simply has a better Price/earnings ratio, Return on equity and slightly better Earnings growth rate, it is natural to believe S&P 600 is more attractive than the Russell 2000. Not surprisingly, the attractiveness of the S&P 600 reflected on the YTD performance as well.
Chart: Russell 2000 vs. S&P 600 (red)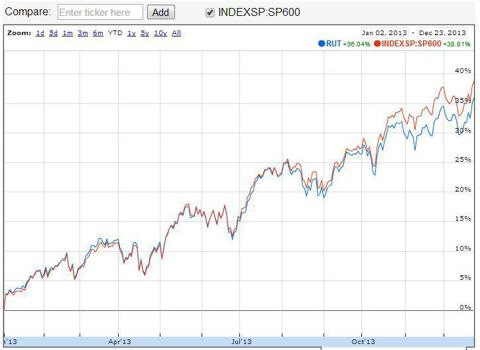 Source: Google Finance
One year of outperformance is simply not enough, so I will present the return comparison since inception of the S&P 600 index.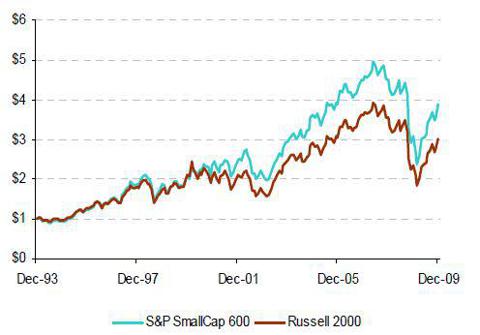 Source: spindices.com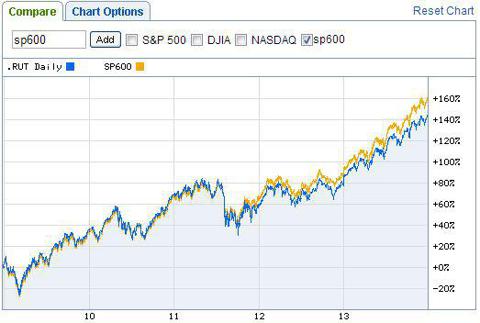 The performance between December 2009 to December 2013
Interestingly, Standard and Poor's also recognizes that it has done a better job. This report presents its own analysis of the S&P 600's outperformance. This following screenshot offers the major methodology differences between the two indices.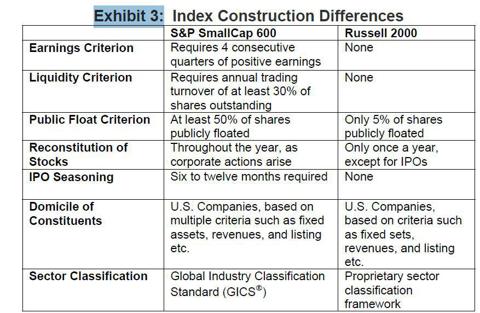 Based on the information above, the Russell 2000 is an excellent index, but the S&P 600 is just slightly better.
ETF that tracks the indices
Finally, it is time to choose the funds that offer the exposures.
S&P 600 trackers:
Ticker Symbol

Expense Ratio

Tracking Error

YTD performance

Dividend Yield

Market Cap

Annual Turnover

Sponsor

IJR (NYSEARCA:IJR)

.17%

.07%

39.19%

1.23%

14.37B

12%

BlackRock

SLY

(NYSEARCA:SLY)

.24%

.19%

36.13%

.94%

419.23M

11%

State Street Global Advisors

VIOO

(NYSEARCA:VIOO)

.17%

.32%

39.09%

.86%

125.96M

12%

Vanguard
Based on the table above, IJR by BlackRock is clearly the winner of the category.
For Russell 2000 followers:
| | | | | | | | |
| --- | --- | --- | --- | --- | --- | --- | --- |
| Ticker Symbol | Expense Ratio | Tracking Error | YTD performance | Dividend Yield | Market Cap | Annual Turnover | Sponsor |
| IWM | 0.25% | .10% | 36.06% | 1.49% | 25.53B | 19.00% | BlackRock |
| VTWO (NASDAQ:VTWO) | 0.23% | .09% | 37.99% | 1.13% | 311.20M | 32.00% | Vanguard |
Note: SPDR's Russell 2000 ETF TWOK is newly launched in July 2013; we need time to watch it.
The following tables offer information about other interesting ETFs:
Lowest expense Ratio:
| | | | | | | | |
| --- | --- | --- | --- | --- | --- | --- | --- |
| Ticker Symbol | Expense Ratio | Tracking Error | YTD performance | Dividend Yield | Market Cap | Annual Turnover | Sponsor |
| SCHA (NYSEARCA:SCHA) | 0.08% | 0.15 | 36.91% | 1.49% | 1.83B | 22.00% | Schwab |
Note: SCHA tracks Dow Jones U.S. Small-Cap Total Stock Market Index.
S&P 600 value variation ETFs:
| | | | | | | | |
| --- | --- | --- | --- | --- | --- | --- | --- |
| Ticker Symbol | Expense Ratio | Tracking Error | YTD performance | Dividend Yield | Market Cap | Annual Turnover | Sponsor |
| RWJ | .54% | .22% | 43.80% | 1.08% | 245.05M | | RevenueShares |
| SLYV | .30% | .24% | 37.25% | 1.07% | 253.78M | 39% | State Street Global Advisors |
Note: RWJ (NYSEARCA:RWJ) is the best performing small cap non-leverage index ETF in year 2013. It ranks S&P 600 small cap index weighted by revenue.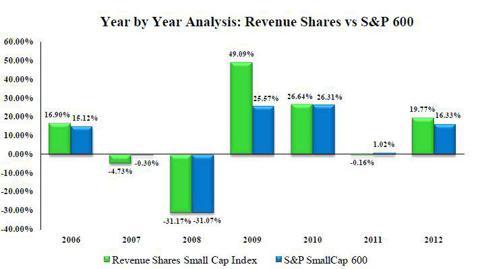 As shown in the screenshot, RWJ generally outperforms in up years, while underperforms in down years. My understanding is that top line revenue is more sensitive to economic conditions than other metrics.
Risk of Investing in small cap stocks
Every investment has risks. The major risk of investing in small caps stocks is volatility. For retirees and near retirees, putting too much weight on small cap stocks tends to be inadvisable. But for young investors like myself who have more than half a century of investing time span, short term volatility is not the major concern.
Another risk is the current valuation of US small cap stocks. The economic outlook seems to be optimistic in the coming year, but betting on further multiples expansion when valuation is already somehow bubbly can be a questionable strategy. Investors should keep their eyes wide open to watch out economic iceberg that may hide somewhere.
Conclusion
Small caps stocks are a high risk high reward asset class. Investors should carefully make decisions that meet their own investment goals. I hope this article can be helpful for investors who are looking for information in this space. Happy Holidays and good luck investing in 2014 :-)
Disclosure: I have no positions in any stocks mentioned, and no plans to initiate any positions within the next 72 hours. I wrote this article myself, and it expresses my own opinions. I am not receiving compensation for it (other than from Seeking Alpha). I have no business relationship with any company whose stock is mentioned in this article.