Editors' Note: This article covers a stock trading at less than $1 per share and/or with less than a $100 million market cap. Please be aware of the risks associated with these stocks.
While most of my articles and investments are centered on large-cap dividend paying energy companies like ConocoPhillips (NYSE:COP), Chevron (NYSE:CVX), ExxonMobil (NYSE:XOM) and Philips 66 (NYSE:PSX), I do like to devote a portion of my portfolio to smaller growth oriented companies capable of delivering out-sized returns. This article will mention two small-cap companies that could easily double (or more) in 2014 and two mid-cap sized companies capable of 50% returns in the coming New Year.
Energy Recovery (NASDAQ:ERII)

First up is Energy Recovery. ERII is poised for significant revenue and earnings growth due to its internationally patent-protected line of PX Isobaric pressure exchangers. These devices are used in the booming worldwide seawater reverse osmosis ("SWRO") market as demand for fresh water in places like China and the Middle East soars.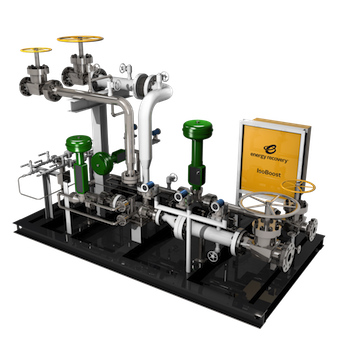 While ERII's stock could easily double on the back of its SWRO business alone, it has two other catalysts. The first and biggest is the oil & gas segment which represents a 10x revenue opportunity as compared to the SWRO market. Energy Recovery currently has pilot programs with three of the world's largest oil and gas companies, one of which is Sinopec (NYSE:SHI). Sinopec management has reported that ERII's IsoBoost skids can reduce the total power consumption of its plant by 25%. Deployment of ERII's devices will not only save Sinopec lots of cash, but for a country struggling to solve its pollution problems, the IsoBoost products will also significantly cut emissions. ERII also has pilot programs with Saudi Aramco, Access Midstream Partners (NYSE:ACMP), and a "Texas Oil" company (Client: Confidential).
The engineering, development, and manufacturing work, that is the vast majority of expenses related to rollout of these test programs, is largely behind the company. 2014 should see significant (and profitable) oil & gas contract wins for ERII.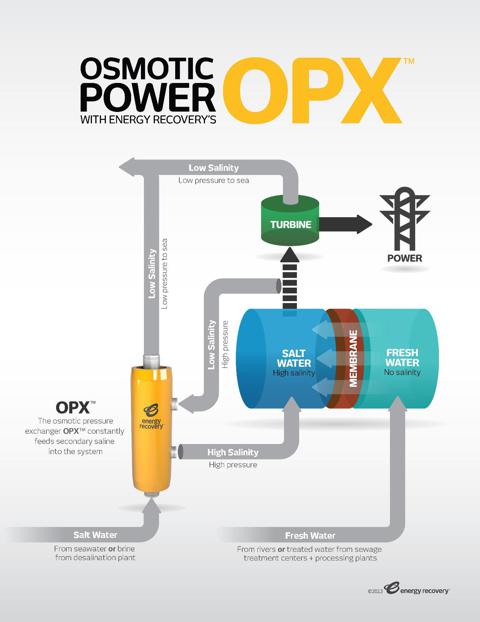 Click to enlargeThe second potential catalyst is the recent renewed interest in the company's osmotic power business and the new Osmotic Pressure Exchanger (OPX) product line. While still in the early stages, osmotic power represents a huge opportunity for Energy Recovery. A typical 250 MWplant would equate to ~3,000 OPX devices. To put that in perspective, ERII's recently announced Carlsbad, CA SWRO contract amounted to 144 PX Pressure Exchanger Q300 units for a plant that will deliver 50 million gallons of fresh water per day.
Simply winning an osmotic power pilot program contract would be very significant for ERII.As CEO Tom Rooney said during last quarter's Seeking Alpha conference call transcript:
We are in close negotiations with a European enterprise to do just the same (a pilot program). And we also have been approached recently by a large Japanese player and a large Spanish player. All of them want to move forward in Osmotic Power. And the orders of magnitude here are very interesting, just a pilot plant regarding Osmotic Power could and would generate $5 million plus worth of revenue for us.
For a more detailed look at ERII, I will refer you to an excellent article by fellow SA author Esekla.
Highpower International (NASDAQ:HPJ)

Next up is Chinese battery maker Highpower International. Highpower makes Ni-MH and Lithium-ion batteries and I profiled the company in this article. In 2013, the company was not able to take full advantage of booming growth in the Li-ion battery market due to manufacturing capacity constraints. At the same time, the company was spending money to build a new automated manufacturing facility, which you can read about here. As a result, the stock suffered and is now selling at a bargain basement price of $2.44/share. While the new facility is just now ramping up, look for revenues and earnings to begin surging starting in Q2 of 2014. HPJ is highly speculative in nature due to concerns about the transparency of Chinese companies. However, with such a low stock price, concerns are more than priced into the stock already. This is a volatile stock, so be careful to buy at a specific price, not at the "market" as the delta between the big-and-ask can be significant.
No here are the two mid-cap stocks I look to gain at least 50% in 2014:
Kodiak Oil & Gas (NYSE:KOG)

Kodiak is poised to significantly grow production and earnings in 2014. Production growth will come as a result of significant new advances in completion techniques, downspacing, and array fracking. KOG management is guiding for a 45% growth in production for full year 2014 to an average of 42-44,000 boe/day.
In early December, North Dakota experienced severe weather which impacted the company's production and the timing of ongoing completion operations. This is perhaps one reason the stock is down significantly from its earlier 2013 highs. However, the Company believes that full year 2013 production will still come in at ~29,200 boe/d.
For 2014, the stock should follow production higher and hit $17/share. After all, KOG has a 2013 yearly high of $14.11 and now trades at a relatively low PE of 24 considering its production growth rate.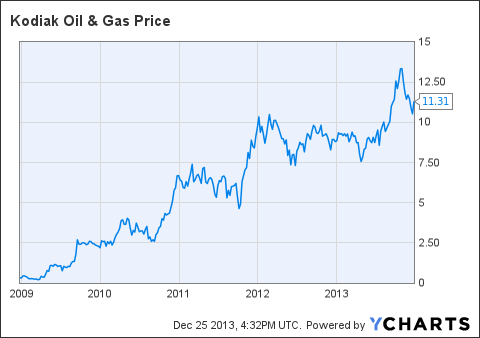 The risk with Kodiak would be if a glut of shale light-sweet builds up in the Gulf Coast region that could back up all the way to North Dakota and affect realized prices for the Bakken producers. However, a recent Reuters article reported that U.S. Energy Secretary Ernest Moniz was at an industry conference in New York when he said some energy policies, such as the crude export ban, "deserve some new analysis and examination" since the current domestic energy picture "looks nothing like the 1970s." Senators from both the Republican and Democratic sides are also saying obstacles to exports need to be removed. Some doubt the Obama administration will take any steps to help shale oil producers. However, I would remind folks of the recent and pragmatic changes the administration made to the ridiculous ethanol mandates. Net-net, I believe chances are better than 50-50 that some easing of the crude oil export ban will be seen in 2014. That will be great news for KOG and all the shale oil producers.
Dril-Quip (NYSE:DRQ)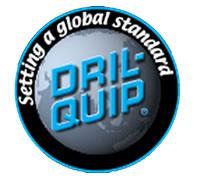 Last but certainly not least is energy equipment provider Dril-Quip Corp. DRQ specializing in subsea equipment and services. The company raised 2013 yearly earnings guidance twice during the year. More importantly, as of the last quarter's earnings release, the company's reported backlog was up 54% year-over-year and the subsea tree awards estimated for 2014 are up 50%+. I believe DRQ could easily grow revenues by 40-50% in 2014. If the company can maintain margins in the realm of 25% in 2014, it would grow earnings by another 40%+ in 2014. That would put estimated earnings at $5.80/share. If the market continues to reward DRQ's growth outlook with a P/E=30, that would push the stock to $174/share by year-end 2014: over 50% above its recent trading level. I love this company.
A recent article in Investor's Business Daily discusses how Dril-Quip is riding the rising wave of global offshore drilling. Of particular interest is a near-term contract for the North Sea's Catcher project which FBR Capital says has come down to a dog fight between General Electric (NYSE:GE) and Dril-Quip. If DRQ wins the award, it just might be the catalyst to spur GE to make the long rumored takeover of DRQ. Drill-Quip currently sports a PE of 29.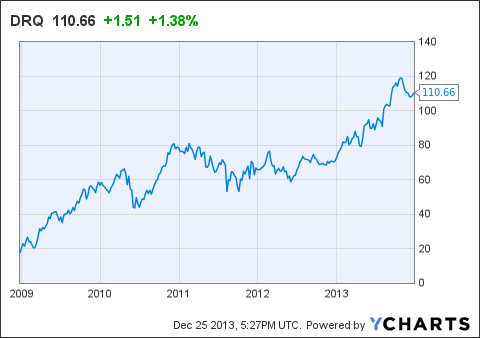 Summary & Conclusions
While I prefer to invest in the stocks of high quality dividend paying oil and gas companies, and I believe the 2014 outlook for these companies is very good, the small portion of my portfolio I devote to non-dividend paying high growth companies can be much more fun to follow. The four companies mentioned in this article all have high growth prospects for 2014. These companies definitely represent a high risk/reward proposition: the highest possible returns carry above average risk.
Let me end this article by wishing all of my readers and followers a Happy Holiday Season, a healthy and prosperous New Year, and peace in your lives. Thank you for reading my 2013 articles and I look forward to reading all of your comments in 2014.
Disclosure: I am long ERII, HPJ, DRQ, COP, CVX, XOM, PSX. I wrote this article myself, and it expresses my own opinions. I am not receiving compensation for it (other than from Seeking Alpha). I have no business relationship with any company whose stock is mentioned in this article.
Additional disclosure: I am an engineer, not a CFA. The information and data presented in this article was obtained from company documents and/or sources believed to be reliable, but has not been independently verified. Therefore, the author cannot guarantee its accuracy. Please do your own research and contact a qualified investment advisor. I am not responsible for investment decisions you make. Thanks for reading and good luck!