As a financial writer, investor, and technology enthusiast, juggling my views from each perspective and trying to make that clear to my readers has been a non-trivial affair. As a technology enthusiast, I love Apple (NASDAQ:AAPL). I believe that this company absolutely understands what it takes to build a quality device from software to hardware, and it's also clear to me that nobody does it better than Apple. I love my iPhone 5s to death and I can't wait to buy an iPhone 6 (or whatever it's called).
While I believe that Mr. Nathan Brooks' assessment that Apple is "living on borrowed time" may be a bit on the extreme side (i.e. I don't think Apple's sales will fall off a cliff in a fashion similar to Nokia's), I don't fundamentally disagree with the notion that from a growth perspective, Apple's best days are clearly behind it. But this does NOT mean that Apple is dead.
Apple Isn't Dead
But I think the notion that Apple is "dead" - from either a stock price or company perspective - is patently ludicrous. The rabid masses buying the shares today keep hoping for a "next big innovation", not realizing that each and every day, Apple is innovating plenty. The company's A7 chip is superb, iOS 7 is a delight to use, and Apple's software ecosystem is unmatched.
Sure, could the company have had a bigger iPhone out by now? Absolutely. But this isn't fundamental "innovation" no matter how much Samsung (OTC:SSNLF) shoves its marketing slogan about how the "next big thing is here" down the throats of the masses. Apple does things right from both a technological perspective and from a marketing perspective. Its customer loyalty is well-deserved and its brand, again, is unmatched in this industry.
This Doesn't Make Apple A Good Buy
When it comes to actually figuring out where to invest, while I love Apple and its products, I do not like Apple's stock. This is a company with a $500B market capitalization and roughly $44B in free cash flow that seems to be at the end of an "S-curve" driven by the iPhone/iPad tag-team.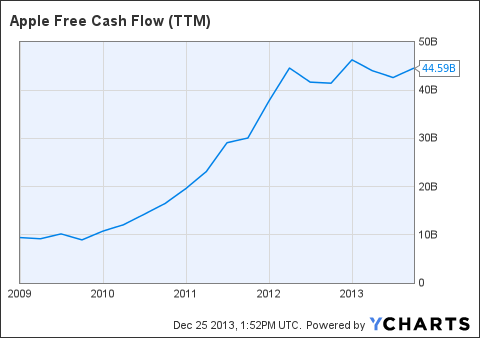 AAPL Free Cash Flow data by YCharts
In order for Apple to double again, it's going to need to roughly double free cash flow. While Apple still has some room left to grow, I just don't see another "doubling" here without the company dramatically expanding its total addressable market.
Now, make no mistake - Apple could actually pull it off and I could end up with a gigantic cream pie in my face. However, I think the odds are pretty low. What's more likely to happen is that, in a base scenario, Apple sees mid-single digit (3-5%) free cash flow growth over the next five years with a less optimistic case yielding low-single digit (i.e. 1-3%) free cash flow growth. In a doomsday scenario, Apple begins to exhibit negative growth - but I don't subscribe to that notion.
Under my base assumptions (5% FCF growth over the next 5 years, 3% LT growth, 12% discount rate), and discounting the cash on the balance sheet by 25%, I get a fair value of $530/share - suggesting that the shares are fairly valued to mildly overvalued. Adjusting down to the less-enthusiastic case (3% FCF growth over 5 years, 1% LT growth) and I get a share price worth $479.
But what I haven't talked about is a really "optimistic" case. If Apple can prove me wrong and do high single digit FCF growth (9% over the next 5 years and then 7% long-term growth), then the stock could be worth $691/share - suggesting 21% upside from here.
Conclusion
As far as I'm concerned, Apple is probably fairly valued, but there's the chance that the market is getting it wrong by +/- 20%, depending on which assumptions you subscribe to. I think that the market's expectation of low to mid single digit LT free cash flow growth is right on the money, and given a fair discount to the cash on the books (repatriation), it looks to me that Apple is fairly valued.
This doesn't mean I "hate" Apple, but it does mean that from an investment perspective there are certainly better opportunities out there. Apple's had a great run, but all good things do come to an end. If I'm right, this isn't the end of Apple the company (it's certainly not dead) but Apple the stock is no longer interesting either from a short or a long perspective.
Disclosure: I have no positions in any stocks mentioned, and no plans to initiate any positions within the next 72 hours. I wrote this article myself, and it expresses my own opinions. I am not receiving compensation for it (other than from Seeking Alpha). I have no business relationship with any company whose stock is mentioned in this article.