Year-to-date, shares in Baidu Inc. (NASDAQ:BIDU) have gone up by 68.1%. When I recommended buying Baidu in April of this year, the stock was trading at only at only $90.62. Investors who got in at those levels have enjoyed an increase in their investment of just over 86% in 8 months. In this article, I will be looking at Baidu's recent results, to determine if it's good idea to hold these shares, or if taking profits is the better option.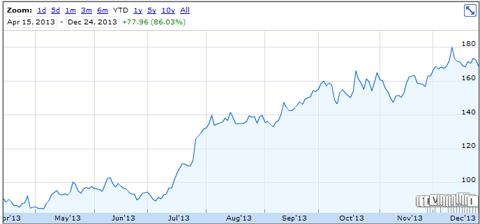 Click to enlarge
(picture is from Google Finance)
Revenues were up by 40.0% in the first quarter, reaching RMB 5.97 billion. In the second quarter, revenues were RMB 7.56 billion, an increase of 38.6% to Q2 2012. In Q3 2013, revenues were even higher, at RMB 8.89 billion. For the fourth quarter of the current fiscal year, the company expects revenues of between RMB 9.22 billion and RMB 9.48 billion. This would put the total revenues for this year between RMB 31.64 billion and RMB 31.90 billion. Analysts expect Baidu's revenue to reach RMB 43.31 billion next year. That's an expected increase of more than 35%.
Net income hasn't increased at the same rate. Q1's net income was up 8.5% compared to the same quarter in 2012. Net income for Q2 2013 was down by 4.5%, while the 3rd quarter saw an increase of 1.3%. This is mainly due to the fact Baidu is now spending a lot more on research and development. R&D expenses were up by 82.9% in the first quarter, 72.6% in the second quarter and 77.5% in the third quarter, primarily due to an increase in R&D staff.
Research and development is an incredibly important segment for Baidu, as the company tries to get more dominance in the mobile internet search market. The company has a market share of 80% in the PC-based internet search market, but in the mobile segment, its market share is only 35%. In September Baidu announced it would invest $1.6 billion to build a cloud computing center. To get a bigger piece of the mobile search pie, Baidu has installed its mobile search on almost all of the Android smartphones in China. Last week, a new smartphone running on Baidu's own "Baidu Yi" platform was released. Furthermore, since acquiring PPS online video business for $370 million in July of this year, Baidu now also has largest online video platform in China.
Baidu has become a lot more expensive over the past couple of months, but I feel this can be justified by its strong expected revenue growth. Net income for the first 9 months of the current fiscal year wasn't very impressive. However, this is due to an amazing increase in research and development expenses. If analyst expectations for revenue growth are correct, I wouldn't be surprised to see Baidu's income go up by double digits.
A lot of SeekingAlpha authors have been quite positive on Baidu's future lately. For example, my fellow author The Oxen Group has a 12-month price target of $184 (9.1% upside from current levels), while Valuentum put a price target of $178 on Baidu in September.
Disclaimer: I am not a registered investment advisor and do not provide specific investment advice. The information contained herein is for informational purposes only. Nothing in this article should be taken as a solicitation to purchase or sell securities. Before buying or selling any stock you should do your own research and reach your own conclusion. It is up to investors to make the correct decision after necessary research. Investing includes risks, including loss of principal.
Disclosure: I have no positions in any stocks mentioned, and no plans to initiate any positions within the next 72 hours. I wrote this article myself, and it expresses my own opinions. I am not receiving compensation for it (other than from Seeking Alpha). I have no business relationship with any company whose stock is mentioned in this article.