We are through the second month of the 2010, and in my mind, the biggest winner was General Motors (OTC:MTLQQ). The company announced Tuesday morning a 1.3 million vehicle recall but that shouldn't spoil the party for a great month. GM also reported that sales this month improved, giving an 11.5% rise year over year. But that includes Pontiac, Hummer, Saturn, and Saab, which in total sold only 3,102 units compared to 22,303 units sold in February of 2009. Only looking at the core four brands of Chevrolet, Cadillac, Buick, and GMC, sales improved 32.2% year over year as the concentrated marketing spend as well as new releases are beginning to pay dividends for the Company.
Ford (NYSE:F) on the other hand had another great month, and including Volvo, sales actually surpassed those of General Motors for the first time since 1998. Stripping out Volvo sales (Ford sold Volvo to China's Zhejiang Geely Holding Group and the deal is expected to close in the second quarter), sales were just below that of GM's (core 4). Ford reported that its market share gained three percentage points compared to last year and achieved a 17% share of the U.S. market, no doubt a good portion of that coming from Toyota.
Toyota's (NYSE:TM) sales were only down 8.7% and actually broke the 100,000 vehicle mark. Despite a sales halt and all the negative news (and CEO Akio Toyoda testifying), sales improved from January, with the 11% decline in Toyota vehicles being partially offset by the 5.2% increase in Lexus sales. By far, one of the biggest surprises in my mind was the month that Chrysler delivered. The struggling auto maker, which has not really had a popular vehicle release to compete with the Fusion or even the Malibu, saw sales flat year over year and delivered almost a 50% increase from January. Total seasonally adjusted annual rate of sales (SAAR) is expected to increase to approximately 10.5 million vehicles, up from the dismal 9.1 million vehicles during February of 2009.
At this time last year, General Motors and Chrysler were asking for more money from Congress and the deadline for its "viability plans" were quickly approaching. Obviously, those plans didn't work as both companies entered into bankruptcy, but General Motors (more so than Chrysler) has come back with a vengeance. Overall, it was a solid quarter for the auto industry, with the best improvements being delivered by Ford, Volkswagen, and Nissan.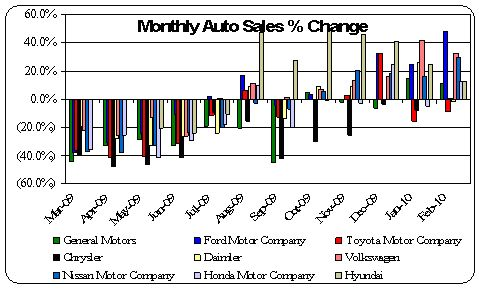 The recall saga continues. However, it wasn't Toyota this time but rather General Motors that announced a 1.3 million vehicle recall. The recall is for potential power steering problems that makes it harder to steer under 15 miles per hour. Chrysler has also had a recall, but this one is relatively small (300,000 vehicles) as a result of faulty airbags.
Industry-wide, the strong results were offset by the fact that much of the growth came from fleet sales to rental and commercial operators, which are generally less profitable than retail sales to individual customers. The higher numbers compare with a weak year-ago February, when many businesses either cut back on purchases or were unable to get vehicles because some auto plants weren't running or financing was unavailable.
Toyota announced also that it will be aggressively offering incentives to try to get customers back in showrooms, but the moves come much quicker than we had expected. Instead of letting the dust settle, the Company has already offered incentives to try to make up for lost time and regain its lost market share. Toyota is offering free financing for five years on eight 2010 model-year vehicles, cash back of between $500 to $3,000 on nine models and two years of free maintenance for returning customers, according to a document provided to a dealer. The offers could vary depending on the region of the U.S. This could cause an incentive war, and while we do expect the other automakers to match Toyota's move, we don't expect it to last that long.
Ford is still my favorite in the industry as it has the most room for growth. Toyota is still a behemoth in the industry, but when you are on top, it gets harder and harder to surprise and plus, the chink in the company's armor can't simply be buffed out. It will take a few months (maybe even years) to overcome its current problem. However, through all this, General Motors was the biggest winner as its Core 4 brands gained more than 32% compared to last year. If that is not a good sign for Government Motors, I don't know what is (well aside from paying back the $52 billion of tax payer money the Company still owes).
Written by David Silver

Disclosure: Long Ford