The energy sector has produced almost 20% returns so far in 2013. A solid return but below that of the overall market.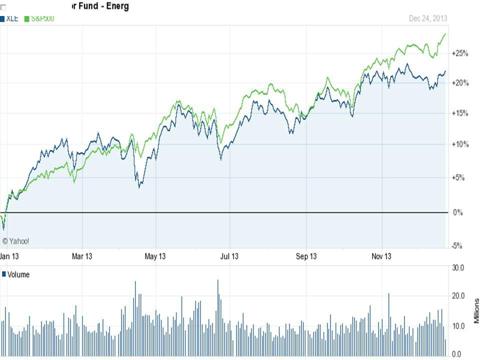 Shale producers have been very kind to my portfolio with outsized gains from small E&P concerns like Triangle Petroleum (NYSEMKT:TPLM) and Abraxas Petroleum (NASDAQ:AXAS).
My midsized shale plays have also outperformed the market this year but to a lesser extent than Triangle and its small brethren. These mid-size plays continue to show strong production growth and I still like their long-term prospects even as their valuations are not as enticing as they were to begin 2013. Here are two I still find attractive at current valuation levels.
Whiting Petroleum (NYSE:WLL) - I have managed 50% gains with Whiting since I first spotted it in July 2012. The company has productive acreage in the Permian Basin, Rocky Mountains, Mid-Continent and the Gulf Coast.
The stock has risen some 40% this year but is still priced at under 15x this year's earnings. The company grew revenues just under 30% this fiscal year which should slow significantly in FY2014. WLL is much cheaper on an operating cash flow basis where it sells at under 5 times trailing cash flow.
The 34 analysts that cover the company have a $77.50 a share price target on the shares. This is ~30% above the current stock price. Whiting has easily beat bottom-line consensus on each of its quarterly earnings reports in 2013 and I would look for the company to continue to best expectations. The company is also a pioneer to utilizing new well completion techniques that is helping to lower new well costs.
Oasis Petroleum (NYSE:OAS) - This is another midsized shale play that has rewarded my patience with over 50% returns since I picked up some shares in April 2012. Like Whiting, analysts believe this E&P concern can go significantly higher. The median price target by the 26 analysts that cover Oasis is $59.50 a share, more than 25% above the current price.
Earnings almost doubled this year over FY2012 and projections are currently calling for another ~25% gain in FY2014. Revenues are tracking to a 70% increase this year and the consensus is calling for another 40% sales gain in FY2014. The stock also sports a five year projected PEG of under 1 (.80).
Given its growth, Oasis is still cheap at 12.5x forward earnings, a substantial discount to its five year average valuation (21.5). The company has also delivered quarterly results that have beaten the bottom-line consensus for six straight quarters.
I like and own both of the mid-sized concerns on their own merit. However, if M&A activity picks up in the energy sector I could easily see either being an attractive target for a bigger player.
Disclosure: I am long AXAS, OAS, TPLM, WLL. I wrote this article myself, and it expresses my own opinions. I am not receiving compensation for it (other than from Seeking Alpha). I have no business relationship with any company whose stock is mentioned in this article.