Prospect Capital (NASDAQ:PSEC) has been quite busy on the acquisition front lately. Earlier in the month, the company more than doubled its exposure to the rental segment, buying $144.5M worth of rent producing multifamily residential properties in various locations. However, the company threw investors another curveball when it announced an even larger investment into automobile lending. Prospect Capital is a business development company, or BDC, with investments in various different business categories, usually targeting double-digit IRRs. The company offers a compelling $0.11 per month monthly dividend and yields roughly 11.70%.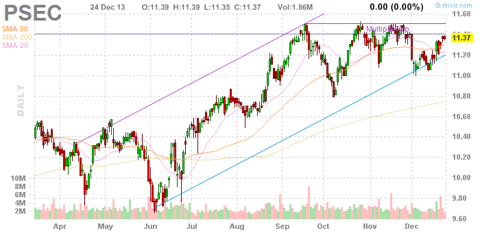 Prospect Capital to acquire Nicholas Financial for $326M
On December 18, Prospect Capital announced an agreement to acquire 100% of Nicholas Financial, Inc. (NASDAQ:NICK) for $16.00 per common share. This puts Nicholas Financial's equity valuation at about $199M. When including outstanding net debt of $127M, the entire transaction is estimated to be $326M before transaction fees.
Nicholas Financial is a Florida based specialty finance company engaged in the consumer automobile lending business. The company acts as an indirect lever, purchasing loans from over 1,600 car dealers. The company operates in 15 states through 65 branches. Nicholas Financial's aggregate loan portfolio is currently in excess of $290M. The company generated $31.8M in pre-tax income for the year ended September 30, 2013.
Prospect Capital is funding this transaction from proceeds from a newly committed $250M revolving credit facility. Prospect Capital plans to recapitalize Nicholas Financial, repaying existing debts while also returning a portion of the capital issued by the company. After the recapitalization, Prospect Capital is estimated to have a $139M net investment in Nicholas Financial.
Overall, I expect this transaction to be accretive for Prospect Capital as it likely has much greater financial muscle compared to Nicholas, which may result in a lower cost of capital for the assumed debt. In addition, Prospect Capital will likely receive substantial dividends from its 100% equity stake in Nicholas. Assuming 100% of Nicholas's pre-tax net income translates into NII for Prospect Capital, this acquisition may add as much as $0.05 to $0.10 per share in accretion.
This is a rather interesting acquisition by Prospect Capital as it again marks a departure from its usual investment modus operandi. Prospect Capital typically invests via senior secured debt or other high level debt financing. There have been occasions where the company has exchanged its debt for equity to help recapitalize a business, but these cases are the exception rather than the rule. In addition, it is odd that it chose to invest in a publicly trading company as it normally targets smaller, privately owned businesses.
When this transaction is coupled with the recently announced investment in rental properties, Prospect Capital has basically expanded its portfolio by over 10%. However, as I mentioned in my previous article, I wonder as to the reason why Prospect Capital is diversifying into these different business segments. The company is seeing a slowdown in its more traditional loan originations in Q4. These new investments may be a method for Prospect Capital to combat this trend.
What do the analysts think of Prospect Capital?
I normally don't pay much attention to analysts as they typically only have a rear mirror view. However, one upgrade of Prospect Capital did catch my attention. On December 30, Deutsche Bank initiated coverage on the stock with a buy rating and a $12.25 price target. The analyst mentioned that Prospect Capital is "well-positioned given the diversification across industries and should benefit from increasing short-term rates, as the investment portfolio is largely floating-rate and is funded with largely fixed-rate financing."
I find it very bullish that a large bank would be recommending Prospect Capital and that its price target would put it at a nearly 15% premium to NAV. The stock would probably have already been trading over $12 per share if not for its constant at-the-market, or ATM, share issuances. Over the past 12 months, Prospect Capital has expanded its share count by nearly 60%. However, do note that the company only issues shares at above NAV.
Monthly dividends can lead to outsized total returns
Let us not forget the main reason most investors own Prospect Capital, namely its massive monthly dividend. At current prices, the stock yields nearly 1% per month. Over time this level of income can lead to very substantial total returns if reinvested. As can be seen below, Prospect Capital has actually returned nearly 140% since 2005 when reinvesting dividends, easily beating the major indices. Do note that during this time frame the company's dividend was not stable, rising and falling several times. However, since shifting to monthly dividends in June 2010, Prospect Capital's dividend has slowly increased.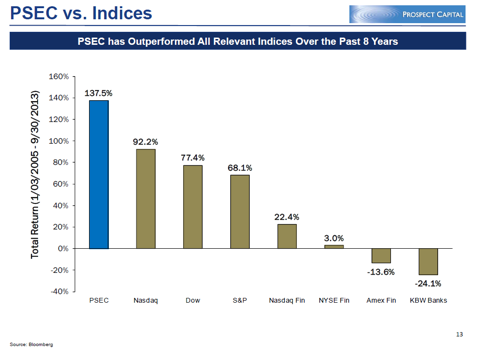 Final Thoughts and Conclusion
Prospect Capital seems to be looking for returns wherever it can find them. It seems like it found a good bargain with Nicholas Financial, with that acquisition adding to NII from year one. However, continued caution is warranted. The slowdown seen in loan originations during the second half of 2013 is worrisome. Prospect Capital needs to pick up the pace or risk seeing its payout ratio rise above 100% short term.
Disclaimer: The opinions in this article are for informational purposes only and should not be construed as a recommendation to buy or sell the stocks mentioned. Please do your own due diligence before making any investment decision.
Disclosure: I am long PSEC. I wrote this article myself, and it expresses my own opinions. I am not receiving compensation for it (other than from Seeking Alpha). I have no business relationship with any company whose stock is mentioned in this article.