It doesn't take long for even the most casual of observers to understand the importance that health, safety and environmental (HSE) performance plays in the relationship between customers and suppliers in the oil and gas industry. The fact is that a supplier's HSE performance is the first and last factor considered by many customers when selecting an oilfield supplier.
In what we believe is a very positive sign for the broader industry, overall customer satisfaction with suppliers- when it comes to HSE-related areas- is quite strong. Registered scores over the last five years were materially higher than those for overall customer satisfaction in general. Furthermore, we note that despite overall satisfaction reaching a low point in the 2006-07 period -- as industry activity skyrocketed -- HSE satisfaction ratings remained in relatively good shape.
Click to enlarge: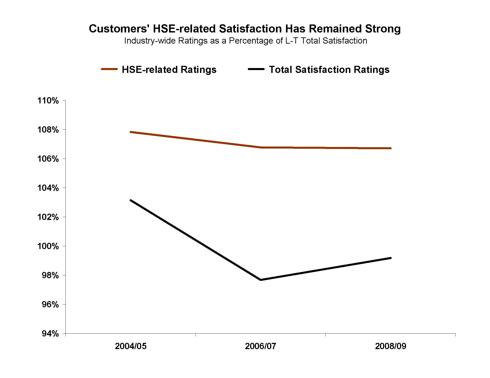 Safe, sound and smart

We hasten to emphasize that we believe customers' sense of satisfaction in the area of HSE is predominately a function of a supplier's strict ability to operate safely and responsibly on a consistent basis. As one past respondent to EnergyPoint Research's independent customer satisfaction surveys explained,
Satisfactory safety and environmental performance is an absolute pre-requisite and expectation. Although it does not guarantee that a contractor will win our business, without it suppliers have no chance at all.
Yet, our research also indicates customers want their suppliers to achieve high levels of HSE performance in manners that are both efficient and realistic. While the balance between the quality of a supplier's HSE record and the manner in which that record is achieved is without a doubt titled towards a sound record, it is a balancing act nonetheless. Overly rigid and bureaucratic procedures and policies that contribute little or nothing to HSE performance, or do not meld well with clients' or its other suppliers' HSE practices, can result in lower satisfaction ratings.
In addition, suppliers rate better with customers in some aspects of HSE than others. For instance, analysis shows respondent's ratings concerning the respect suppliers show toward the customers HSE procedures are noticeably higher than their ratings regarding the quality of the suppliers own in-house HSE practices.
Click to enlarge: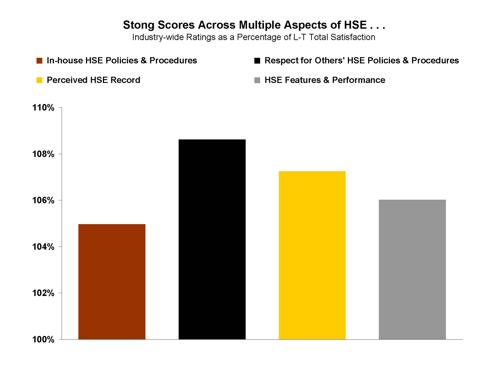 Segments and leaders

With the memories and lessons of the Piper Alpha tragedy in the North Sea forever embedded in the industry's consciousness, offshore drilling operators' HSE programs appear particularly effective in the eyes of survey respondents. The segment's overall HSE rating was quite strong during the period, with Noble Drilling (NYSE:NE) leading the way. Oceaneering International (NYSE:OII), maker of ROVs and other subsea products, posted the strongest marks in the oilfield products segment. Note that in measuring HSE for equipment manufacturers such as Oceaneering, EnergyPoint's ratings focus on customers' satisfaction with the HSE features and performance of their products.
Schlumberger's (NYSE:SLB) top rating in HSE-related satisfaction for the oilfield services sector comes despite the fact that the company is the largest and most diverse — and thus potentially the most unwieldy — service supplier in the industry. Respondents cite the company's "well-trained" personnel as a contributing factor. Finally, dominated by North American players, in the land drilling segment, which serves more customers with varying perspectives toward HSE than offshore drillers, Helmerich & Payne (NYSE:HP) rated highest. However, other land drillers clearly appear to treat HSE as a priority.
Other suppliers registering standout scores include Atwood Oceanics (NYSE:ATW), ENSCO International (NYSE:ESV), Geoservices, KCA Deutag, M-I SWACO and Parker Drilling (NYSE:PKD).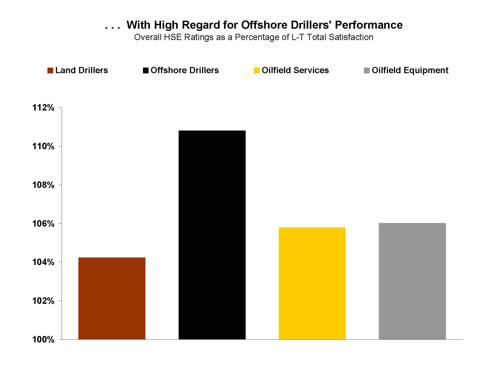 ABOUT THE DATA
This report is derived from over 10,000 comprehensive customer evaluations of suppliers of oilfield products and services collected as part of EnergyPoint Research's independent surveys since 2004, including more than 8,500 satisfaction evaluations in HSE-related areas and attributes.
Disclosure: No positions