Author's Note: This article discusses a microcap stock. Please be advised of the risks associated with microcap stocks. Ur-Energy Inc. had no input into the selection of the title of this article nor into the commentary that precedes the interview section. The text of the interview is an abridged transcription of a conversation between Lazarus Investment Partners LLLP and Ur-Energy. Lazarus is a shareholder of Ur-Energy and received no compensation for this article.
Introduction. Are you interested in hearing about a hot stock in a roaring sector? The kind that breaks new highs on a daily basis with huge momentum and strong analyst support behind it? If so, read no further. But if you are interested in a flat stock in a hated and misunderstood sector where you have the chance to make a highly contrarian investment that just might work out far better than anyone is anticipating, this article is for you.
Here are a couple of stats to wrap your head around: US utilities consume 55 million pounds a year of uranium. This year, US mines will produce only 4 million pounds a year of uranium.
Enter Ur-Energy (NYSEMKT:URG) (TSX: URE.TO). 100% owner of the 42,000 acre Lost Creek project in Wyoming, Ur-Energy is the world's newest uranium production facility. According to the company's NI 43-101 report from November, Lost Creek contains:
Measured: 4.85 million pounds (in 4.29 Mt @ 0.057%)
Indicated: 3.80 million pounds (in 4.04 Mt @ 0.048%)
Inferred: 4.74 million pounds (in 4.72 Mt @ 0.051%)
No one seems to have noticed, but in a country starved for uranium, Ur-Energy made the transition this year from being an exploration company to being a production company. Ur-Energy is estimating it will produce 1 million pounds of uranium next year. This will make the company the producer of 20% of US uranium supply in 2014.
Resource overview. The Lost Creek project is based in Sweetwater County, Wyoming, about 100 miles from Casper. Lost Creek is estimated to have an internal rate of return [IRR] of 87%. (That number is not a typo, although it may come down a bit when the Preliminary Economic Assessment [PEA] gets updated shortly.) The project is estimated to have an 8 to 10 year mine life (likely to be extended in the new PEA) and to contain 13.4 million pounds of uranium, including inferred pounds (8.65 million pounds net of inferred). Based on the April 2012 PEA, which will be updated soon, cash costs were estimated at around $16 a pound. Uranium in the spot market today is trading for approximately $35 a pound.
Lost Creek uses the in-situ method for resource recovery. Unlike traditional mining where teams of people use heavy equipment to move huge amounts of material, with in-situ recovery there is an automated, underground system in place that moves solution containing uranium to a central facility for processing. It's a low cost production method with minimal impact to the environment. (There is a 5-minute video available on Ur-Energy's site if you care to learn more.) Below is a picture we took on a recent site visit. It gives a feel for how little disturbance this type of mining causes (and note how little there is around).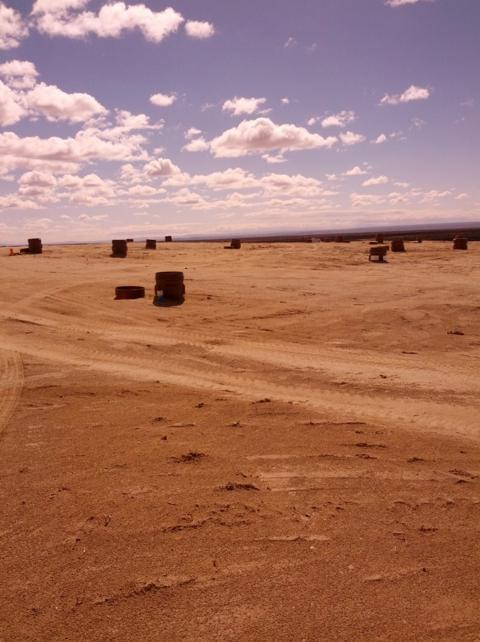 Well sites at Lost Creek
Nearly ten years after its incorporation, Ur-Energy announced that on August 2nd of this year it began uranium production operations. On December 4th, the company stated that it shipped its first batch of uranium, about 35,000 pounds worth. On December 23rd the company disclosed that it sold 90,000 pounds of uranium at $62.92 a pound, for gross revenues of $5.7 million. The September 2013 financial report commented, "The Company is in a state of transition and as such the quarterly financial information table reflects that transition." If you like stocks at inflection points, this one is worth a look. Better yet, in this case you don't have to wait for things to happen soon - big things have already happened, and the market has not yet reacted.
Banging our heads against the wall. At this writing we believe we are the second largest shareholder of the company (just behind BlackRock). It's a big investment for us, and we make big investments for a reason: we think they'll pay off. Our investment thesis in Ur-Energy looked for a number of catalysts to occur in 2013. Everything we were looking for, and more, happened, but the company's share price has barely budged. It's a good thing we are patient investors, even if at times we feel frustrated. In the management interview below, you'll hear Ur-Energy's Chairman echo our sentiment with his disbelief regarding Ur-Energy's stock price being flatlined.
Here are some of the top headlines so far in 2013 and the stock's reaction:

Applying averages to press releases doesn't strike us a method that would conform to scientific scrutiny, but we'll do it anyway:
In 4 of 8 significantly positive announcements the stock traded down.
The average move in these 8 announcements is $0.02.
The average move in the first 7 announcements (excluding the Russell announcement, which has the least to do with the fundamentals of the company) is $0.00.
The net price share move over the 6-months from 6/17/13 to 12/17/13 is +$0.02, from $1.14 to $1.16.
We won't get into the details of each of these announcements, but suffice it to say it is the story of a company getting cheap funding, expanding its resource, starting production, shipping product, and the stock price staying flat. The resource expansion announcement disclosed that measured uranium was up 16% (650,000 pounds), inferred uranium up 65% (1.87 million pounds), and indicated was down 8% (350,000 pounds), for a net gain of 2.17 million pounds. That somehow caused the stock to trade lower.
"Candidly, if somebody had told me three years ago that I would get all of my permits behind me, that I would build out my processing plant in the timeframe that I said I would, on time and on budget, get my commissioning behind me and be delivering yellowcake -- and that I would still be trading a little over $1 a share, I would have thought it was not possible. Absolutely not possible."

- Jeff Klenda, Ur-Energy's Chairman
[Update for subsequent event: On December 23rd Ur-Energy made several significant announcements: that it closed on a private placement for $5.2 million, that it finalized the Pathfinder acquisition you'll soon read about, and that it completed its first uranium sales for $5.7 million at an almost 80% premium to spot pricing. In addition, on the same day Seeking Alpha published a well-done article by Nazim Macbeth focusing on Ur-Energy that was one of the top three articles of the day, and accompanied by another bullish article on uranium that also made it to the top ten. What was the impact of all this to Ur-Energy shareholders? The stock closed up one cent.]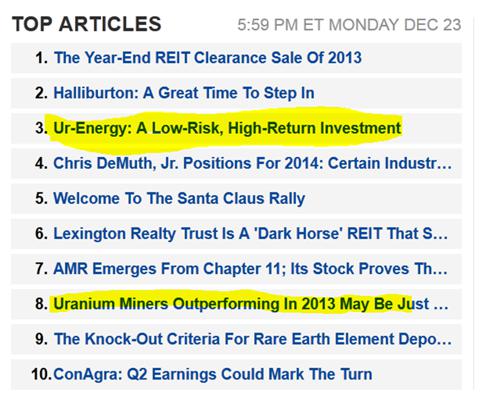 Naturally, this raises the question of "why?" The most honest answer we can give is that we don't know. We see an investment opportunity in the shares based on the mismatch between company progress and the stock price. Uranium spot pricing explains only part of the picture. Uranium fell about $5 a pound from June through July, but that doesn't explain Ur-Energy's share price stagnancy since July, in the face of so many positive announcements and uranium pricing holding steady. We continue to hold our large position in Ur-Energy and regard it as one of our favorite investments. There are several catalysts we see on the horizon that can turn this stock sharply higher.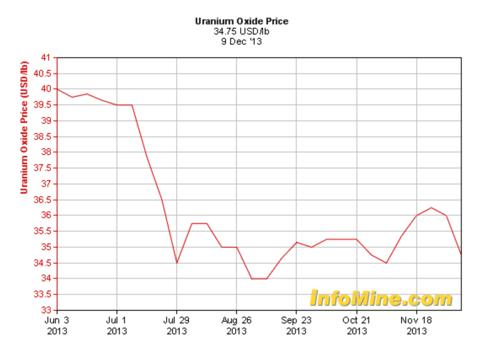 A little about uranium. Uranium stocks are out of favor. The Global X Uranium ETF (NYSEARCA:URA) is down 31% this year. Behind this decline is a fall in the spot price for uranium, from the low $40's at the beginning of the year to around $35 today. But even that doesn't tell the whole story, as uranium was on a bull run in early 2011 when it surpassed $70/pound. Fukushima (March 2011) caused an abrupt change of course in uranium pricing and the commodity has been in a downtrend since. No doubt, there is a fundamental basis to the downtrend as some reactors went offline and various agencies announced plans to reconsider their nuclear strategies.
Uranium is a weird market. Most of the commodity trades outside the spot market, but spot is what gets all the attention. There is a huge gap between what the current uranium price is in the spot market ($35) and the market's long-term price ($50). Uranium stocks are underfollowed and little understood. Retail investors seem to have an outsized influence on share prices in the sector, and an affinity for overreacting to news headlines about commodity prices. There are two things we see investors miss when thinking about the connection between uranium spot price today and Ur-Energy's shares: the company's long-term contracts and upcoming events that should drive uranium prices higher.
Long-term contracts. One thing investors often miss with Ur-Energy is that the company is not at the mercy of uranium spot price. Ur-Energy has 6 long-term contracts in place to sell uranium to 4 different US nuclear utilities. These contracts span 2013 through 2019 and in aggregate address between a third and half of Ur-Energy's production. Average pricing on these contracts is estimated at over $60 a pound. As we said, the spot market doesn't tell the whole story so even though spot pricing is $35 a pound and the long term commodity price is at $50, Ur-Energy will be selling a significant portion of its uranium at approximately $60. This revenue stream de-risks the company while still providing investors with uranium exposure should spot pricing move higher.
Upcoming uranium supply/demand events. There's a reason why the long term uranium price is so much higher than the spot price. The market is anticipating a number of events that will impact the supply/demand characteristics of uranium. Highlights include:
A starting point of mismatched supply/demand. Last year global consumption of uranium outpaced global production by approximately 18%, or 28 million pounds.
The megatons-to-megawatts program expired this year. Under this agreement, Russian uranium was repurposed for utilities' usage. This program provided 13% of global uranium supply and close to half of US supply.
In 2014, Japan could restart its fleet of nuclear reactors (54 reactors were idled following the Fukushima tsunami). Raymond James is estimating that 30 gigawatts eventually get turned back on, starting at 9.5 gigawatts in 2014 (vs. 0 running in 2013). The average reactor in Japan has just under one gigawatt in capacity.
Worldwide there are 66 nuclear plants under construction, 160 planned, and 319 proposed. With 435 operable reactors worldwide today, the addition of new plants should add materially to demand.
There are significant regulatory and capital obstacles to bringing new uranium mines on line. Ur-Energy's mine took close to 10 years and over $166 million.
Globally, large scale uranium production growth is being cut back, including at Cigar Lake, the world's second largest high grade deposit.
Due to tank bursts and other issues at certain major mines (Ranger, Rossing), about 7% of 2014 global uranium supply is suspended (estimate by Cantor Fitzgerald).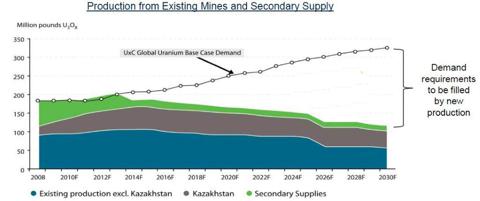 Source: Ur-Energy
Not everyone agrees when exactly the supply/demand imbalance will start to move uranium pricing materially. Some experts are calling 2014 the year of uranium. But to be fair, others say that it could be as long as two years until supply is worked through and uranium's price really starts to move higher. We'll point out that even if the return to $70 uranium is a couple of years away, every small price move higher is incremental profit for Ur-Energy. Even Raymond James, who sees oversupply through 2016 (and a shortage crisis in 2020) is expecting a $10/pound move in uranium next year.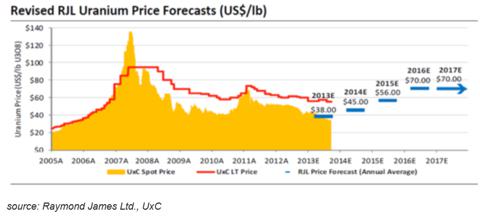 Guidance and resource expansion. On top of the 13.4 million pounds of uranium that Ur-Energy has (including inferred) at Lost Creek, the company just closed on the acquisition of Pathfinder Mines Corporation. Pathfinder adds an estimated 10 million pounds at its Shirley Basin site and 4.7 million pounds at the Lucky Mc (pronounced "Mac") site. In addition, Pathfinder brings a byproduct disposal facility - one of only four in the country - that will allow Ur-Energy to address its own needs, as well as the needs of others.
Remember that Ur-Energy will be producing 20% of the uranium in the US in 2014. Next year's production is estimated at 800,000 pounds at the minimum, with 1 million pounds more likely. The company is anticipating being cash flow positive in 2014. Consider as well the additional asset value of 10 to 15 million pounds from the Pathfinder acquisition, and you have one of the most unique uranium plays around.
Ur-Energy's Chairman, Jeff Klenda, explains in the below interview that investable, producing uranium companies are few and far between. As much as the sector is currently out of favor today, he is expecting tremendous investor appetite for Ur-Energy once uranium prices pick up and interest returns to the space. He thinks investors will find that there are very few companies that can absorb the capital that will want to enter.
Upside. Our view on Ur-Energy is conceptually similar to our thesis on Silver Bull. In both we see asset value protecting our downside, a base case where we make a decent return, and a bull case where we make multiples and multiples on our money. Both are investments in unique assets in very out of favor sectors, but where there are strong balance sheets, and a credible path to returning to favor in the medium term.
Ur-Energy's market cap is $142 million. This is below the estimated $166 million in equity the company raised over its life to get it to this point. That's one sign to us that this asset is undervalued.
There are very few comp transactions to reference in the space. This gets back to the point we made earlier, about the scarcity value of uranium plays. But, to have something to consider, we offer you the following sloppy math. Over the past couple of years, a handful of advanced exploration projects transacted at prices ranging from $7 to $11 a pound in the ground. We don't have in front of us what the economics of those projects were or what counts towards a pound in the ground. If we count all of the uranium (including inferred) at only Lost Creek and Pathfinder (see below resource profile for reserves we are leaving out) at $10 a pound (even though it could possibly be higher since Ur-Energy is a producer), you get to a valuation double today's market cap. But keep reading.
Jeffrey Wright at H.C. Wainwright has a $2.00 price target on Ur-Energy, which is 72% higher from here. Raymond James analyst David Sadowski has a price target of $1.80, 55% higher from here. He also wrote that he sees shares trading today at 60% of net asset value [NAV], which implies 67% upside just to reach the group average. Moreover, he sees the entire group as on sale since it has historically traded at 1.5x NAV. This implies 150% upside for Ur-Energy to get to the historical average, and we think that given the quality here, shares should trade at an above average valuation. You get a double discount on Ur-Energy as it's a cheap stock in a cheap sector.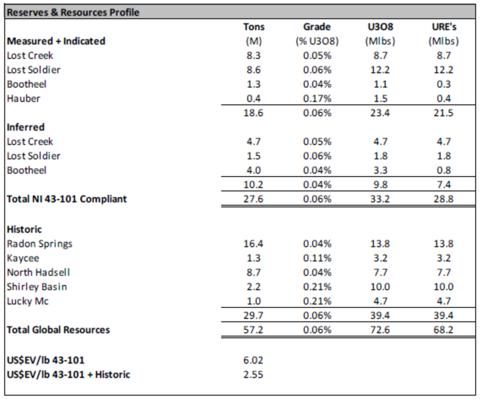 Source: Raymond James
In February of 2011, when uranium was at its high, shares of Ur-Energy crossed $3.25 a share. Recall that this was the price it reached when it was still over two years away from production and had a host of issues to sort out. This was also before the company added millions of pounds from the Pathfinder acquisition. Raymond James is predicting $70 uranium in 2016. Once uranium prices climb, how does Ur-Energy, now that the resource has de-risked itself and is producing a million pounds a year, not blow past its prior highs? And even if it only matches prior highs, you have close to a triple.
Here is where it gets really interesting. If, for example, we add $35 a pound to uranium pricing (to get to the pre-Fukushima $70 price) and consider only the 8.65 million pounds at Lost Creek and assign zero value to almost 5 million inferred pounds and zero value to Pathfinder, that's an additional $300 million or so in value ($2.50 a share) that can appear (this is on top of the value that the company gets for the first $35 a pound of uranium). Recall now that Shirley Basin could have more uranium than Lost Creek, and that there are probably millions of inferred pounds at Lost Creek, even if the actual number is less than 5 million. Yes, this oversimplifies it all; taxes, time values, presold uranium, etc. all matter. We also haven't broached the additional value of the company's earlier stage Lost Soldier project and its 8.6 million measured and indicated pounds, just 14 miles from Lost Creek. The main point however is that if a few things click for this company, there's a path for shares not to be worth 70% to 150% more, but 5x to 10x more than they are today.
Here's what we wrote about Silver Bull, and it applies here too:
"This is win/win big - either we make a lot of money, or we make really a lot of money. . . . We can't control, or even predict [commodity] prices, but we can buy rare trophy assets when they are out of favor and deeply undervalued, and put ourselves in position to get really lucky if a few things crack our way. . . . Many of our greatest investments have been along these lines - where we don't have a lot to lose if we are wrong, have a base case where we do just fine, but also position ourselves to hit a grand slam if we get lucky. It's not about waiting for luck to fall randomly from the sky, rather sticking around spots where it's plausible for luck to fall and waiting patiently with a bucket to catch it."
Now you know why we are a top-two shareholder of the company.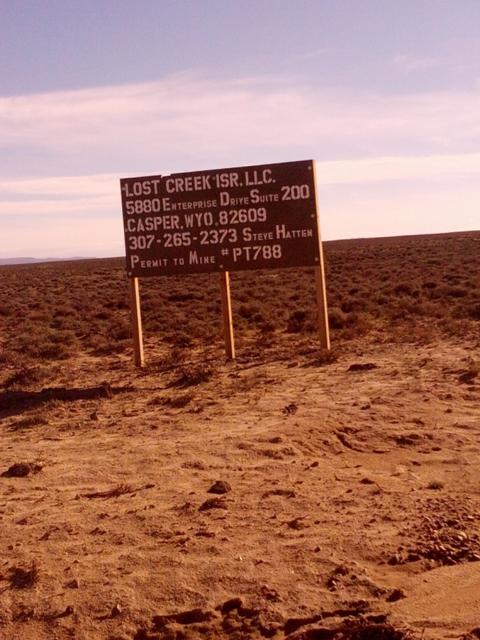 A picture from our site visit a few months ago. Even with great emptiness around, it took nearly 10 years to get this mine permitted and in operation. It goes to show how difficult it is to develop an asset like this.
Risks. Just as part of the upside in Ur-Energy lays in the prospect of higher uranium prices, risk lays therein as well. Continued flat uranium pricing will make it hard for the sector and this stock to take off. The possibility of lower uranium prices also has to be considered, and that would be a negative, even though there's plenty of fat between the current uranium price and Ur-Energy's production cost. Related to this are both the headlines and the facts coming out of the nuclear power industry. There is one primary usage for Ur-Energy's uranium, and if the utilities reduce their demand, or if fears of such spread, uranium stocks could get hit.
Another risk that we think about with our investment here: what if we are right but too early? Some argue, plausibly, that the miners can't work until uranium prices move, and that the move won't come for over a year, at the earliest. We delineated reasons above why we believe that not to be the case and why we see catalysts arriving earlier, but are cognizant that we may turn out to be wrong. Yes, many reactors are in the works, but it will take a long time for them all to enter operation. The market may not be willing to give the stock credit in anticipation of uranium demand that's coming, if it has not yet arrived.
Hard to handicap but worthy of mention are the host of things that can go wrong at the mine or in the industry. We wrote above that tank problems at two major global production sites took mines out of service. Despite Ur-Energy's success and experience in permitting, getting permits to bring additional sites online will be what the process always is - only slightly easier than spotting a sasquatch. No one was expecting a Japanese typhoon to result in the Fukushima disaster, but things like that happen and can have materially negative effects on the industry.
Summary.
Ur-Energy is a cheap stock in a cheap, out of favor industry.
The company reached an inflection point recently, graduating from an exploration company to a production company.
Over the past 6 months the company announced a host of positive advances, yet the stock price is unchanged.
Management is expecting the company to be cash flow positive in 2014.
Between a third and half of Ur-Energy's revenues are locked in at prices around 70% above spot.
Uranium demand is expected to rise dramatically and supply is already below consumption, and declining further. This sets the stage for higher uranium prices.
The company just closed on an acquisition that doubled its uranium reserves.
We see upside up to 150% today plus a path to make many multiples of our money if a few things come together.
One of the biggest risks we see to our investment is the thesis taking longer to play out than we are anticipating.
Uranium mines are very rare assets and there are only a few investable producers to consider.
The company's Lost Creek project is expected to produce 20% of US supply next year.
Chairman interview. We express our appreciation to Jeff Klenda, Ur-Energy's Chairman, for a recent conversation. We are pleased to share a transcript with our readers.
Can I ask you to open with an overview of Ur-Energy's key resource at Lost Creek?
Jeff: Sure, I think that with Ur-Energy it's important to understand that for the last several years we have been a permitting story but, as of October of 2012, we received our final record of decision from the BLM and, since then, we have built out our processing plant and entered production. We are focused on our Lost Creek project. It is our flagship property and it's located in the south central part of the State of Wyoming.
How about some stats about the project? What makes it unique and what do we know about the resource?
Jeff: What we know about the resource is that we've just recently been adding to the known resource of the property. We have measured and indicated, as defined under the Canadian rules, about 8.65 million pounds. Total, adding inferred in there, we're about 13.4 million pounds. We did a preliminary economic assessment on the project back in April of 2012 and, at that time, we determined that we have, based on the known resource, about an eight- to ten-year mine life.
The things that we find unique about the property are that it combines all the elements that you like to see in a project. Not only do we have a very well-defined resource that's shallow, we have great permeability and porosity. It is a very large area and we consider it to be a very scalable property, meaning that we think we're going to be able to grow the resource quite a bit in the years ahead. But, in addition to that, even though some people would say we're out in the middle of nowhere, we have great infrastructure surrounding the project. We're quite unique in that there are very few properties that have all of those elements in one package.
In terms of project economics, what do the studies say about its returns profile?
Jeff: Well, right now I want to make sure that I'm cautious about what I say here from the standpoint that we have recently released an increase in our known resources and that was press released in the month of November. Consequently, we are required under TSX and NYSE regulation to release an updated preliminary economic assessment [PEA] based on that updated resource estimate. So, when I say that we -- I would be quoting the April 2012 PEA, or preliminary economic assessment. Our numbers indicated at that time that we would have a cash cost of $16.12 per pound on a cash basis and that, for life of mine with full capital cost recovery, we would be at about $36.50 per pound, that we would have an eight- to ten-year mine life and that the IRR on the project would be roughly 87%. And, again, I would caution that those numbers will change upon the release of our new PEA very shortly.
But they should change to the upside?
Jeff: We think that we're going to come in very much in line in terms of our cost on a per pound basis to produce uranium. Obviously, with the additional pounds, we should be able to increase the mine life. But I think that, because of the lower pricing in uranium at $35, $36 a pound spot price, we'll probably see the IRR on the project drop a bit.
What does it mean if uranium prices go back to $40 where they were this summer, or even to $45 where they were at the beginning of the year?
Jeff: Well, for our project it has a huge impact. Based on the numbers that I just gave you that are contained in our preliminary economic assessment, if I can produce a pound of uranium at $16 a pound and the current spot price is $35, $36 a pound, I'm still profitable. But, for every $5 rise in spot prices, that has a dramatic impact on our margins and our bottom line. We become very, very profitable with every incremental, much more profitable with every incremental increase in spot pricing out there in the marketplace.
Are you able to quantify the impact?
Jeff: It's important to understand that we have made it a high priority of our company to be sure that we have a certain amount of our production covered by long-term sales agreements or what are called offtake agreements. These are absolutely critical and I think that this is one area in the marketplace where we have done a better job than virtually any of our peers. We began entering into them three years ago and, since that time, we have put in place a total of six offtake agreements with four major US utilities.
In terms of quantifying what higher prices mean to us, in between a third and 50% of our aggregate production at Lost Creek will be under these long-term agreements and they will average in excess of $60 a pound. Obviously, in a $35 spot environment, that gives great margins. But the rest of it is left open to the spot marketplace so, to the extent that all other pounds are going to be sold, presumably, into the spot market in 2014 and likely in 2015, then our profitability will rise and fall with the spot pricing.
Has the company offered any guidance regarding how many pounds they hope to sell next year?
Jeff: We have. We are licensed to produce 1 million pounds a year at Lost Creek. We are projecting that we will produce a minimum of 800,000 pounds next year but we firmly believe that we will be able to produce the full 1 million pounds for Lost Creek in calendar year 2014, so that's our guidance.
So if I just take the minimum to be cautious, 800,000, and I use spot at $35 a pound, that's a minimum of $28 million in revenue?
Jeff: Sort of. Keep in mind that for next year we also have a certain number of pounds that have already been contracted for, for delivery in 2014, at over $60 a pound. So our numbers are going to be improved. We will not be simply vulnerable to spot contracts or spot pricing for our sales.
Why has uranium pricing been weak this year? And what's your outlook for the next 18 months?
Jeff: Well, you cannot have a reasonable discussion about the uranium sector without talking about Fukushima. And, of course, this was the earthquake and subsequent tsunami that struck the Fukushima Dai-Ichi facility in March 2011. That was truly a black swan event. The most significant impact has been that Japan has 54 reactors that have been idled. This has definitely created, at least short term, an overhang of supply in the marketplace.
But what I think we're seeing here is that, because of the low pricing we're seeing a significant amount of supply come out of the marketplace. We have seen numerous delays of major projects that were scheduled to come into production between now and calendar 2020. But, in addition to that, we've also seen a number of current producers drop offline, most recently, Rossing and Ranger owned by Rio Tinto (NYSE:RIO).
So, we're seeing future supply being impacted by these lower prices. And, as the old saying goes, the cure for low prices is low prices.
Tell me about the company's cash situation.
Jeff: Last quarter we had about $6.2 million. Last week we announced that we actually shipped our first yellowcake from Lost Creek. In fact, we made two deliveries last week. The first was in the amount of 35,000 pounds and that was press released to the marketplace. We are anticipating our first cash flows right at or about the first of the year in 2014.
[Post-interview note: on December 23rd Ur-Energy announced that it completed the sale of $5.7 million worth of uranium at the average price of $62.92 per pound.]
Do you anticipate 2014 to be cash flow positive?
Jeff: We believe that we will be, yes. And that would include debt service. We were successful in October in securing a $34 million industrial revenue bond with the State of Wyoming under very favorable terms. It was a 5.75% coupon rate, which is one of the lowest that I've heard anybody securing recently.
What are the big things you see going on in the uranium industry?
Jeff: The uranium sector has very, very few players, and the list is shrinking as lower prices push away companies with less attractive projects. That leaves me bullish on our prospects because it makes us so much scarcer.
If you want to gain a perspective on what the future value is of our company and where we think we can build that value, I think you really have to look at the situation here in the United States. The US is far and away the largest consumer of uranium on the planet, anywhere from 55 to 58 million pounds a year. Yet, the US is one of the smaller uranium producers worldwide. The US will only produce about 5 million pounds next year.
And where we really feel Ur-Energy has the opportunity to build value as an organization is by ramping up our production to 1 million pounds per year. If the United States produces approximately 5 million pounds next year in 2014, we will be 20% of the domestic production in the country. And we feel that there's real opportunity to grow that production and become an even larger percentage of the overall production in the US.
What is Pathfinder and what's the opportunity there?
Jeff: Well Pathfinder, very simply, we believe is our future. Pathfinder is a North American corporate subsidiary of the French nuclear giant, AREVA. When we agreed to buy Pathfinder, essentially what we agreed to do was buy a significant portion of AREVA's remaining assets in the United States. And it's a great suite of assets. It includes two well-defined projects, specifically Shirley Basin and Lucky Mc. There are about 10 million pounds there that are extremely well-defined, already permitted and licensed.
But, in addition to that, we're getting AREVA's massive database that defines projects in 23 US states. We also feel there's real hidden value in the acquisition is that we're getting what's called an 11e2 byproduct disposal facility and it's one of only four in the United States. So, in essence, not only does anybody who wants to produce in the United States need a place where they can dispose of low-level contaminants, and that's what this facility provides, but in addition to that, most importantly, we've provided for that disposal for ourselves. So we see this acquisition as being a terrific suite of assets that are going to be very, very accretive to our company.
[Post-interview note: on December 23rd Ur-Energy announced that it closed on the Pathfinder acquisition.]
Forgive me for pouring salt into a wound but I look at the past few months, you've had some very positive announcements. One related to a $34 million financing from the State of Wyoming on friendly terms. You've announced that you've entered production and that you have actually sold your first yellowcake. You've announced that you found significantly more uranium than you thought you had. You announced that production is exceeding expectations. But the stock price is the same or even lower than it was in June of this year. You keep announcing good things and the stock is not reacting. What am I missing?
Jeff: That's absolutely correct. I don't think that you're missing much of anything. I think that we're not just announcing good things; we're announcing great things. And it's been a source of frustration for us.
Candidly, if somebody had told me three years ago that I would get all of my permits behind me, that I would build out my processing plant in the timeframe that I said I would, on time and on budget, get my commissioning behind me and be delivering yellowcake -- and that I would still be trading a little over $1 a share, I would have thought it was not possible. Absolutely not possible.
We've been frustrated but I think that it goes back directly to the uranium supply overhang in the marketplace, which is being worked off and will not be there for much longer, but it is a fact of life and it is there right now. And, even though the vast majority of pounds that are traded in the marketplace are actually traded in the term marketplace, spot price seems to get most of the attention.
There are a couple of things that are going cause that to change. One, we know that the Japanese are going to begin restarting their reactors and we should see that here in the first half and certainly throughout 2014. That's going to be a big impetus for the marketplace, I think from a psychological standpoint, if nothing else. But, in addition to that, of course, the Chinese continue to build out. There are some 66, depending on who you're reading, 66 to 70 reactors that are being currently constructed and, of those, 30 are being built out in China.
If you think back to not that long ago, between August of 2010 and February of 2011, during that six month period of time, we saw spot rise about 60%. Our stock went from $0.80 a share all the way up to $3.38 -- that's more than a 300% increase -- and that was with no substantive news coming out on it.
If uranium pricing makes that big of a difference, what reason would you give someone to invest in Ur-Energy rather just buy the commodity?
Jeff: Well, that's a great question. And I'll tell you this, let me refer back to a comment that I made earlier when I said that the dwindling number of companies in the uranium space were really one of the most bullish factors surrounding the uranium space. In 2007 there was a survey done. There were 585 names in the uranium space. Now that number's probably closer to 50, maybe 60. I firmly believe that, by the time we get into the middle of 2014, I don't think that there are going to be 20 companies out there, globally, that anybody is going to want to pay any attention to.
The simple fact of the matter is that when the uranium space is hot, when the spot price is moving, there's a lot of capital that comes tumbling into this space. The next time when we see that, there are going to be very few investable companies out there to absorb that capital.
What I'm hearing from fund managers across the nation is that the ones that are the contrarians are right now doing their homework. They're doing their due diligence. And they're deciding which companies they like so they can be ready to pounce at the right time. When the turnaround comes, and I think it's on its way, I believe that the movements of selected equities in the uranium space are going to be spectacular to the upside.
What are the most important risks that an investor should be aware of other than uranium pricing?
Jeff: I think that our greatest risk here is simply delays due to permitting and licensing. I think that pricing is going to be what it is. We cannot control that. But the permitting process, despite the fact that we have a well-defined process in the United States, the timing on that process is uncertain and, unfortunately, that can bring financial hardships to a company. But, we seem to have done a pretty good job of working our way through that on Lost Creek and we're confident we can do a good job of working our way through the permitting and licensing hurdles with Shirley Basin as well.
Would you like to offer any summary remarks?
Jeff: Sure. I think that one of the most compelling reasons to be in the uranium space right now is the simple fact that the number of companies out there that are suitable for investment are very few. Over the past few weeks Ur-Energy has entered production. We're making our deliveries. We're cash flowing. Right now, there are only a few of us that can say that. We've transformed ourselves from an exploration company to a production company, and the market has not given us credit for that.
When uranium pricing turns, we'll be at the top of the heap since there will be just a handful of investable companies in the space. We see supply coming offline and reactors being built, so we are bullish on uranium pricing.
In the meantime, we're going to continue to ramp up our production. We intend to add to known resources so that we can continue to demonstrate expansion and scalability at Lost Creek. In 2014 we'll advance Shirley Basin to application with both the state and federal authorities. So, we're going to have a big year ahead of us in 2014 and the time for investors to look at us is now, so they can be ahead of the game.
Thank you, Jeff.
Jeff: You bet.
Disclosure: The author is long URG. The author wrote this article themselves, and it expresses their own opinions. The author is not receiving compensation for it. The author has no business relationship with any company whose stock is mentioned in this article.
Additional disclosure: This article and the interview herein may contain historical information and forward-looking statements within the meaning of applicable securities laws with respect to the business, financial conditions, and operational results of the interviewed company (the "Company"). Such statements reflect the current beliefs, views, assumptions, and expectations of the Company with respect to future events and are subject to uncertainties and risks. Many factors could cause the actual results, performance, or achievements of the Company to be materially different from those expressed or implied by such forward-looking statements. Some of these factors may include changes in the markets in which the Company operates and in the general business environment and economic conditions, the loss or gain of customers, unpredictable sales cycles, competitive pressures, market acceptance of new products, inability to meet efficiency and cost reduction objectives, changes in business strategy, and various other factors, both referenced and not referenced in this article. In addition, various risks and uncertainties, including but not limited to those described in reports filed by the Company with the Securities and Exchange Commission or other regulatory organizations, as applicable, may affect the Company's operational results. No obligation is assumed to update any forward-looking statements.