The Fukushima nuclear disaster made the world take a second look at the safety of nuclear energy and many countries halted construction and plans to build nuclear reactors. Japan shut down all but two of its 50 nuclear reactors after Fukushima. As a result of this, uranium prices have been on a steady free fall since the Fukushima disaster in March 2011. However, this initial knee jerk reaction is starting to fade and there are a number of strong catalyst on the horizon for uranium producers.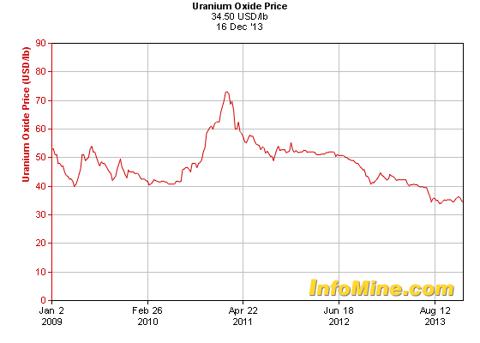 Short-Term Catalyst:
End of Megatons to Megawatts
In 1993, the United States signed an agreement with Russia called Megatons to Megawatts. The agreement was a 20-year program where Russia down-blended the equivalent of 20,000 nuclear warheads to produce more than 14,000 metric tons of low-enriched uranium. This uranium supplied the United States with nearly half of its nuclear generated energy over the past two decades, which is almost 10% of the country's total electric needs. The final shipment from this program arrived in Baltimore on December 10, 2013, marking the end of the agreement. To make up for the end of this supply of uranium coming to the US, USEC (USU) signed a 10-year agreement with Russia's Techsnabexport (TENEX) to provide USEC with Russian enriched uranium. However, this agreement will only supply half of the uranium previously supplied under the Megatons to Megawatts program and won't reach that level until 2015. This new agreement won't come from down-blending nuclear warheads, but rather from Russia's commercial enrichment activities. In 2013, US nuclear plants required 19,622 metric tons of uranium. Taking into account the end of Megatons to Megawatts and the new agreement between USEC and TENEX, there will have to be 4,000-5,000 metric tons of uranium coming from new sources in 2014 and beyond.
Japan restarting reactors:
In July 2013, Prime Minister Shinzo Abe's Liberal Democratic Party LDP won majority control of the Upper House in Japan. The LDP is known for its pro-nuclear platform and the Prime Minister has been a vocal advocate of restarting Japan's closed nuclear power plants. Japan has been spending billions of dollars importing oil, LNG and coal to make up for Japan's electric demands in the absence of nuclear energy, which accounts for one-third of Japan's energy. On July 8, 2013, four nuclear plant operators applied for safety inspections for 10 reactors. This was the first step under Japan's new Nuclear Regulation Authority to restart reactors. Even Tepco (owner and operator of the Fukushima plant) has been granted approval from a once reluctant local governor to seek approval for restarts of the largest nuclear reactors in the world, Kashiwazaki-Kariwa.
Going through the lengthy new safety procedures and regulations have been slow to say the least. To restart these nuclear reactors, a huge safety checklist must be completed that can take up to six months to complete and at current levels, inspectors can only review 3-4 reactors at a time. Analysts initially estimated nuclear reactors would start going back online by the end of 2013 or mid-2014. Now the consensus is for the first group of reactors to resume operation between spring and summer of 2014.
Long-Term Catalyst:
New Reactor Construction
There are currently 60 nuclear reactors under construction in 13 different countries. Most notably China has 30, Russia has 10 and India has 6 under active construction. Even the United States is building its first nuclear reactor in over 30 years. Most recently a nuclear plant near Omaha, Nebraska, was allowed to reopen after being closed since April 2011 due to flooding and safety concerns. Below is a list of reactors expected to go online in 2014 alone.
| | | |
| --- | --- | --- |
| 2014 | Russia, Rosenergoatom | Novovoronezh II-1 |
| 2014 | Russia, Rosenergoatom | Rostov 3 |
| 2014 | Slovakia, SE | Mochovce 3 |
| 2014 | Slovakia, SE | Mochovce 4 |
| 2014 | Taiwan Power | Lungmen 1 |
| 2014 | China, CNNC | Sanmen 1 |
| 2014 | China, CPI | Haiyang 1 |
| 2014 | China, CGNPC | Ningde 3 |
| 2014 | China, CGNPC | Hongyanhe 3 |
| 2014 | China, CGNPC | Yangjiang 2 |
| 2014 | China, CGNPC | Taishan 2 |
| 2014 | China, CNNC | Fangjiashan 2 |
| 2014 | China, CNNC | Fuqing 2 |
| 2014 | Korea, KHNP | Shin-Kori 4 |
| 2014 | India, Bhavini | Kalpakkam |
| 2014 | Russia, Rosenergoatom | Beloyarsk 4 |
| | | |
Stock Picks:
Uranium miners as a whole should benefit from these positive catalysts, but Denison Mines (NYSEMKT:DNN) and Cameco (NYSE:CCJ) are my favorite plays in the sector.
Denison Mines is a uranium exploration and development company with interests in exploration and development projects in Canada, Zambia, Namibia, and Mongolia. The company exploration project portfolio includes 49 projects and totals approximately 603,000 hectares in the Eastern Athabasca Basin region of Saskatchewan. Denison's interests in Saskatchewan also include a 22.5% ownership interest in the McClean Lake joint venture, which includes several uranium deposits and the McClean Lake uranium mill, one of the world's largest uranium processing facilities, plus a 25.17% interest in the Midwest deposit and a 60% interest in the J-Zone deposit on the Waterbury property.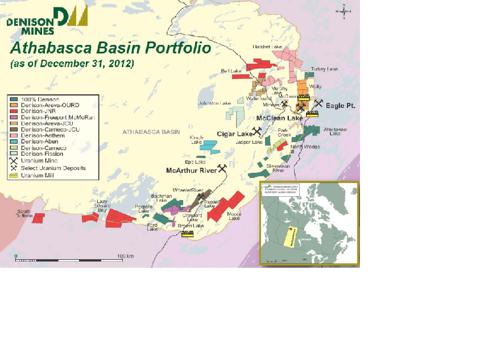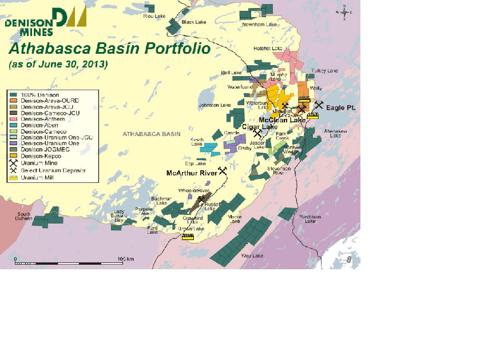 Company management has made the #1 goal at Denison Mines to develop the strongest portfolio of strategic uranium deposits in the Athabasca Basin through resource development and strategic acquisitions. As seen in the charts above, Denison has done a tremendous job acquiring key pieces of land throughout the basin in just a six-month period. The discovery of the Phoenix deposit on the Wheeler River Property is the most significant new uranium discovery in the Athabasca Basin in years.
The company saw a net loss of $45 million due to a $35.6 million impairment loss to reduce the carrying value of the company's Mutanga project to its estimated recoverable amount. Despite the bad quarter, Denison still has $29 million in cash on-hand and very little debt. Denison has positioned itself very well when uranium prices increase. Currently trading around $1.15/share, Denison has tremendous growth potential when uranium prices rise. But like all small cap stocks, investors must have a strong stomach.
Cameco
Cameco is one of the world's largest producers of uranium in the world, accounting for roughly 14% of production from its mines in the US, Canada and Kazakhstan. The company is also a leading provider of processing services required to produce fuel for nuclear power plants. At nearly 16 times larger than Denison Mines, Cameco is a much more established company than Denison and offers much more downside protection. Even with uranium prices at 5 year lows, Cameco is still managing a healthy profit.
Cameco managed a Q32013 net income of $211 million on $597 million in total revenue due to increased sales volume and higher realized prices. The company also took on restructuring and cost-saving strategies that are now starting to pay off. In the third quarter financial statement, the company gave an update on the uranium market.
We believe the market will continue in this state until Japanese reactors begin to restart, helping to clear inventories. Progress on this front continues. As of October 29, five utilities had applied to restart 14 reactors, and Japan's Nuclear Regulatory Authority is currently carrying out evaluations. Over the long term, we believe nuclear will remain an important energy source for the country, both in terms of its economy and meeting its environmental goals.

Over the long term, we believe the fundamentals for the industry remain strong. Most notably, China has reaffirmed its substantial growth targets out to 2020, and indicated plans to pursue further growth out to 2030. Their growth is palpable as construction on two more reactors began during the third quarter, bringing the total under construction to 30.
In Q32013, Cameco delivered its first shipments of Canadian uranium to China under the new Canada-China Nuclear Co-operation Agreement signed in 2012. With 30 new reactors currently being built in China, Cameco has cemented itself in a solid new market.
Bottom Line
The uranium market is poised for a rebound in 2014. Both Denison and Cameco expect uranium prices to gradually rise once the Japanese reactors begin restarting. The restarts along with the end of Megawatts to Megatons should narrow the gap between the supply and demand side of uranium. Denison and Cameco have weathered the uranium price meltdown and are strongly positioned when uranium prices creep back up.
Disclosure: I have no positions in any stocks mentioned, but may initiate a long position in DNN over the next 72 hours. I wrote this article myself, and it expresses my own opinions. I am not receiving compensation for it (other than from Seeking Alpha). I have no business relationship with any company whose stock is mentioned in this article.