Company Overview
DSW Inc. (NYSE:DSW) operates as a branded footwear and accessories specialty retailer in the United States. The company offers fashion, shoes, dress, casual and athletic footwear, and accessories for women and men through its DSW stores and dsw.com. It also provides kids' shoes on dsw.com; handbags, hosiery, and other accessories, as well as operates a mobile Website, m.dsw.com. As of October 17, 2013, the company operated 390 stores in 42 states, the District of Columbia, and Puerto Rico, as well as supplied footwear to 354 leased locations in the United States. DSW Inc. was founded in 1917 and is based in Columbus, Ohio.
I tend to be a regular buyer from DSW given their quality products and fair pricing, specifically purchasing both dress shoes and casual sneakers. The store usually contains a larger variety of merchandise that appeals to customer tastes and desires while providing good customer service. In my experience at other stores such as Nike Inc (NYSE:NKE), Finish Line Inc (NASDAQ:FINL), or Footlocker Inc (NYSE:FL), employees try to force sales of related accessories which is a negative tone set by customer service. But that aside, I think the consistent discounting and great organization of merchandise within stores is a recipe for success, and DSW is implementing just that.
Financial Outlook
DSW has shown compelling revenue growth in the last few years, consistently growing from 1.6 (in 2010) to 1.82 to 2.0 to 2.25 billion (in 2013). They are also doing well in sales growth compared to the other highly competitive corporations: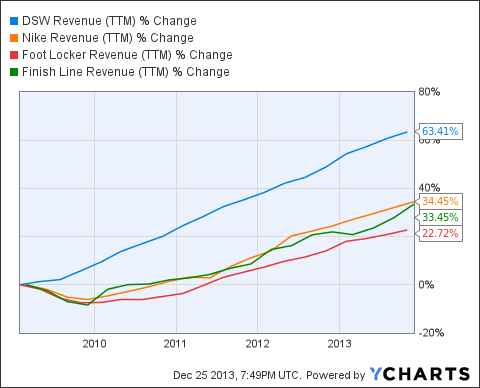 DSW Revenue (TTM) data by YCharts
This has been largely attributed to their quarterly same-store-sales numbers doing well between 2009 and 2011, which issued subsequent forward positive guidance driving the stock higher. More recently, however, management discussed SSS related headwinds in their Q3 2013 conference call:
"Sales for the third quarter, excluding luxury, increased by 5.4% to $625 million, with a comparable sales decrease of 0.7% versus last year's 6.3% comp increase. For the DSW segment, which includes DSW.com, comps decreased by 1.0%. Store traffic declined, but was mostly offset by an increase in store conversion."
Still, management did reaffirm higher sales trafficking via mobile and e-commerce websites. You can read additional information from the transcript in the link provided here.
Free cash flow has also been outpacing their net income on average in the last 5 years, which assumes great capability to increase their business quality. I would consider DSW, relative to the industry in reinvestment metrics, a moderate in terms of ROA and ROE, currently sitting at 11.38% and 16.62% (much lower than the footwear giant Nike Inc). DSW ttm ROIC also grew this year to an estimated 14.31%, which is generally considered to be competitive moat characteristic on a quantitative basis.
Valuation
Free cash flow ttm was most recently estimate to 166.11 million. In the last five years, based on a compounded annual growth rate, DSW has grown fcf about 21.15% annually. Even though this growth rate doesn't seem entirely sustainable, I will do it for theoretical valuation purposes. 161 million given a 21.15 multiple generates a fair value of 3.407 billion, and after cash adjustments about 3.494 billion. This issues an fair value assumption around $38.54, about ~9% under the current market price. However I think a more realistic and sustainable annual growth rate would be 18%, and create a fair value of $32.95. Another thing to consider is DSW has no debt obligations since they paid their last capital lease in the FY of 2011.
Another valuation method is using a discounted cash flow model using earnings per share with growth assumptions. I used their current ttm of $1.64 with 12% annualized growth (being 2% lower than the analyst estimates of 14% is more conservative) and a 5% leveling off growth thereafter. This assumes a fair value share price of $38.44, very close to the initial fcf calculation. If we use a much more conservative input of only 8% YoY, we get a share price of $32.58, similar to my realistic assumption.
Other Facts
These factors are provided by the current market which may foreshadow current or future market sentiment:
DSW, being a very lucrative business, not surprisingly has a very high institutional ownership level at 93%.
Short float is at a moderate level of 5%, near an all time high. Mid-late November saw the largest spike in short interest volume most likely related to the elevated stock price.
Being <4 billion in market capitalization and only operating with 400 stores, the company still has plenty of room to grow.
Going Concerns
Some investors are slightly concerned with DSW's slowing EPS growth, but the company is still consistently beating analyst estimates. Since the beginning of 2009, they have issued positive surprises every single time spare three quarters.
Throughout the companies' long-lived operations, accumulated depreciation of PPE and capex are starting to creep up. In the chart below, the first column is FY of 2005 while the ending column is latest quarter:

A final consideration is the excessive insider selling seen by the BoD in recent months. Through this link, the chart shows selling in the middle of 2012; I assume this is related to "other selling reasons". Where in 2013 I believe the selling is related to executives thinking that their stock is either overvalued or has limited upside.
Bottom Line
I think DSW is a solid company that has been implementing a great strategy on top of their footwear designers creativeness. Analysts back in 2012 were highly concerned about DSW's ability to grow margins, saying they had only one way to go which was down, but they now sit at another record high. This is clearly a company worth investing in, although I think the price has moved ahead of itself, as is the case for many companies in this expensive market.
Disclosure: I have no positions in any stocks mentioned, and no plans to initiate any positions within the next 72 hours. I wrote this article myself, and it expresses my own opinions. I am not receiving compensation for it (other than from Seeking Alpha). I have no business relationship with any company whose stock is mentioned in this article.