Giving away the Android OS is paying off very well for Google (NASDAQ:GOOG). Some would argue that Google can earn serious money if they charge a royalty fee for every Android OS product. However, I firmly believe that Google's decision was the right one.
The revenue from licensing Android OS phones and tablets is miniscule compared to what Google is now earning from mobile advertising. The billions of dollars that Google makes from delivering ads to Android devices are probably ten times more than what Google could make from charging fees for the Android Operating System. Google is a verb and advertising is its predicate.

The forward-thinking strategists at Googleplex knew that by giving away Android OS, they have ensured Google's dominance in mobile digital advertising. This was their plan all along when they bought Android, Inc. in 2005. The billions of dollars they made from mobile advertising for the past two years is a validation of their 2005 master plan. They already won the war even before Apple (NASDAQ:AAPL) launched the iPhone in 2007.
Furthermore, the rapid rise to dominance of Android products would not have been possible if it wasn't free. OEM companies like Samsung (OTC:SSNLF) and HTC would have been hesitant to back Google's Android OS fight versus Apple's iOS. Android OS-powered phones now comprise 80% of total smartphone shipments this 3Q of 2013.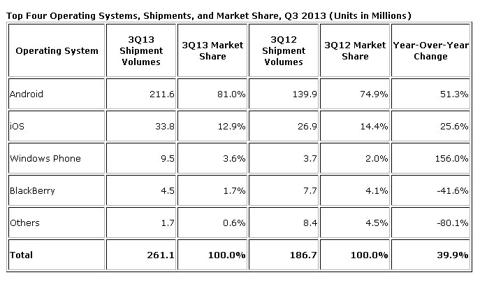 Google Eats Up the Competition
Google is the world's biggest alpha shark in the digital advertising food chain. According to eMarketer, Google has a commanding 39.9% market share of the net U.S. digital advertising marketplace. Facebook (NASDAQ:FB) is a far second with just 7.4%, Microsoft (NASDAQ:MSFT) has 5.9%, and Yahoo (NASDAQ:YHOO) with 5.4%. The rankings were the same for 2012 - please refer to the chart below.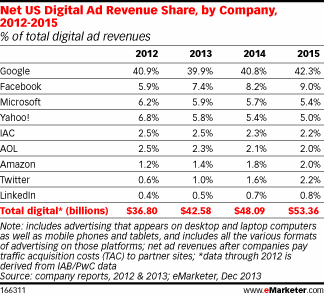 For 2012 and 2013, the total net digital ad revenue in the U.S. is $79.38 billion and Google's 40% share of the market is equivalent to $31.75 billion. It's no wonder Google is a BUY for many analysts. Despite the threat of Facebook and Twitter, Google will continue to be the top shark for digital advertising in the U.S. for the next two years. eMarketer estimates that Google's share for 2015 will grow to 42.3% and total net revenues will be $53.36 billion.
The dominance of Google extends to the rest of the world. For 2012, Google was also the run-away leader with 31.40% share of the net global digital ad revenue. For 2013, Google increased its share by just a bit to 31.9%. Facebook is again second with 4.11% and 5.64% for 2012 and 2013. Calculating Google's revenue from 2012 to this year, $32.76 billion plus $38.14, the company made an incredible $70.9 billion in net advertising sales.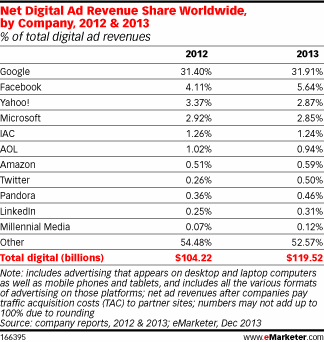 Mobile Advertising is Quickly Becoming More Popular
Forbes published an article in October showing that mobile advertising gained a 145% increase in the half of 2013 compared to 2012. From $1.24 billion in the first 6 months of 2012, total mobile advertising spending has skyrocketed to $3.04 billion for the first 6 months of this year.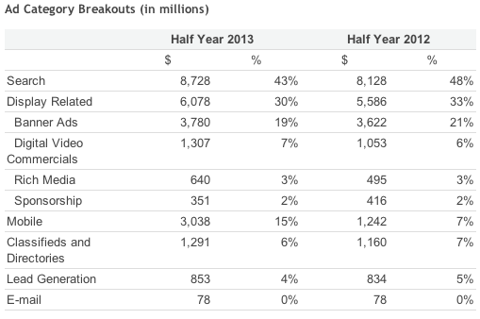 Forbes' data is in line with eMarketer's own estimates. Mobile advertising is set to explode and more Americans will be viewing ads on their smartphones and tablets than desktop computers by 2017. The chart below shows exponential growth for mobile advertising while desktop ads will gradually decline. By 2017, the mobile ad market in the U.S. will be worth around $35.62 billion.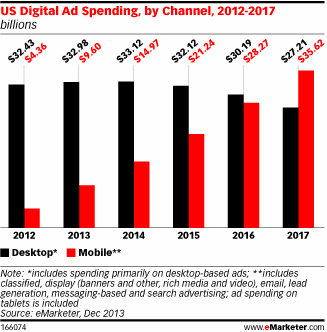 Google is Also the Alpha Shark in the Mobile Ads Food Chain
Google's decision to give away its Android OS was a well-played pre-emptive strike that allowed the company to dominate the mobile advertising market. It is again the top shark for mobile device advertising in the U.S. For 2012, Google had a 49.8%, it went down to 41.5% mainly because of Facebook's 9% to 16% jump. Google will remain the leader by 2015 with an estimated share of 43.8%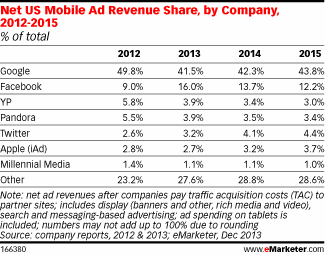 In the global market, Google is again the alpha shark with almost half of total global ad mobile sales going to Google's coffers. Facebook is a threat, though, because it tripled its market share in just one year. Google should pump up its Google+ division to equalize the 1.2 billion pairs of ad-ready eyes that Facebook now has. It also needs to optimize mobile YouTube advertising to counter-act Facebook's new Video Ads initiative.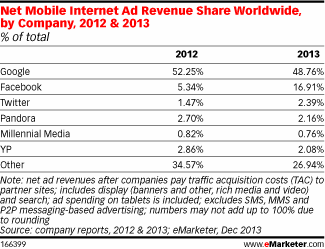 Being the biggest shark in digital advertising helps Google remain one of the world's most profitable companies. GOOG's 2013 Estimated EPS is $36.


Conclusion
Google is a buy. It is still the undisputed Alpha Shark in advertising. It dominates both desktop and mobile ad markets. The long-term prospect of this company is very attractive. The company's balance sheet is incredibly liquid with almost $56 billion in cash & short-term investments.
I reiterate that Facebook presents a clear and present danger and Google needs to build up its mobile Google+ social network users to help slow down Facebook's exponential growth in mobile advertising.
Unfortunately, it's not possible for Google to ban Facebook from the Android OS environment. If Google can make or buy a SnapChat clone for Android devices, the company might slow down the growth of Facebook, Twitter (NYSE:TWTR), Yahoo, and Microsoft's inroads into mobile advertising.
Disclosure: I am long GOOG. I wrote this article myself, and it expresses my own opinions. I am not receiving compensation for it (other than from Seeking Alpha). I have no business relationship with any company whose stock is mentioned in this article.