In our recent article about AT&T (T), a couple of SA readers wanted us to do a similar article on AT&T's fierce competitor Verizon Communications (VZ), with the focus on Free Cash Flow (FCF).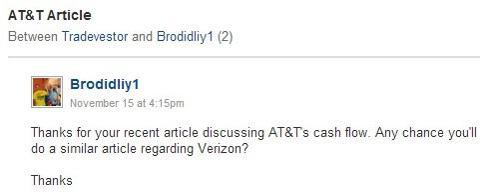 Click to enlarge
Hence, this article attempts to do just that. We've tried to use the same evaluating points as in the AT&T article to keep things even. So, let us get into the details.
Valuation: At the time of the AT&T article, Verizon was trading at more than $50 per share. This put Verizon's forward multiple at 15, while AT&T's was at 13. However, since then Verizon has had almost a 4% pullback and this puts its forward PE at 13 given the 2014 estimates of $3.51 per share. In other words, there is little to separate between the two stocks in terms of forward multiples.
Dividend Growth: At the time of writing the AT&T article, the company was on the verge of announcing its annual dividend increase. Sure enough, a few weeks after the article AT&T announced its 30th consecutive annual dividend increase.
Verizon announced its 7th consecutive dividend increase in September of this year. The table below shows the last five quarterly dividend increases and their dividend growth rates (DGR). A sub 5% DGR might not impress too many investors but this:
a) Is way above inflation.
b) Is almost double that of AT&T's 5 year average of about 2.3%.
c) Gives Verizon a "Chowder Number" of 8.63 (Current yield of 4.4% + DGR of 4.23%). As a reminder, the widely quoted "Chowder Rule" looks for at least 8 when it comes to telecoms.

(Source: Table compiled with data from Finance.Yahoo.Com)
Free Cash Flow: As mentioned in the AT&T article, the telecommunication industry is capital intensive and the earnings per share sometimes do not reflect the actual earnings capability of these companies. This section is divided into 4 sub-sections as in the AT&T article.
a) According to Yahoo Finance, Verizon's trailing twelve months earnings per share stands at just 77 cents, while the annual dividend per share is $2.12. Again, this raises an immediate red flag about Verizon's ability to send those dividend checks to investors. Let us look at Free Cash Flow instead, as earnings per share takes a beating with (i) each dollar that Verizon spends on its future plus and (ii) with each dollar that is added to its depreciation.
b) The chart below shows Verizon's free cash flow over the past 5 years. The 5 year average is $3.72 billion, the lowest is $672 million with the highest being $6.8 billion. Note these numbers as they are used again in the section below.

Click to enlarge
(Source: YCharts.Com)
c) Again to drive home the point, capital expenses plus depreciation make the earnings per share appear lower than the company's actual earnings potential.
d) Even though Verizon does not yet have AT&T's history when it comes to dividend growth (30 versus 7), there is little doubt that Verizon is a shareholder friendly company as well. As of this writing, Verizon has 2.6 billion shares outstanding. Given Verizon's quarterly dividend of 53 cents per share, all it needs to pay those dividends is $1.37 billion. As a reminder, the average quarterly free cash flow as mentioned in point (b) is $3.72 billion. Only once in the 5 years shown above has the quarterly free cash flow been lower than the quarterly dividend requirement.
Growth: This is a section where Verizon handily beats AT&T. According to Yahoo Finance, Verizon is expected to grow its earnings at 10% per year over the next 5 years. This compares favorably against the industry's 5% and AT&T's 6%. As a result, Verizon's PEG stands at 1.71 to AT&T's 2.19.

Click to enlarge
(Source: Finance.Yahoo.Com)
Technical Indicator: For all the technical and chart fans out there, Verizon's Relative Strength Index (RSI) currently stands in the high 40s. This is down from the 60s that it had at the time of the AT&T article. Verizon is certainly not overbought here and is not far off from reaching the oversold level in the 30s. A few more down days for the stock could get the RSI below 30 and also push the current yield above 5%, which might be an attractive entry point.

Click to enlarge
(Source: Nasdaq.Com)
Conclusion: So, there you have a point by point comparison between Verizon and AT&T keeping in mind the metrics used in the AT&T article. We hope this article calms down income investors when it comes to both AT&T and Verizon's abilities to pay its shareholders. As mentioned in the AT&T article, it is hard to look away from a stock:
a) That yields close to 5%.
b) Has moderate dividend growth.
c) Carries a low beta of 0.14.
d) Is still expected to grow in double digits.
e) Trades at a reasonable forward multiple, in a market reaching all time highs.
Disclosure: I am long T. I wrote this article myself, and it expresses my own opinions. I am not receiving compensation for it (other than from Seeking Alpha). I have no business relationship with any company whose stock is mentioned in this article.