Reading through some old Warren Buffett quotes in my spare time, this one, cited by Bryan Burrough and John Helyar in their book, Barbarians at the Gate, jumped right off the page at me:
"I'll tell you why I like the cigarette business... It costs a penny to make. Sell it for a dollar. It's addictive. And there's fantastic brand loyalty."
Mr. Buffett was speaking in reference to RJR Nabisco, but when I read his words, I immediately thought of Altria (NYSE:MO) instead.
Some things have changed, but not everything
The above Buffett quote was pulled from decades ago, around the time when he owned shares of RJR. The landscape is much different for 'Big Tobacco' now, however. Declining cigarette volumes are occurring on an annual basis and looming litigation risks are always increasingly present.
This doesn't necessarily mean Altria is a bad investment. After spinning-off various components of its former self-- such as Phillip Morris International (NYSE:PM), Kraft (KRFT), and later Mondelez International (NASDAQ:MDLZ)-- Altria now operates primarily in North America; which has it's benefits.

First, barriers of entry are large and increasing. It's hard to imagine a new firm taking away Altria's 50% share of the total cigarette market. This leading market share is largely due to the company's iconic Marlboro Brand, which has huge brand loyalty with an estimated market share of 43.6%, according to Fitch Ratings. Brand loyalty is obviously still there.
Cigarettes are still addictive as well, and increasing costs can be passed on to customers. A strong brand, strong market share, and pricing power are all positives that Altria can currently claim when it comes to cigarettes. Still, a declining core business is no good. Luckily management knows this and is pushing the company into new territories.
A more diverse company
With cigarette consumption dropping annually, Altria has been focused on diversifying into new products and markets. Altria's reportable segments now include smokeable products, smokeless products, and wine.
The company owns U.S. Smokeless Tobacco Company, or USSTC, which is the largest producer and marketer of moist smokeless tobacco. This is also one of the fastest growing tobacco markets in the U.S., so it is perfectly positioned to prosper.
It owns leading brands such as Copenhagen and Skoal, which contribute to the company's dominate 55% share of the smokeless market. Both brands enjoyed an increase in market share and volumes during Altria's most recent quarter.
Another operating company owned by Altria is Ste. Michelle Wine Estates Ltd, which is a top-ten producer of premium wines in the U.S. This is another potential market that the company is looking to capture growth from outside of tobacco.
Other assets and potential growth products
Altria also holds 26.8% share of one of the largest global brewers, SABMiller plc (OTCPK:SBMRY). This sizeable stake, according to Fitch, is currently valued at over $20 billion and adds to the company's liquidity and overall value.
E-cigarettes are another lucrative growth market that Altria is pursuing. The company's NuMark subsidiary first released the MarkTen brand e-cig in Indiana. That was in August, making Indiana the first test market for Altria's e-cigs. This month its e-cigs were expanded into Arizona. While getting off to a slow start after Lorillard (NYSE:LO), the company that owns industry leader Blu ecigs, Altria is starting to pick-up the pace.
Altria recently announced that it will be partnering with its overseas spin-off, Phillip Morris International. According to a press release:
Altria will provide Philip Morris with a license to sell its newly introduced electronic cigarette products internationally. In turn, Philip Morris will provide Altria with two of its next-generation products that heat tobacco instead of burning it.
This gives Altria's e-cigarette instant global distribution and recognition, and could be a big jump-start to any ambitions it has to get into the electronic cigarette market.
Valuations and fundamentals
Altria looks fairly valued both now and going forward, and is also currently the cheapest in relation to earnings when compared to peers.
| | | | | |
| --- | --- | --- | --- | --- |
| | P/E | Forward P/E | Price/FCF | Dividend (Yield) |
| MO | 14.86 | 14.76 | 16.51 | $1.92 (5.00%) |
| LO | 15.81 | 14.09 | 15.95 | $2.20 (4.40%) |
| RAI | 17.30 | 14.31 | 22.50 | $2.52 (5.20%) |
Data from Yahoo! Finance and YCharts
While competitor Reynolds American (NYSE:RAI) offers a slightly higher yield, it is also a less diverse company. Reynolds is also more expensive than its competitors as well.

It could also be argued that Lorillard should be discounted due to its heavy reliance on menthol, which could potentially be banned and accounts for over 80% of the company's sales. Altria looks cheap when held up against peers.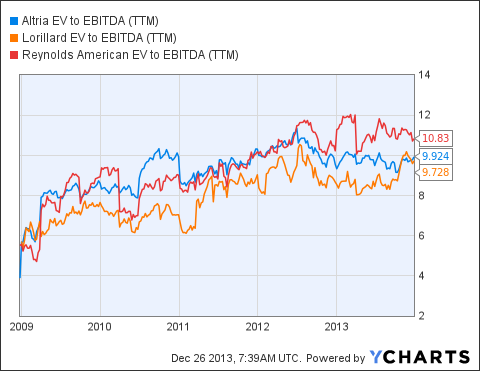 MO EV to EBITDA (TTM) data by YCharts
Looking at it's more recent history, Altria has also grown earnings rapidly over the last 3 years, considering weaker revenues. It also generates massive amounts of free cash flow.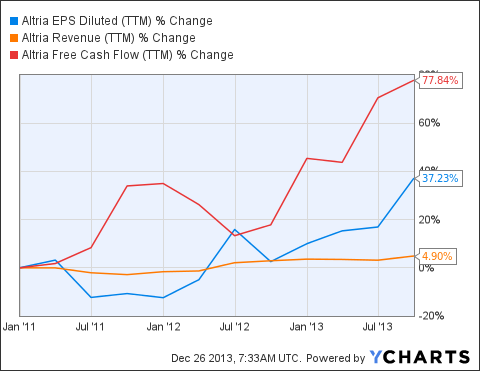 MO EPS Diluted (TTM) data by YCharts
Altria's impressive free cash flow and earnings growth are encouraging for the future of its dividend growth. According to the company, its dividend has increased 47 times out of the last 44 years. Its target payout ratio is 80% of adjusted earnings per share, which demonstrates the company's willingness to enrich its shareholders.
The bottom line
Altria primarily operates in the declining cigarette industry, but it dominates this industry and continues to generate immense profits. It is also expanding into other, growing markets such as wine. It dominates the smokeless tobacco market as well, and will likely dominate (or at least gain a large share of) the electronic cigarette market going forward as well. The company is fairly valued at this time, and now looks like a decent time to get in for a growing and high-yielding income stream.
Disclosure: I am long MO, PM, KRFT. I wrote this article myself, and it expresses my own opinions. I am not receiving compensation for it (other than from Seeking Alpha). I have no business relationship with any company whose stock is mentioned in this article.