Back in January last year I did a compare and contrast on diskmakers Western Digital (NYSE:WDC) and Seagate Technology (NASDAQ:STX). At the time, I saw value, but found that WDC exhibited superior management and financial strength. Subsequent performance and price appreciation have confirmed the value, but with WDC trading under 40 with a TTM P/E of 9.7, the question comes up: why so cheap?
Margins - The disk-making industry can be characterized as cyclical and commodity-like, so that typically the stocks will trade at low P/Es during high points of the cycle. Working with 5 year average EPS, and projecting through the end of WDC's 2010 fiscal year on 6/30, I get 3.80 X 15.9 average P/E on that metric = 60 as a midpoint target price. A similar exercise based on P/S yields a target of 36. When these valuation methods give such widely divergent results, the issue is margins. The market is interpreting WDC's margins as unsustainable.
WDC's net income as a percentage of revenues was 16.1% as of the end of the last quarter, while a seven year average is 7.8%. During the recent meltdown, both WDC and STX rationalized capacity, perhaps more vigorously than necessary. In any event, demand has been well ahead of supply in recent quarters, generating above average margins.
Competitive Landscape – from the latest 10-K:
We compete primarily with manufacturers of hard drives for use in desktop, notebook, enterprise, CE and external storage products. Our competitors in the hard drive market include companies such as Fujitsu Limited (OTCPK:FJTSY) (which has announced that the transfer of its hard drive business to Toshiba (OTCPK:TOSBF) has been delayed until September 2009), Hitachi Global Storage Technologies (HIT), Samsung Electronics Co. Ltd. (OTC:SSNLF), Seagate Technology and Toshiba Corporation.

High-speed semiconductor media competes with hard drive products in some applications, such as consumer handheld devices and portable external storage. Semiconductor media is much faster in some applications than magnetic hard drives, but currently is not competitive in most applications using 3.5-inch and 2.5-inch form factor hard drives from a cost standpoint. Flash memory, a non-volatile semiconductor media, is currently much more costly and, while it has higher "read" performance attributes than hard drives, it has lower "write" performance attributes. Flash memory could become more competitive in the near future for additional applications requiring less storage capacity than that provided by hard drives. However, we believe that the traditional high-volume computing markets will remain the domain of 3.5-inch and 2.5-inch hard drives based on the hard drive industry's attributes of reliability, availability and cost.

Our competitors in the external hard drive market include companies such as EMC Corporation (EMC), Hitachi Global Storage Technologies, LaCie Group, Melco Holdings Inc. and Seagate Technology. Our competitors in the solid-state drive market include companies such as Intel Corporation (NASDAQ:INTC), Micron Technology, Inc. (NASDAQ:MU), Smart Modular Technologies, Inc. (NASDAQ:SMOD), STEC, Inc., and Samsung Electronics Co. Ltd.
Given the array of strong competitors and the ongoing flux of technological development, WDC cannot be expected to maintain 16% margins. Over the past 5 or 6 years, revenues have increased 20% annually, on average. Again, this may not be sustainable going forward.
However, the HDD market is turning into a duopoly, and WDC is superior to STX, in my opinion. Seagate is unlikely to engage in further price wars along the lines of what got them into trouble in 2008-2009. Flash has its limitations, to include cost, and the proliferation of digital content should create strong long-term demand for low cost storage.
Excellence – WDC is one of those stocks where management is able to generate consistent increases in tangible book value in spite of cyclical and competitive pressures. It's not that the industry is an easy one, it's that WDC has a strong balance sheet and adroit management. Here is a 7 year display of the company's tangible book values:

Price book is not the way to value this stock; the point here is that the investor has evidence that management is steadily increasing the value of what he owns. The industry went through a huge demand reset in the wake of the crisis, Seagate had to issue shares at a huge discount to stay afloat, but WDC just chugged along, with more assets at the end of each year.
Price/Sales – obviously WDC can't sustain current margins. To get an idea of what WDC's price range might be while leaving the margin issue on the back burner, here is a 7 year history of Price/Sales. The sales/share figures are extrapolations but are close enough for analytical purposes.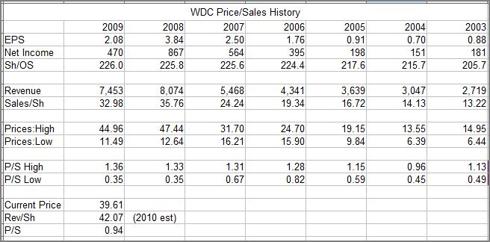 Looking at this, WDC usually trades at a price/sales of better than 1.1 every year, 2004 was an exception. It usually trades below a price/sales of .80 sometime every year, 2006 would be the exception.
Strategy – a starting point would be the observation that Mr. Market has a built-in randomizer on the value of this stock, while management charts a steady course through stormy seas. My methods suggest a value of 60 for WDC, based on 5 year average EPS, but there is a real question whether the stock is going to trade up to that level, based on the market's perception of unsustainable margins, not to mention the concerns about flash memory replacing HDD.
A buy low/sell high strategy, based on historical price/sales ratios, might involve buying the shares at .8 X 42 = 34 and selling them at 1.1 X 42 = 46, very nicely bracketing the current price.
Options – WDC is optionable, with implied volatility at 36.1%. A covered strangle, long the shares and short for example the July 45 calls at a mid bid/ask around 1.60, and the July 35 puts at 2.10, would place the investor in the position of being paid to agree to buy low and sell high. The options premiums amount to an annualized return of 25%, if the stock is unchanged at expiration. If the shares are called away, the return is 62% annualized. If assigned on the puts, the investor will own shares at an average cost of 35.65, in the area of the proposed buy price, and at a TTM P/E under 9.
Risk/Reward – WDC is the stronger player in what is developing into a duopoly in the HDD market. Given their strong balance sheet and steady performance, downside risk is very manageable, although past price action suggests the stock will trade in a wide range. Rewards are ample, as it is very likely that the stock can be sold at 46 or better within the next year.
Disclosure: Net long WDC along the lines described