Walgreen Co. (WAG) is among the leading drug store chains in the U.S. The company has had a great 2013 year-to-date; the stock is up 55% in comparison to the S&P 500's return of 29%. I am bullish on the stock, as integration synergies and cost control measures are likely to fuel its bottom line growth in the future. Also, the stock is trading at a cheap forward P/E of 14.8x, in comparison to its peers, as discussed below, and analysts have estimated a high next five-year growth rate of 13.5% per annum.
Financial Performance
Last week, WAG reported a mixed financial performance for 1QFY2014. The company reported net sales of $18.32 billion, up 5.9% year-on-year, in line with consensus estimates. Adjusted EPS for the quarter came out to be $0.65, missing consensus estimates of $0.72. EPS for the recent quarter was adversely affected by a weak gross margin.
WAG's same store sales remain strong in 1QFY2014 as they increased by 5.4%, mainly driven by a 2.4% increase in front end sales and a 7.2% increase in Rx sales. An increase of 2.4% in front end sales was driven by higher promotional spending as the company is focusing more on promotions in the prevailing competitive industry environment. However, higher promotional activity in the recent quarter adversely affected gross margin. Gross margin for the quarter came out to be 28.5%, missing consensus estimates of 29.4%, down 1.30% year-on-year. Other than higher promotional spending, the trough in the generic cycle in comparison to 1QFY2013 adversely affected the quarter's gross margin.
WAG signaled that 2QFY2014 would be a challenging quarter and gross margin might decline year-on-year due to high promotional activity and a trough in the generics cycle. However, moving into 2HFY2014, gross margin pressures will begin to ease.
Stock Price Drivers
To expand its margins and bottom line results, the company has been working to increase its productivity and improve its cost structure. In the recent quarter, the company efficiently managed its selling, general and administrative (SG&A) expenses as they grew only by 0.4% year-on-year in comparison to sales growth of 5.9% in the recent quarter. SG&A as a percentage of total sales dropped to 24% in 1QFY2014, down from 25.4% in 1QFY2013. Also, due to cost control efforts, WAG experienced an improvement in operating and EBITDA margins in the recent quarter, as shown below in the table. As the company continues to improve its productivity, it will have a positive impact on the stock price.
| | | |
| --- | --- | --- |
| | 1QFY'13 | 1QFY'14 |
| SG&A as % of Sales | 25.4% | 24% |
| Operating Margin | 4.9% | 5.2% |
| EBITDA Margin | 6.6% | 7% |
Source: Company Reports and Calculations
Alliance Boots synergies are an important earnings growth driver for WAG in upcoming years. The company realized $107 million in synergies in the recent quarter and is on track to achieve its FY2014 synergies target range of $350-$400 million. At the current quarterly synergy rate of $107 million, WAG will exceed the FY2014 synergy target range. Also, WAG is confident that it will realize $1 billion in synergies in 2016. The $1 billion synergy target for 2016 can be exceeded, as during the recent quarter's earnings call, the company's management indicated that it has identified additional opportunities to increase its synergies. However, the management did not provide specific details on how incremental synergies would be realized. The graph below shows the recent trend in synergies realized by WAG in recent quarters.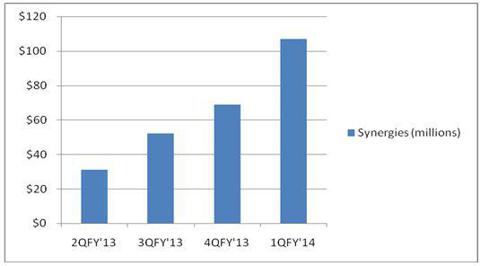 Source: Company Reports
Also, the company is confident that it will achieve its EBIT goal of $9-$9.5 billion by FY2016, representing an average growth rate of 9%. Despite a slight weakness in gross margin in recent quarters, the company disclosed that it has several options to meet its EBIT target for 2016, including business expansion, benefits from its AmerisourceBergen Corp. (NYSE:ABC) partnership and additional AB synergies. The realization of potential synergies and the targeted growth in EBIT for upcoming years remain important for the stock price performance as we move forward. Also, better-than-previously-anticipated synergies will portend well for the stock price.
Conclusion
The company is on track to experience robust growth and deliver solid results in the medium-to-long term. However, we might observe gross margin contraction in the near term due to higher promotional activity and a trough in the generic cycle. The AB deal has provided an opportunity for WAG to diversify into European markets, outside the U.S. Also, the expected synergies and cost reduction opportunities will fuel bottom line growth for the company in the future. Furthermore, the stock is trading at a cheaper forward P/E of 14.8x, in comparison to Rite Aid's (NYSE:RAD) and CVS Caremark's (NYSE:CVS) forward P/Es of 15.3x and 15.9x, respectively. Moreover, analysts have projected a robust next five years growth rate of 13.5% per annum. Due to the aforementioned factors, I am bullish on the stock.
Disclosure: I have no positions in any stocks mentioned, and no plans to initiate any positions within the next 72 hours. I wrote this article myself, and it expresses my own opinions. I am not receiving compensation for it (other than from Seeking Alpha). I have no business relationship with any company whose stock is mentioned in this article.