Google (NASDAQ:GOOG) finally released an application for Apple iOS for its Google Glass product. Now personally, I don't really think of Google Glass as anything but a hobby project that's not going to generate a whole lot of profitability for Google in the immediate future. However, with Google expanding support for the Google Glass device by making it controlled from the smartphone, there could be more potential to this device than what I had initially imagined.
Google Glass for iOS
The application for Google Glass for Android and iOS is called MyGlass. The application allows a smartphone user to control the Glass using touch inputs rather than simple voice commands. This is a positive development for Google because it seems that the interface for Apple (NASDAQ:AAPL) users is in for a significant upgrade.
The main problem with depending on voice commands is that consumers can't use the device when they enter into loud places. This is because the microphone will not be able to register your voice over others. This is why in the original Google Glass commercial there was never footage of a person hanging out at a loud party, bar, concert and football game.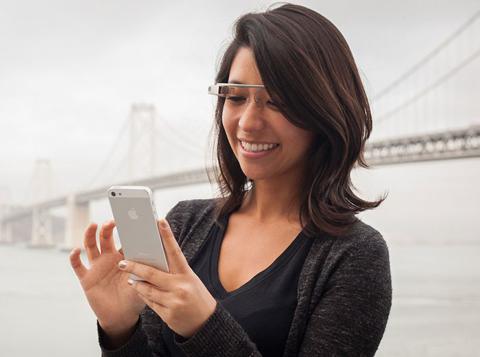 The Google Glass device was sold for a ridiculous $1,500. Anyone who wanted one had to register for the chance to buy Google Glass. Currently only 8,000 were chosen to buy the Google Glass. As of the moment, Google has not figured out a way to distribute the product, which is why it hasn't attempted to. It's working on the product until it gets it right, and for now that makes a lot sense.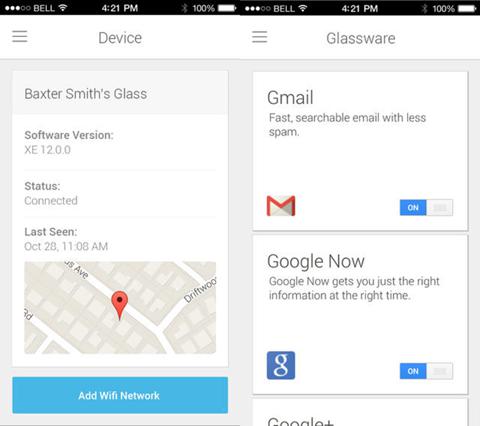 Source: Apple
Based on early reviews it is thought that the interface of MyGlass is better on iOS than Android. The addition of being able to both see and manage the Google Glass on an Apple iPhone and Android device may be one of the last pieces to Google's quest to making the device commercially viable.
The retail price of the Google Glass device is expected to be somewhere in the avenue of $300. However others have pointed out it could actually cost more than that.
Mobile baseband technologies have improved enough so that the frequency bands between 4G on CDMA and GSM can be supported. This is why Apple can release one version of its iPad Air. This makes it easy for Google Glass buyers to connect the device to a family plan from Verizon, Sprint, T-Mobile or AT&T. Not to mention, Google Glass will also be distributed at the aforementioned companies' wireless stores.
What about competition?
The Motley Fool, on the other hand, believes that Google could have a hard time entering into the wearable computing market because Luxottica (NYSE:LUX) released a pair of Goggles called the Oakley Airwave.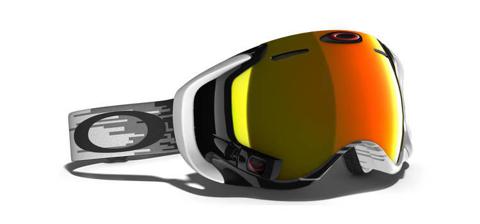 Source: Oakley
The Oakley Airwave depends heavily on smartphone tethering. It does many of the things that the Google Glass can do, but the applications that come with it depend heavily on the smartphone device that it's connected to.
Looking at Luxottica's non-existant R&D expenditure, one can basically assume that Luxottica is not very serious about this product or competing head to head with Google. This is because after searching for R&D expenses in the annual report, it wasn't given a specific line-item, which points to the fact that management is not very committed to wearable computing. Luxottica primarily invests into capital expenditure spending as it is more of retail apparel chain.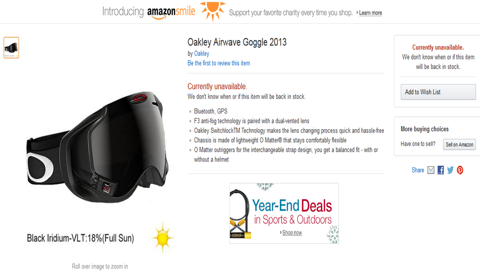 Source: Amazon
The Oakley Airwave Goggle isn't available on Amazon.com. The device wasn't marketed aggressively enough, and wasn't a very serous competitor to Google Glass to begin with. No money backing it, and hardly anyone buying it, it's a total flop.
What about a partnership?
I think the most practical strategy for Google and Luxottica is a partnership. In fact, I'm fairly certain Google is working out a partnership deal with Luxottica as Luxottica earns revenue from prescription lenses, sun glasses and eye care insurance. It's involved in all parts of the eye-care ecosystems and has pretty much saturated every major retail location. Currently its most significant competitor is Wal-Mart (NYSE:WMT) with its chain of vision care centers (3,000 locations). However, Google Glass is a premium product, and the distribution of the product can't go through Wal-Mart, because it's not Google's primarily demographic. I don't think anyone goes to Wal-Mart buying the most expensive electronics off the shelf. So it wouldn't make any logical sense for Google to even bother attempting a partnership with Wal-Mart.
Currently, Luxottica has more than 7,000 retail locations for glasses across North America, Europe, Asia and Middle East. Luxottica owns and operates in-house 16 different retail chains (both prescription and fashion). Luxottica also owns brands in-house, which include: Ray-Ban, Vogue, Oakley, Persol and Arnette. It also has licensing agreements with major fashion labels like Armani, Gucci, Polo Ralph Lauren (NYSE:RL), Versace, Chanel and etc. To top that off, Luxottica has 25% market share of the eye-care insurance market (through its EyeMed subsidiary, which is partnered with Humana (HUM)) and has the highest revenue share in wholesale frames.
This translates into serious economies of scale. This is because while it sells prescription lenses it can also include designer label frames at a significant discount. So when someone leaves the optometrist that's on-sight at some of its store chains, such as Lenscrafters and Pearlvision, Luxottica is able to sell branded frames with the prescribed lenses at a significant discount. This is why there's hardly any self-employed optometrists running their own business. The self-employed Joe can't sell Gucci or Armani frames. Luxottica squeezes its competitors because it can determine where to extract high margin, and when to sell products at a loss in order to kill off competitors. It's a near monopoly. The only serious competitor is Wal-Mart and CostCo (NASDAQ:COST), but those two companies aren't trying to target the mid-end or high-end glasses consumer. It gets the low-end of the totem pole, which even that to a limited extent is business that Luxottica is winning with its Sears Optical and Target Optical subsidiaries.
So Google probably has no choice but to work with Luxottica. There's no information leaked to the media about a potential partnership. But considering the way Google has to sell its product, it's blatantly obvious how we can deduce that Google will have to partner with Luxottica.
How this may benefit both companies
The silver-lining for Google and Luxottica is that Google can provide the technology and Luxottica can provide the frames, retail locations and even the insurance coverage. That way, Google can market its technologies, and Luxottica can continue to maintain its position as a retail/prescription chain.
While it's true that Luxottica has significant scale when it comes to glasses, it can't compete with Google's in-house development of Google Glass. Creating an application ecosystem, managing high volume shipments of a single product, and developing technologies specific to a wearable computing device is well beyond the expertise of Luxottica. It's uncharted territory for more senior software and hardware engineers. Google currently spends $6.5 billion per year on R&D (that's almost equivalent to Luxottica's $7 billion in annual revenue).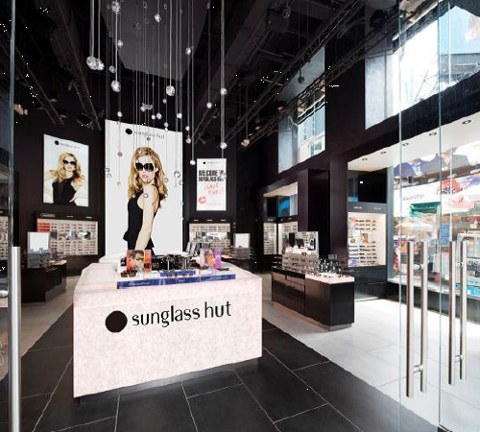 Source: Luxottica
The retail chain operated by Luxottica that's most compatible to Google Glass is Lens Crafters, which handles everything from prescriptions, selling sun glasses and selling prescription designer glasses. Lens Crafters is located at high-end fashion outlets and malls (the stores are well-positioned).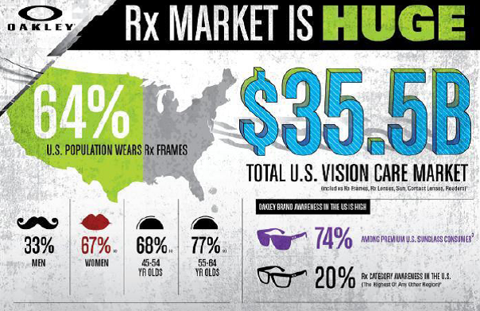 Source: Luxottica
Google Glass needs to come with a prescribed lens, because 64% of the U.S. population needs one. Not everyone wears contact lenses, nor will they ever want to. This is because contacts are an ongoing expense, plus painful at times to wear, and annoying to put on every morning. So while Google may want consumers to get contact lenses, it's more likely that Google will need to ensure that consumers can customize both the frame and the lens to their specific need/want.
Forecasts for Google Glass
Currently, BI Intelligence believes that Google Glass can grow from 0.8 million units to 21.1 million units between 2014 and 2018. The annual market opportunity for Google Glass is estimated to be $10.5 billion.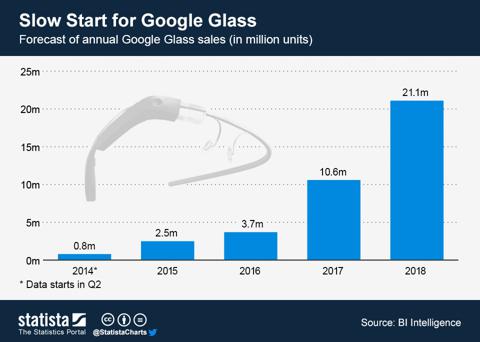 Source: Statista
There are other forecasts on the same exact topic that say different things about future revenue potential. For example IHS believes that by 2016 the shipment figure could grow to 6.6 million units by 2016. IHS' forecast is twice that of BI Intelligence's, so we're working with a really broad range of numbers here.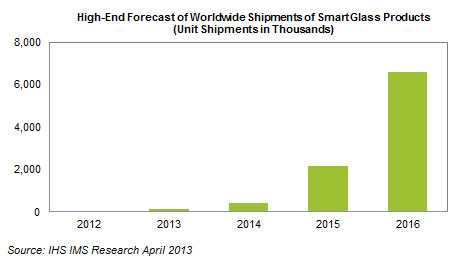 Source: IHS
IHS also mentions:
Under a more pessimistic scenario, IHS forecasts that only about 1 million smart glasses will be shipped through 2016. According to this outlook, applications for smart glasses will be limited to some of those already displayed by Google in its Glass marketing.
So there are basically three forecasts for 2016, 1 million, 3.7 million and 6.6 million in device shipments. However, when assuming a $300 retail price, Google will be able to net anywhere from $300 million to $2 billion in annual revenue by 2016.
It's not going to be a very large business over the next two years, but if device shipments reach 21.1 million by 2018 it could grow to a $6.3 billion business. Of course, by the time it's 2018, there will be much more competition for wearable computing, which is why Google's success hinges on its ability to transition its expertise beyond cloud computing and web based enterprise. This means being able to form partnerships with strategic allies, and coming to market with cutting edge technologies.
Conclusion
In the past year alone, Google Glass has been a work in progress. Google Glass came without proper driver support when it was initially released. Once there was further software built into the device, the things that could be done that were specific to the device were still rather limited. Besides blinking your eyes to take pictures, and being able to see GPS navigation while driving, I couldn't find a very compelling use for the device. However, some of this was partially addressed through MyGlass, for Android and iOS (with the iOS version released a couple days ago). The last technological puzzle has been baseband modem technologies, which have improved enough, so that only one device needs to be created in order to work with telecoms, which helps to simplify product development and distribution.
Application development for Google Glass is likely to improve in 2014 and 2015. I believe that application developers will come up with ways to utilize the unique form factor of the device so that it has more utility for the average buyer.
Going forward the biggest concern for investors should be distribution and consumer appeal rather than technology. Assuming a deal between Google and Luxottica can be penned, the distribution will be substantially smoother for Google as it can avoid the cost of opening retail locations and give Luxottica a lucrative line of products to retail. The real concern I have with Google Glass is that the current design could become tacky real fast, which is why the glasses frame should be heavily customizable with designer labels.
The Google Glass is expected to be formally released in 2014. Currently forecasts don't offer a whole lot of investable insight as there's such a broad range of numbers to work with. Therefore, investors shouldn't read too deeply into forecasts and should instead turn their focus on how well Google executes on the development and distribution of its first generation product. Following the formal release of Google Glass, third-party forecasts will become more accurate.
Disclosure: I have no positions in any stocks mentioned, and no plans to initiate any positions within the next 72 hours. I wrote this article myself, and it expresses my own opinions. I am not receiving compensation for it (other than from Seeking Alpha). I have no business relationship with any company whose stock is mentioned in this article.