Intel (NASDAQ:INTC) stock has seen a strong run in the last month despite bears criticizing the company for lack of revenue growth and growing competition from the ARM (NASDAQ:ARMH) ecosystem. Intel has been bolstered by growing sales of its tablet processors and the recent shutting down of ARM server startup Calxeda. Intel has also managed to execute on its accelerated semiconductor roadmap of introducing smaller, faster and more energy-efficient processors. I had criticized Intel's move into the TV consumer market but new CEO Brian has thankfully decided to jettison the "OnCue" venture. The company has increased its focus on the mobile and Internet of Things (IOT) market. The most advanced processors using leading edge 22 nm Tri-Gate 3D process is already being shipped in tablets and by next year Intel will be increasing its technology lead by shipping 14 nm processors, which will be even better. It's competitors such as Qualcomm (NASDAQ:QCOM), Mediatek, Nvidia (NASDAQ:NVDA) etc. are still stuck at the 28 nm and they may not be able to reach the 20/22 nm node even next year. Despite the slow/stagnant revenue growth forecast, Intel's stock has continued to climb as investors start to factor in increased revenues from mobile microprocessors. I continue to rate Intel as one of the best investments in the technology sector due to its massive manufacturing lead in semiconductor manufacturing and low valuation.
What is making Intel's Stock Price go up
1. Tablet Processor market share is going up
Intel introduced its first chips for the mobile market using its new Atom architecture Silvermont - Baytrail. These chips dramatically improve on its old Atom Clovertrail+ chips made on the 32 nm process node. They have better processing and graphics capability at drastically reduced thermal design power (TDP) envelopes. Baytrail chips are meant not only for tablets but also for low cost PCs and two-in-one hybrids. Intel has already become the 3rd largest player in the tablet process market after Qualcomm and Apple (NASDAQ:AAPL). I expect Intel to keep growing its market share in the next couple of years, as PC OEMs ramp up their Baytrail product lineup with more attractive devices. Intel is the only company capable of shipping processors which can support both Android and Windows at the same time. Note Microsoft (NASDAQ:MSFT) is also aggressively targeting the mobile market and reportedly plans to give away Windows for mobile free. Windows works best on Intel processors, with Windows RT proving to be a failure due to lack of applications. This will give a further boost to Intel as Windows also increases its low single digit market share in the mobile OS market.
2. ARM server startup goes belly-up
Intel is dominant in the server processor market with a ~95% market share. The company's Xeon and Atom chips have decimated its closest rival Advanced Micro Devices (NYSE:AMD). The growth of big data analytics and cloud services has led to a double digit growth in Intel's server revenues at high gross margins. This has been the primary reason that Intel has managed to keep its overall revenues from falling, despite a double digit decline in the PC market. One of the risks for Intel is that ARM-based chips start making inroads into the server market. Advanced Micro Devices, Applied Micro (NASDAQ:AMCC), Broadcom (BRCM) and Calxeda have been leading the charge in introducing 64 bit ARM cores for the server market. Competitors have been touting the benefits of energy efficient and low-cost ARM processors for the server market, especially for application like web services which don't require heavy duty processing. There also have been rumors that Google (NASDAQ:GOOG) might design its own ARM-based chips for usage in its massive server data farms. Intel has responded aggressively by launching low-power Atom x86 chips for the low-power server market. It is debatable whether ARM chips will be able to overcome Intel's decisive control over the server chip market with its process advantage. The bankruptcy of Calxeda indicates that Intel has a big advantage and it will be very hard for ARM chips to compete effectively. It is interesting to note that Calxeda (which raised $100 million) failed to find a buyer.
3. Intel execution has been spot on
Intel has been delivering its next gen processors and chips perfectly on time without any delays. The company's "tick tock" roadmap has been spot on and the 22 nm Atom chips were delivered right on time, before the crucial 2013 holiday season. Its Broadwell line of 14 nm chips will start production next year, just one year after Haswell chips were launched. Each generation is faster and more power efficient than the previous one. One of the silver linings in the decline of the PC market is that Intel will face less competition in its monopoly like position in the PC market. Its biggest competitor AMD has been concentrating more on the semi-custom chip market as it tries to compensate for the falling PC market revenues. Intel is also going to deliver 14 nm chips for the tablet market which will be even better than the current generation. If major foundries such as TSMC (NYSE:TSM) and Samsung (OTC:SSNLF) fail to effectively advance to smaller nodes in 2014, than Intel will have a two generation process manufacturing advantage over ARM competitors. This will give Intel the decisive edge in performance which could force a large number of mobile customers to switch to Intel from Qualcomm and Mediatek. Even Apple which designs its own chips would have to consider Intel. The company already uses Intel processors for its Mac line of PCs and laptops.
4. Communication gap in comparison to Qualcomm is closing
One of the biggest issues facing Intel in garnering a bigger market share of the mobile processor market is the lack of communications expertise. Qualcomm is the undisputed leader of the mobile processor market because of its technology leadership in the communication technology. Intel has been trying hard to catch up to Qualcomm by buying the communication assets of Fujitsu, Infineon and now Mindspeed Technology. Intel recently introduced XMM 7160 chip for LTE communication and is set to follow up with a more advance XMM 7260 in 2014. Intel is slowly closing the gap with Qualcomm in communications expertise as it is crucial for the smartphone chip market. An integrated processor and communication SoC solution by Qualcomm has given it a more than 50% market share of the mobile processor market, with most of the major non-Apple mobile vendors using the "Snapdragon" SoC. While communications is less important for tablets as compared to smartphones, it is nonetheless becoming crucial for overall chips sales. Mobile customers are looking for integrated solutions and Qualcomm has become the undisputed leader due to this reason. Even PCs, laptops and hybrids will increasingly start using communication chips and Intel needs to be ahead of the curve.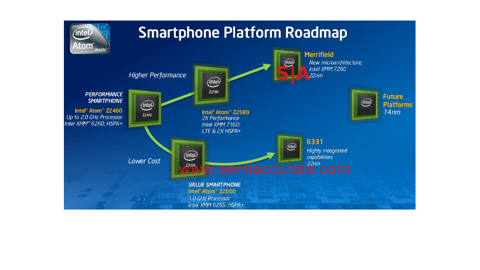 Source - Semiaccurate.com
5. OnCue sale is imminent and focus on IOT, communication networks processors
Intel is very close to a deal for the sale of its OnCue TV service, which had very little synergy with its semiconductor strengths. Intel has also got little experience or expertise in the consumer technology space. The new CEO has also started focusing on future changes in technology products and does not want to miss the bus like Intel did, with mobile processors. Internet of Things is going to be the next big market for chips and Intel is leading the charge by forming a new division to focus on the IOT efforts. Intel is also looking to expand into network processing and recently bought Mindspeed to bolster its expertise in that area. Intel is looking to directly compete with Cisco (NASDAQ:CSCO) and Juniper (NYSE:JNPR) in this space. This will expand Intel's TAM and make it a player in all the major markets which use semiconductor processing.
Risks for Intel
Intel is competing as an underdog in the mobile chip market unlike the PC market, where it has a monopoly like position. It cannot use its scale and size to overwhelm its competitors in this market. It also has a technology disadvantage in communications which it has to overcome to win over smartphone designs. Qualcomm, Nvidia and Samsung are formidable competitors who will not fold up like AMD. They not only have the incumbency edge but also have the financial and marketing resources which can effectively compete with Intel.
Intel also faces inroads into its PC and server chip markets from ARM ecosystem players. There are already some all in ones (AIO) and laptops which use ARM-based chips. Currently, Intel does not have a huge problem in this area but there is always a risk for the future.
Some of the biggest mobile players such as Samsung and Apple design their own chips using ARM processors and designs. These companies will be highly reluctant to switch to Intel's x86 chips unless the performance gap is very big. Big server customers such as Hewlett-Packard (NYSE:HPQ), Google and Facebook (NASDAQ:FB) are also pressuring Intel by looking at alternate ARM server chips.
Intel's Valuation is attractive
After a stock price decline post the recent quarterly results, Intel's stock has rebounded strongly. Intel's stock has gone up by ~28% in 2013, as investors start to see gains in Intel's tablet processing market share. The company gives a very attractive dividend yield of 3.6% at a cheap valuation. Intel has got substantial competitive barriers in its existing PC and server chip business and is rapidly expanding into newer areas such as IOT and networking processors. The stock is currently trading at ~$25.4 with a forward P/E of ~13x.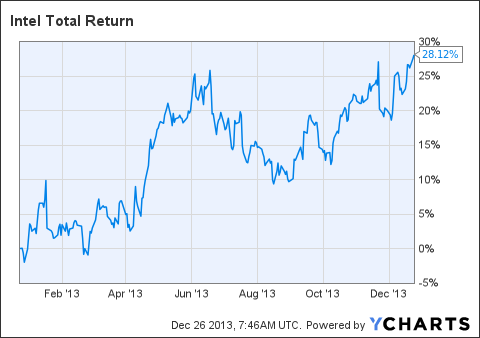 INTC Total Return Price data by YCharts
Summary
There is no doubt that Intel faces severe challenges as the mobile market overtakes the PC/laptop market in terms of growth and importance. However, Intel realizes that its position as the preeminent chip company is under threat from ARM players. The new CEO is focusing on making more energy efficient chips, focused on the mobile and low power device market. The company is making targeted acquisitions in the mobile chip market to plug the gap with its competitors. Intel is already picking up share in the tablet market and should increase its share in the smartphone market in the coming couple of years. Intel is using its process manufacturing advantage to the hilt by introducing newer more powerful and smaller chips at a rapid pace. I would continue to advise investors to buy Intel on dips.
Disclosure: I have no positions in any stocks mentioned, and no plans to initiate any positions within the next 72 hours. I wrote this article myself, and it expresses my own opinions. I am not receiving compensation for it (other than from Seeking Alpha). I have no business relationship with any company whose stock is mentioned in this article.