Investors should see a rally into the end of the year with decent stock moves on lower than normal volume as many of the big traders are out on vacation and the large firms have skeleton staffs on hand to conduct operations. We should see news begin to trickle out on who the winners and losers were over the last few days of holiday shopping and certain stocks could see significant moves. Today we are already getting interesting data and we have put together a list of who the early winners and losers were.
Chart of the Day:
The issue to watch over today's sessions and through the end of the year is whether the 10-year Treasury will be able to close above the 3% yield level. The benchmark is seeing rates rise on the back of the Fed's recent remarks as well as the strong economic news.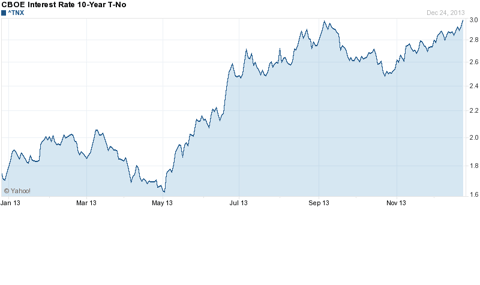 Source: Yahoo Finance
We have economic news today and it is as follows:
Initial Claims (8:30 a.m. EST): Est: 350k Actual: 338k
Continuing Claims (8:30 a.m. EST): Est: 2850k Actual: 2923k
Asian markets finished mixed today:
All Ordinaries -- up 0.67%
Shanghai Composite -- down 1.58%
Nikkei 225 -- up 1.03%
NZSE 50 -- UNCH
Seoul Composite -- down 0.11%
In Europe, markets are trading higher this morning:
CAC 40 -- up 0.07%
DAX -- up 0.94%
FTSE 100 -- up 0.23%
OSE -- up 0.81%
Christmas Winners And Losers
Losers, The Ugly: United Parcel Service, FedEx, Target
It is quite safe to say that the early results should hold and that both United Parcel Service (NYSE:UPS) and FedEx (NYSE:FDX) are the two biggest non-retail losers for the holiday season. Yes, they did have record shipments and it appears that a good deal of that volume was on the back-end, which would lead one to believe that it was higher margin packages but it seems that a fair number of those packages did not arrive on time. The financial results might very well come in ahead of analysts' expectations, but the PR losses are big and mounting as NBC, CNBC, Fox, ABC and CBS all cover this issue and the topic is trending on various social media websites, including Twitter.
Both UPS and FedEx are taking a big hit to their reputations right now, but at the end of the day they are essentially the only game in town and will have their services utilized again next year. Where one has to be worried is whether consumers shy away from online retail next year and how much this will cost the two companies to keep their big internet retailers happy.
One has to wonder if the negative news will catch up to FedEx and UPS and how much the two companies will have to pay retailers such as Amazon who are already reimbursing customers their shipping costs and handing out gift cards for orders that did not arrive on time.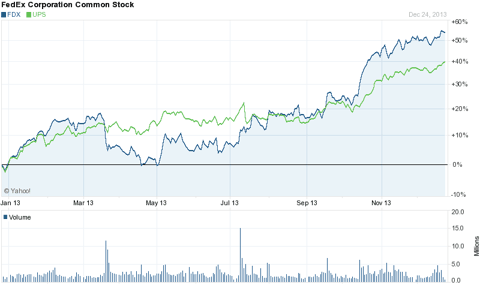 Source: Yahoo Finance
The biggest story of this holiday season had to be the Target (NYSE:TGT) credit/debit card breach. It remains to be seen how much the news ended up affecting Target's sales near the end of the holiday season, but the company has taken a big hit in the public relations department and there are now talks about the possibility of legal action being taken up against Target. This will obviously lead to some sort of settlement and our guess is that it will result in a charge for the company in their next quarter as management takes steps to recognize the probable expense and to put a figure on the cost for shareholders.
Losers, The Bad: eBay
Also on the losing end this morning is eBay (NASDAQ:EBAY) which saw revenues in the all important holiday shopping season grow much slower than competitors. ChannelAdvisor reported the news on Tuesday and the stock is reacting to some analyst comments this morning which indicate that the online retailer will still meet its quarterly projections, but nothing more. In what will be a blow out for many online retailers will be a quarter of disappointment for eBay shareholders. Even though this is disappointing news for shareholders, it is simply bad and nowhere as ugly as what United Parcel Service and FedEx will be dealing with moving forward.
Winners: Amazon
In the same report in which it discussed eBay, ChannelAdvisor reported strong revenue growth year-over-year for Amazon (NASDAQ:AMZN) as it has expanded product offerings, competitive pricing and continues to lure shoppers into the Amazon ecosystem, as is highlighted by the addition of one million new Amazon Prime customers. The one issue we see the company facing moving forward is the failure of the shippers to deliver by the promised date. In what should have been a great story for shareholders, the focus has quickly shifted toward that of the negative. Our guess is that long-term this is something the company has already thought through and is highlighted by their fulfillment center buildout, next generation delivery services and their focus on delivery fresh goods personally. Having to turn customers away is never good, but it does highlight the attractiveness of the Amazon Prime offering and we believe that this shall continue to drive growth moving forward.
Disclosure: I have no positions in any stocks mentioned, and no plans to initiate any positions within the next 72 hours. I wrote this article myself, and it expresses my own opinions. I am not receiving compensation for it (other than from Seeking Alpha). I have no business relationship with any company whose stock is mentioned in this article.