We have been preparing our 2014 picks in recent weeks, which includes individual securities we like as well as general market trends. Sometimes the two are correlated, and sometimes they are not. We are entering 2014 overweight energy, with a significant portion of our portfolio invested in the small to medium sized companies developing vast shale acreage.
Although we will cover that much more in depth in the coming days, we think that for our more conservative readers that there is ample opportunity to gain exposure to energy and commodities via the large cap names over the next 12 months.
Chart of the Day:
The Japanese Yen continues to weaken and appears poised to break out to new multi-year highs. There have been some who have called for the Yen/USD exchange rate to approach the 140-150 level, but our focus is upon the 110-120 level right now. With the US economy picking up we might very well see a spike higher in 2014.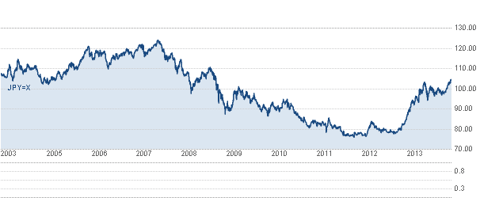 Source: CNBC
Commodity prices this morning are as follows:
Gold: $1,214.10/ounce, up by $10.80/ounce
Silver: $19.94/ounce, up by $0.456/ounce
Oil: $99.45/barrel, up by $0.23/barrel
RBOB Gas: $2.8312/gallon, up by $0.017/gallon
Natural Gas: $4.397/MMbtu, down by $0.019/MMbtu
Copper: $3.3865/pound, up by $0.0125/pound
Platinum: $1,363.50/ounce, up by $26.90/ounce
Commentary:
There are certain times in every bull market when one has to simply be long stocks to make money. There are other points when one must be a stockpicker and learn to profit from the selection of individual securities. With the gains in 2013 coming in equities and many set to see that their retirement fund investments in bond funds began to lose money in 2013 we think that a rotation is about to take effect. What one has to realize is that many retirement funds have but a handful of options to choose from and individuals are not able to buy individual securities. So as money rotates out of the bond funds they are currently invested in that capital will gravitate towards ETFs and mutual funds that mimic the large indexes that everyone knows, such as the Dow Jones Industrial Average, Nasdaq, S&P 500 and Russell 2000. Our focus is specifically set on the DJIA and S&P 500 and the names that come to mind with exposure to those are ExxonMobil (NYSE:XOM), Chevron (NYSE:CVX), ConocoPhillips (NYSE:COP), and Freeport-McMoRan (NYSE:FCX).
It is as if everyone forgot about ExxonMobil this year, until Warren Buffett made a big buy. We did not, and it turned out to be one of the better annualized returns we had for readers on the year.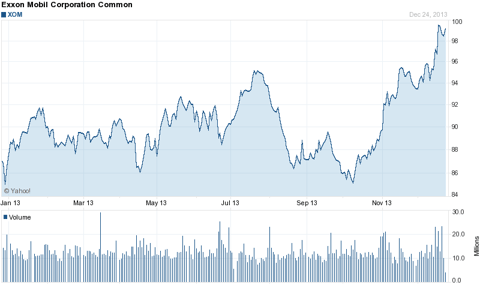 Source: Yahoo Finance
As the rotation happens these names will benefit from the dog wagging the tail as it will be money rushing into those funds and then trickles down into these names which drives gains and not necessarily gains in the individual stocks pushing the funds higher. We believe that 2014 will be another good year for energy and commodity names, but we see some of the gains not coming because of a good economy but rather because of P/E multiple expansion.
Freeport-McMoRan was another name which bottomed in 2013 before rebounding strongly and we think the name is positioned to see further gains moving forward. Look for the company to take out its 52-week high in 2014 and make a move through $40/share.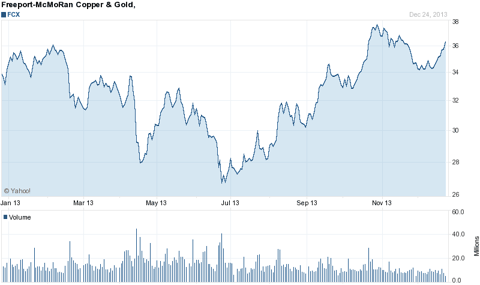 Source: Yahoo Finance
The opportunity does not end there, we still think that diversified names with exposure to emerging markets, such as Vale (NYSE:VALE) will also benefit as the risk appetite increases among investors. Strong inflows to these types of funds will undoubtedly find their way to Brazil and some of Brazil's largest companies, not to mention that the World Cup and Olympics should provide a boost to investment in the country as well as renewed interest.
Disclosure: I have no positions in any stocks mentioned, and no plans to initiate any positions within the next 72 hours. I wrote this article myself, and it expresses my own opinions. I am not receiving compensation for it (other than from Seeking Alpha). I have no business relationship with any company whose stock is mentioned in this article.