Last year was a remarkable year for Apple (NASDAQ:AAPL) and the shareholders. The doubts regarding Apple's potential to grow revenue and earnings per share dominated news items throughout the year. As a result, the stock fell 29% and closed at $392 on April 18, 2013. Apple tried to stop the sell-off and released a press release on April 23, 2013. The company stated in that press release that it would raise the quarterly dividend by 15% and extend the share buyback program from $10 billion to $60 billion by the end of 2015.
At first, investors were enthusiastic and the stock gained 18% in the following weeks. After this short revival, the stock traded around $392 again on June 27, 2013. From that moment on, the doubts regarding Apple's potential to grow revenue and earnings per share started to fade away and the share price increased again. The stock closed at $570 on December 23, 2013. This equals a disappointing 7% return on investments for Apple's shareholders compared to the average return of the NASDAQ-100 Index (see graph below).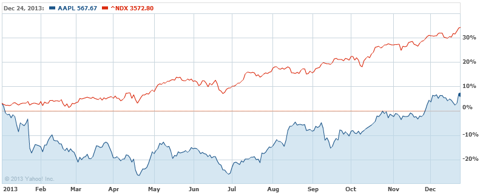 Click to enlarge
Source: Yahoo! Finance
There were several developments which contributed to Apple's rising share price, namely the announcement of a dividend increase, the extension of the share buyback program, the introduction of two new iPhones, the letter from Carl Icahn to Tim Cook and the deal between Apple and China Mobile (NYSE:CHL). I find that the developments during 2013 point in one clear direction. This article elaborates on the developments in order to support my argument that Apple is just one year away from becoming a 'boring' dividend stock.
Business life cycle
First, let me set straight that I consider Apple's transformation into a dividend stock as a natural and positive development. The high growth rates that Apple experienced in the last couple of years are not realistic for decades in a row. Many investors probably hoped that Apple's business would be resistant to the traditional business life cycle (see graph below). Unfortunately, Apple is not resistant to the traditional business life cycle. The modest stock performance is the first indication that Apple has left the growth phase and entered the maturity phase.
Another indicator that Apple has left the growth phase and entered the maturity phase is the ongoing discussion between shareholders about the company's dividend payments and the share buyback program. Carl Icahn was a very active and influential person when it comes to Apple's return to shareholders. I do agree with Icahn to some extent. In this article I argued that his initial $150 billion buyback plan was not a good idea and I suggested a smaller $75 billion capital return combined with a reverse stock split.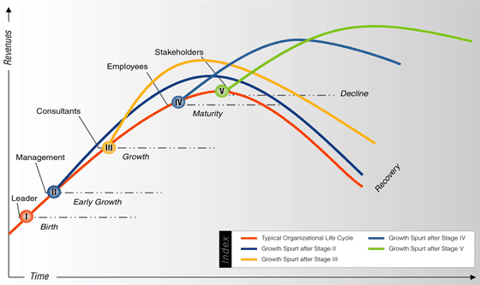 Click to enlarge
Source: Iveybusinessjournal.com
Revenue growth
Several investors will argue that Apple is still a growing company in terms of revenue. That is correct. Apple was able to grow revenue in the fiscal year 2013 compared to the fiscal year 2012. The company grew revenue by 9.2% to an impressive amount of $171 billion. Apple will probably grow revenue again in fiscal year 2014, especially now the company reached an agreement with China Mobile regarding the distribution of iPhones in China. The additional revenue could be between $6.9 billion and $23 billion according to this article.
However, it is hard to say when a company leaves one life cycle phase and enters another life cycle phase. Companies could realize revenue growth after they left the growth phase and entered the maturity phase. Also, the graph above shows that companies could realize a growth spurt in revenue when they enter a new phase of the business life cycle, even when they enter the decline phase. Therefore, revenue growth is not a reliable variable to argue that Apple is still in the growth phase instead of the maturity phase.
Another often heard argument is that Apple will introduce new and groundbreaking products in the future, such as the iTV and iWatch. Apple's CEO Tim Cook did hint in that direction. He stated: "We have a lot to look forward to in 2014, including some big plans that we think customers are going to love". However, this does not support the argument that Apple is still in the growth phase. In fact, this article claims that an increasing market share through differentiation is one of the benefits of the maturity phase in the business life cycle.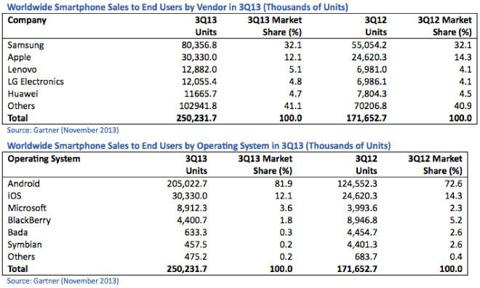 Click to enlarge
Source: Gartner (November 2013)
Market share
In this article the author argues that market share data is not relevant for Apple. Although I enjoyed reading the article, I do not agree with the author that the market share data is not important for Apple. The worldwide market share is an important indicator for the phase of Apple's business life cycle, because a declining market share is one of the characteristics of the maturity phase of the business life cycle. To support my argument, I disclosed Apple's iPhone worldwide market share data (see tables above).
The data in the tables above show that Apple shipped more phones, but lost market share in the smartphone market. The market share decreased from 14.3% in last year's third quarter to 12.1% in this year's third quarter. This supports my argument that Apple already entered the maturity phase in the business life cycle. I already concluded that the modest stock market performance and the recurring discussion about Apple's dividend payments and share buyback program support my conclusion as well.
Dividend Income
The developments described above point in one direction. Apple is becoming a dividend stock, instead of a growth stock! Such a transition is not completed in just one week or month. It takes time for investors to adjust to the new situation and in that context 2013 was an important year for Apple. The company raised its dividend 15% and committed to repurchase their own shares for an aggregate amount of $60 billion by the end of 2015, in order to provide an answer to the declining share price.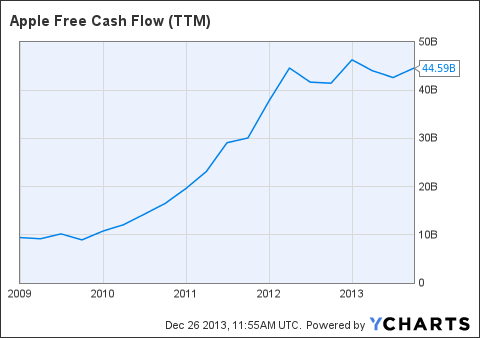 AAPL Free Cash Flow (TTM) data by YCharts
Next year will be another important year in the transformation. I expect that the discussion about Apple's dividend and share buyback program will heat up in the first three months of next year. CEO Tim Cook already stated that Apple will make an announcement regarding the dividend in January. I expect that the company will announce another 10 to 20% increase in the dividend payments. Apple could easily afford such a dividend increase, given the fact that the company earns $45 billion in annual free cash flow (see graph above).
Further, many investors expect Apple to introduce new products and Apple probably will introduce new groundbreaking products in 2014. However, what remains after Apple introduces these new products? I do not expect that more new products will be introduced in the following years. Therefore, all the arguments which support Apple as a growth stock will disappear. Apple already extended their market with the China Mobile deal and the company is likely to introduce new products next year. What remains for investors is to focus on the dividend.
Conclusion
I do not consider Apple a traditional growth stock any more. Instead, I see the company's business more as a mature business, while the company could still grow revenue through differentiation. I expect that investors will solely focus on the dividend and buyback program. The introduction of new products will turn the growth investors away and the dividend income investors will take over. This process is already in play, but the process needs time to be completed. I expect that it will take another year to complete the process.
Let me be clear that Apple is a very interesting dividend stock and remains a great dividend stock after the transformation is completed. The fact that I titled Apple to be a 'boring' dividend stock refers to the ability to increase the dividend consistently every year. The company has a very strong annual free cash flow and the stock is not very expensive (P/E ratio is 14.28 times this year's EPS). Therefore, I qualify Apple as a great dividend stock for long-term investors.
Disclosure: I am long AAPL. I wrote this article myself, and it expresses my own opinions. I am not receiving compensation for it (other than from Seeking Alpha). I have no business relationship with any company whose stock is mentioned in this article.