The holidays are proving to be a happy time of year for investors. (Don't ask online shoppers, though.) After a nice two-day gain on Monday and Tuesday before Christmas, individual investors became a lot more bullish this week. According to the American Association of Individual Investors, bullish sentiment increased 7.6% this week from 47.46% up to 55.06%.
Investors have been loath to get too bullish this year. Up until this week, the last time bullish sentiment was above the 50% mark was back in late January. The last time bullish sentiment was as high as it is now was nearly three years ago on January 6th, 2011.
Bearish sentiment on the part of individual investors dropped down to 18.54% this week. But while bullish sentiment hit its highest level since January 2011, bearish sentiment was actually lower than it is now back on October 24th.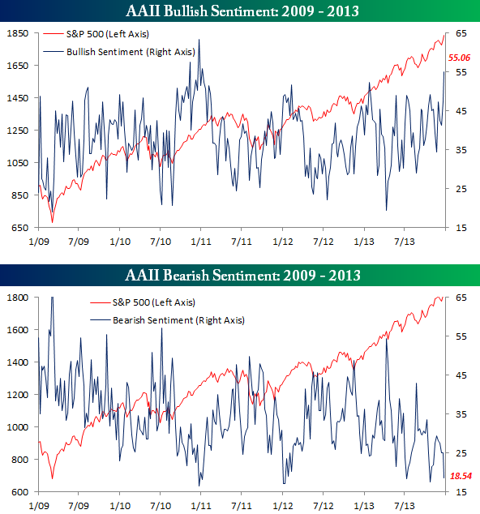 Click to enlarge
With individual investor bullish sentiment crossing the 50% mark, should investors be worried? While the current level is definitely elevated, it's by no means without precedent. As shown below in the chart of the AAII reading going back to 1987, sentiment has been above the 50% mark many times in the past. Coming out of the financial crisis, it has taken a long time for investors to gain trust in the stock market. Longer term, the market needs investors to have faith in it as an attractive asset class. As long as earnings can keep up with stock prices and the economy continues to grow, it would be nice to see sentiment stabilize at a more elevated level.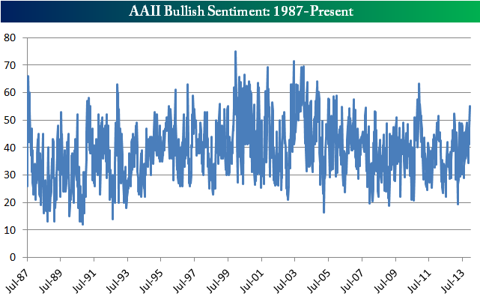 Click to enlarge