In my Incomers Portfolio Introduction, I provided my current holdings in my Dividend Growth Portfolio ("DGP") as well as my DGP guidelines. In this article, I will provide my reasoning for starting a position in DE, a stock I believe is undervalued.
Deere & Company (NYSE:DE)
Yield - 2.25%
5Y DGR - 14.50%
Chowder Rule - 16.75%
Dividend Contender on David Fish's CCC list.
Deere & Company was founded in 1837 and is one of the largest manufacturers of farming and construction machinery. DE has raised its dividend for the past 9 years, and has a track record of stock buy backs. Despite the buy backs and dividend growth, its payout ratio actually dropped recently. The Chowder Rule checks out for my buying guidelines. That being said, DE also doubles as a value play for this portfolio.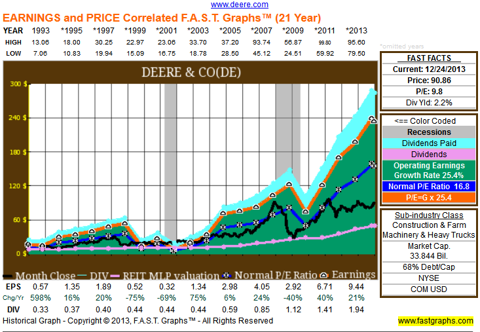 Click to enlarge
Looking at the F.A.S.T. graph, the stock is undervalued at these prices. DE has historically traded close to its Normal P/E ratio of 16.8. According to the F.A.S.T. graph, the current normal P/E justified value is around $150. I am not saying I think $150 is realistic in the near term, but the stock has stayed around the same levels as last year despite the Y/Y 21% rise in EPS from 7.79 to 9.44.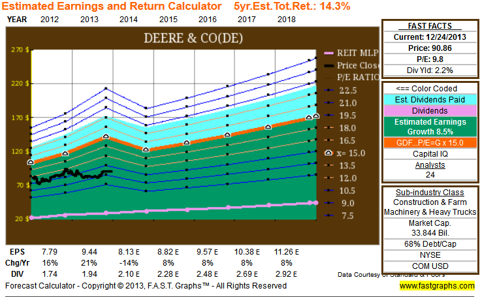 Click to enlarge
FAST graph's Earnings and return calculator takes into account the drop in forecasted EPS next year, but 8% annual growth thereafter. Because of this, I do think there may be some more near-term pressure on the stock price. I will not initiate a full position, but just a partial position while averaging in throughout the year. Hopefully the price will go lower in the near term so I can average down, but given the value here, I want to have at least a small position in case it does not.

Click to enlarge
Taking a look at the weekly price chart, it is clearly in an uptrend, making higher lows on every major dip. It would have been a great buy in the recent dip to ~$80. DE is now heading back up to the $90-100 resistance area with a vengeance. It is interesting to note that the 200 week simple moving average has been a nice measure of support and resistance over the past two decades (except for 2008-2009). It is now catching up to the price, and could continue to act as support and push the price higher, hopefully leading to a breakout above $100. However, I don't see a fundamental near term catalyst that would cause this breakout, unless earnings in 2014 are better than expected.
It should be noted that DE is a cyclical stock and may be seeing the cyclical effects soon. There is an expectation for lower sales and EPS in 2014. Lower corn prices are also a factor that may suppress shares. These negative expectations are probably why the stock is undervalued.
Given the dividend growth history, the company's dedication to shareholders, and the stock's amazing value right now, DE earns a spot in my portfolio as a DG + value play. The management is solid and I have every confidence that they will continue to bring value to investors. Despite the low current yield (2.25% vs. my goal of 3.5%), the high dividend growth rate makes up for it. I will soon initiate a partial position in DE, and will build on the position in future months.
Disclosure: I have no positions in any stocks mentioned, but may initiate a long position in DE over the next 72 hours. I wrote this article myself, and it expresses my own opinions. I am not receiving compensation for it (other than from Seeking Alpha). I have no business relationship with any company whose stock is mentioned in this article.